Enjoy skip-the-line entry to the Hard Rock Cafe Florence after a day of sightseeing in the Renaissance city. Relax with some good old fashioned rock 'n' roll as you sit down to classic American fare. Check out the shirt Jimi Hendrix wore in his 1967 performance at London's Imperial College or the jacket worn by John Lennon in How I Won the War. Your ticket includes the option of a 2- or 3-course dinner as you take in the rock memorabilia around you.
Highlights
Skip the line entry to Hard Rock Cafe Florence

Classic American-style food and music
Includes two- or three-course dinner and soft drinks
Legends of rock memorabilia and retail store
What You Can Expect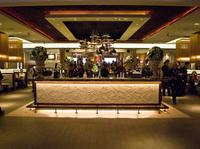 Avoid the crowds while on vacation and skip the line at the Hard Rock Cafe Florence. Head straight inside the restaurant and enjoy an upbeat, modern vibe that offers hearty food and fun rock 'n' roll memorabilia.

Choose between three different menus – Gold, Diamond or Ultimate – the last of which throws in a free Hard Rock Cafe Classic t-shirt with your meal. Sit by the large windows and watch the city of Florence go by, and check out the on-site store when you're through for some souvenirs to take home.

A complete list of menu options can be found in the Itinerary section below.
Itinerary
GOLD DINNER MENU

Starter:
Lil Chef Salad or Lil Bruschetta

Choice of Main Course:

Legendary Burger
Veggie Leggie Burger
Honey Mustard Chicken Sandwich
Chicken Caesar Salad
Twisted Mac, Chicken & Cheese Pasta

Dessert:
HRC's Signature Ice Cream

Choice of Beverage:
Coffee, Tea or Soft Drink

DIAMOND DINNER MENU

Starter:
Lil Chef Salad or Lil Bruschetta

Choice of Main Course:
Legendary Burger
Veggie Leggie Burger
Twisted Mac, Chicken & Cheese Pasta
Hickory-Smoked Bar-B-Que Ribs
Hickory-Smoked Bar-B-Que Chicken
Chicken Caesar Salad

Dessert:
Baker's Choice (dessert of the day)

Choice of Beverage:
Coffee, Tea or Soft Drink

ULTIMATE DINNER MENU:

Starter:
Lil Bruschetta

Choice of Main Course:
Fiesta Burger
Grilled Salmon
Grilled Chicken Arugula Salad
Veggie Leggie Burger

Dessert:
Lil Hot Fudge Brownie

Choice of Beverage:
Soda, Tea, Coffee

AND Hard Rock Cafe Classic T-shirt
March 2015
June 2014
The Hard Rock is awesome and a great break from traditional italian cooking. This is a great value, do not hesitate especially if ribs and the biggest brownie sundae is on your punch list !!!
VICTORIA C United Kingdom
May 2014
fantastic! straight through to table and food was amazing...huge portions, fantastic service..especially the chap who used to work in Blackpool!! ( whoops we said we wouldnt tell anyone that haha)

Prosecco was excellent and really good value at e20 a bottle...loved it

April 2013
Again HRC doesnt dissappoint amazing food no waiting even though always busy.Customer service exemplary.
April 2013
My first ever hard rock. Great central venue. Fantastic bargain for two courses of really nice food. Great deal.
Celeste B USA
August 2012
My children enjoy visiting Hard Rock Cafes around the world. This was enjoyed. You received alot of food for the cost. We only waited for about five minutes to get a table. Also, my children wanted to order different food and they allowed them to; they just applied the credit of what I paid to what they ordered. Enjoyed!
June 2012
This is such a fabulous deal we got the best seats right in front of the stage and all the action. Francesco our waiter was superb and we could nit have any more food. We chose the diamond menu we had ceaser salad, full rack of ribs ,icrecream sundae and cooldrinks. Excellent price all the staff new we had pre paid no hassles. Great idea to pay before your trip so it feels like your spending money goes on the good stuff not food. Lol
August 2014
The tour was fun and each of the islands are nice, it's fun going over in the boat and the tour guide speaks in different languages, but if I went back I would just buy a ticket to burano. It's the only island worth seeing and it would have saved money and we would have been able to stay longer
April 2014
First time at a Hard a rock cafe, what place to do it than in Florence! It was a great atmosphere, nice drinks and food, good music and we happened to call in a night when a band was playing!
January 2014
Hard Rock is always fun. The coupon value was good despite not offering the salmon or steak option that the Venice HRC Diamond deal offers. The ribs and chicken were fine. The waitress was good fun and delightful. The music promoted as rock was really not. It was more Italian pop/folk. The facility is very nice with some great memorabilia.
Advertisement
Advertisement