Immerse yourself in famous Florentine art with a 3-hour, skip-the-line tour of the Uffizi Gallery and private admission to the Vasari Corridor, a once-secret passageway that's now home to one of the world's most impressive collections of portraits. For an even more intimate experience, upgrade your ticket to include breakfast on the Uffizi Gallery terrace before opening hours. Your meal will be followed with a comprehensive, 2-hour tour of the Gallery and a private tour of the Vasari Corridor.
Highlights
Enjoy exclusive private viewing of the Vasari Corridor

Prioritized entry without queuing at the Ufizzi Gallery

Personalized small group and commentary (maximum 25 people)
Expert English-speaking guide
Guided walking tour inside the Uffizi Gallery Museums
Upgrade to enjoy breakfast on the Uffizi Gallery terrace, and see the sights of the Uffizi Gallery and Vasari Corridor with a small group -- numbers are limited to 15

Recent Photos of This Tour
Skip the Line: Uffizi Gallery and Vasari Corridor Walking Tour
What You Can Expect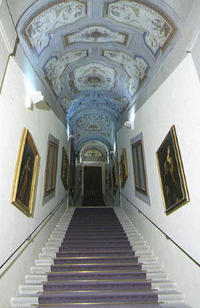 Begin your 3-hour tour by skipping the long lines outside the Uffizi Gallery and heading straight inside. Your guide will lead you through the impressive collection of Renaissance art in the main rooms before heading to the Vasari Corridor, which will be open only to your private group.

Giorgio Vasari constructed the corridor as a secret path for the Medici family in 1564, under the summons of Cosimo I de' Medici. Built above the Ponte Vecchio, the passageway stretches almost a mile between Palazzo Pitti, over the Arno to Palazzo della Signoria. Stroll along the private corridor, admiring beautiful views of Florence below. Your guide will discuss the unique collection of portraits now housed in the passageway.

8am Small-Group Tour Upgrade (4 hours):
To upgrade your one-of-a-kind experience, select the 8am tour and enter the Uffizi Gallery before opening hours. With a smaller group of 15, begin your tour with an Italian breakfast on the Gallery terrace, including a selection of cured meats, cheeses, pastries and coffee. After enjoying your meal out in the fresh air, travel down to the Gallery for a comprehensive, 2-hour tour. Your private guide will provide insightful commentary on the impressive display of Renaissance artwork around you.

After your in-depth tour of the Uffizi Gallery concludes, follow your guide up to the Vasari Corridor for a private tour of the passageway. Enjoy the scenery, the art and the personal attention from your guide.

April 2016
Excellent, Mario was very informative and passionate

April 2016
This is a real hidden gem in Florence. Many visit the Uffizi without realizing there is a kilometre long corridor lined with art connecting the museum to the palace across the river. You don't have to be a big art lover to be very impressed with the art that lines these walls and include the world's largest collection of self-portraits. Our guide, Sara, was magnificent. She noted that there were rumours the corridor might be opened to the public but that would mean the art would have to be removed and we all agreed that this would be a travesty. This is worth the cost and small, limited groups mean they can keep the art safe we were accompanied by employees to make sure we didn't touch the art.
April 2016
What was the guide's name? Veronica? Allisandra?
I only know she was excellent - providing a highlighted sense of the Uffizi while bringing the Corridor to life. I wasn't yet in tourist mode so didn't think until it was over that she should have been tipped. Sometimes we're a slave to our culture... If you're reading this, I apologise.
I'd read my Vasari before the holiday, but it's not enough: the Uffizi is like the Louvre - if you like art you could spend months in there. When I return to Florence I'm certainly going to look for a longer, specific tour.
Paradoxically, the combined tour is too much and not enough. I felt 'art-bombed' even as we were moved steadily on past artworks that I could almost name, towards something equally familiar.
My only regret is that by taking the tour, I didn't get a chance to visit the Uffizi Bookshop...and the rooftop cafe. If the tour allowed a gelato-break, I would certainly demand 6 stars!
I've heard that the Corridor might be changing - at least the content might as it's not properly climate controlled. As the paintings are a unique collection of artists portraits, I fully recommend a visit before it's turned into a 'sculpture tour'.
Mind you, it's not as though Florentine Sculpture is actually bad. Kind of jaw dropping actually.
Expensive? Yes. And worth every Euro.
April 2016
Good tour and a great guide. Would highly recommend.

April 2016
Me and my 16 year old son took this tour and loved it. Our guide, Sibila, explained the history and particularities of the pieces and places in a very interesting way. We took it as soon as we arrived in Florence so it was a great introduction to what we were going to enjoy in that Wonderful city. We strongly recommend it!
April 2016
Tour was fantastic, tour guide great, fully recommend it!
March 2016
Guiana was fabulous, knowledgeable and funny! She answered all of our guestions and could not have been more accomadating to all.

March 2016
Uffizi Gallery was fantastic! Plus, once in a lifetime walk on the Vasari Corridor with marvelous paintings.

March 2016
Excellent tour with a most interesting and knowledgeable guide.
January 2016
Fantastic Tour - very happy we were able to see this.
Advertisement
Advertisement