Experience Siena and the Chianti region on this 7.5-hour evening excursion, departing from Florence. Bypass the daytime crowds and arrive in Siena in the late afternoon to explore the Piazza del Campo. From there, visit a Tuscan wine cellar in the famous region of Chianti and enjoy a 4-course meal paired with local wines. After a romantic evening in the Tuscan countryside, you will return to central Florence.
Highlights
Evening Siena excursion, wine cellar tour and Chianti dinner
Visit the Tuscan city of Siena and enjoy free time to see the sun set
Stroll around Piazza del Campo and take photos of Siena Duomo
Tour a wine estate at a Tuscan farmhouse in Chianti and learn about the local wine
Feast on a 4-course dinner of Tuscan specialties with up to four glasses of wine
What You Can Expect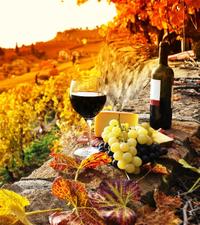 Your evening excursion will begin at Florence's Santa Maria Novella Station. Join your guide aboard a comfortable coach and start your journey through the olive groves and green hills of the Tuscan countryside.

Arrive in Siena and enjoy 2.5 hours to explore independently, checking out the central Piazza del Campo or the Duomo, a stunning Gothic cathedral with interior frescoes and alternating stripes of white and black marble.

After watching the sunset, hop back in your coach and head to the region of Chianti, made famous by its ruby-red wine. There, you'll visit one of the area's prominent wine estates, set amidst a Tuscan farm. Take a guided tour of the cellars and learn about the production and aging process that gives the Chianti blends a world-class flavor.

Then settle into a table in the main farmhouse or, weather permitting, outdoors for a 4-course meal (sample menu can be found below). Pair your dinner with up to four glasses of the estate's wine, learning about the characteristics of each from your guide as you sip.

After your evening of wining, dining and sightseeing concludes, you will be returned to central Florence in your coach.

Itinerary
Sample Menu:
First course:
Tuscan salami or local cheese crostini
Second course (choice of one):
Lasagne
Crespelle (Italian crepes)
Third course (choice of one; each served with grilled vegetables):
Arista (saddle of succulent pork)
Brasato (beef braised in red wine)
Peposo (peppered Tuscan beef stew)
Dessert (choice of one):
Tiramisu
Cantuccini (almond cookies)
June 2016
We really enjoyed this trip! Siena is a cool place to visit. The tour guide was nice and had the driver stop at a great location to take photos. The winery tour and dinner including wine tasting were great! The food was good typical Tuscan cuisine and the glasses of wine were abundant.
May 2016
Angelo was an excellent guide.
May 2016
There were only 6 people on this tour and it was very good. Siena was a gem and the church was fabulous. Make sure you check out the small library as this is nothing short of amazing. You do waste a bit of time purchasing the entry ticket. The trip through Chianti is great and the guide arranged with the driver to stop for us to take some photos. The meal at the winery was good, local and rustic and matched the wines. The short winery tour was informative with the wine maker being a wonderful talker of his local product. Our guide, Antonio, was excellent. He had extensive knowledge and kept us informed throughout the trip.
April 2016
Great trip to take vineyard tour and dinner outstanding. guide as well as vineyard owner first rate.
September 2015
I recommend this tour for red wine lovers. The Tour guide was extremely sweet and knowledgeable on our journey to Siena . The vineyard dinner was a highlight of the trip.
August 2015
Fantastic scenery, Siena is wonderful and the vineyard and meal were superb. It is a wine tasting meal and not a wine drinking trip so do not expect large glasses of wine, but the meal and staff cannot be faulted.
Food was delicious as was the wine, a fantastic trip but be careful, some of the roads are a little tight and bumpy so if easily car / bus sick then be prepared.
June 2015
excellent value. Had 1hr 45 min in Sienna, just long enough to see the Duomo and have a coffee in fhe square. The wine tour was fun anx informative. The dinner was excellwnt as was the wine. A fun afternoon/evening. Excellent value.
June 2015
This was a wonderful experience, Antonio our guide, was very helpful and knowledgeable. The wine tasting and food was very good, I was able to buy and ship back some wine very simply.

September 2014
We had a really great time on our tour. Our guide was amazing. She spoke several languages which was very impressive, but you could tell that she was clearly passionate about the area. The dinner was beautiful and so was the scenery. We'd definitely recommend this tour - you won't regret it!
September 2014
An excellent guide and tour.Because our group was fifty people it was too large to move swiftly and it meant along time serving dinner. There was no dessert, only biscotti which was a disappointment considering the cost.We arrived back in Florence after eleven PM.The driver of the bus was excellent in tight roads on the way to Chianti Country and exiting the vineyard.A very pleasant evening but the size of the group was too many.
Advertisement
Advertisement