497 Reviews
Location:

Florence, Italy

Duration:

4 hours 30 minutes

(approx.)
Make like a real Tuscan cook on this 4.5-hour evening cooking class in a historical palace (palazzo) in Florence. Working in a modern kitchen in the old building, learn how to create a quintessential Tuscan 4-course dinner of staples such as Hunter's Chicken (chicken stew), fresh pasta and 'tiramisu' (cocoa, espresso and mascarpone pudding). Gain valuable insider tips from an expert local chef, and then enjoy your dishes during a convivial dinner, complete with well-matched Tuscan wine.
Receive personalized attention on a small-group class limited to no more than 12 people.

Highlights
4.5-hour small-group evening Tuscan cooking class in Florence
Learn to create a classic Tuscan dinner in a beautiful palazzo setting
Discover the secrets of dishes such as Tuscan Hunter's Chicken and tiramisu
Create a 4-course menu with guidance from an expert local chef
Enjoy your dishes over dinner with complimentary Tuscan wine
Receive a recipe booklet to recreate your dishes back at home
Enjoy personalized attention from your chef in a small-group class limited to 12 people
Recent Photos of This Tour
Tuscan Cooking Class and Dinner in Florence
What You Can Expect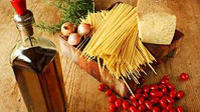 Meet your guide and the rest of your small group near Piazza Santa Trinita in central Florence. After making your introductions, walk to the nearby cooking school, housed in a medieval Tuscan palazzo across the Arno River.
As you cross the river, stop to admire the views of the magnificent Ponte Vecchio. Then, when you arrive at the school, head inside and find your allocated spot in the modern kitchen.
Next, listen avidly as a friendly, expert chef talks you through the 4-course dinner you're about to cook.
Your menu will vary according to the day of your class and the availability of ingredients, but typically, you can expect to prepare a classic Tuscan meal of favorites such as potato gnocchi (dumplings), Hunter's Chicken (chicken stew), and a dessert such as tiramisu. See the Itinerary below for sample menus.
Put on your supplied apron and set to work following the provided recipes. As you prep, get helpful tips from the chef and gain valuable insights into local culinary traditions and techniques that you can use to impress family and friends back home.
With your meal ready, take a seat at the communal table in the charming dining area and savor your finished dishes in the company of your fellow cooks. As you eat, enjoy a glass of wine — your experience includes a complimentary bottle shared between four people.
Discuss your efforts with your companions and learn the strengths and weaknesses of your dishes in the eyes of your chef.
After your convivial meal, receive a recipe booklet to take home with you and then say your goodbyes. Your tour ends when you leave the cooking school.
Itinerary
Sample Menus:
Mondays:
Appetizer:
Eggplant caprese (tomato and mozzarella salad)

First course:
Potato gnocchi (dumplings) Meat sauce Bolognese or pesto alla Genovese (pesto and basil sauce)

Second course:
Tuscan Farmer's Chicken (chicken stew)

Dessert:
Tiramisu (cocoa, espresso and mascarpone cheese pudding)

Tuesdays:
Appetizer:
Vegetable millefoglie (vegetable stack)

First course:
Spinach and ricotta-filled ravioli

Second course:
Tuscan Hunter's Chicken (chicken stew)

Dessert:
Wednesdays:
Appetizer:
Zucchini Parmesan (baked zucchini and Parmesan cheese)

First course:
Cannelloni pasta and sauce

Second course:
Chicken Marsala (chicken and mushroom casserole with Marsala wine)

Dessert:
White chocolate mousse with chocolate rum sauce

Fridays:
Appetizer:
Potato brocatelle (soufflé)

First course:
Second course:
Chicken Tartara (chicken in mayonnaise-style sauce)

Dessert:
Ricotta cake with pineapple sauce

Drinks:
1 bottle of wine for every four people
September 2015
My daughter and I took this cooking class our first night in Florence and it was a great way to learn Italien cooking and enjoy meeting other tourists. The recipes were delicious, plenty to eat and wine to drink and nice company to enjoy it with. The chefs were terrific. A little crowded with 20 people but we also took a pastry baking class with them in the afternoon and had a private lesson. Same chef and he was great. We made biscotti and cannoli so and we loved it!
September 2015
Great fun and a wonderful meal. Highly recommended.
September 2015
My wife and I had a wonderful time at the class - one of the highlights of our trip. Made an awesome chicken cacciatore and fresh ravioli dinner. The chefs were very funny and personable, and we had fun eating afterward. One of the best meals we had in Italy!
September 2015
This was well worth the time and money! You have four to six people who you cook with and there is plenty of room. The chefs do a great job in showing you and helping you if necessary and salvaging if you really mess up. Everyone at all the tables eat together at the end of the night and your with people from literally everywhere. Oh yes, they supply you with plenty of wine. We made some great friends that night and have been in contact long since our trip was over. We highly recommend this!
September 2015
The Cooking Class was great! This was one of our favorite experiences from our two week trip to Italy. The chefs who guided us were both hilarious and helpful. After cooking a four course meal which took about two hours, we enjoyed the fruits of our labor for another hour while drinking wine. All in all, the cooking class was a lot of fun and also a good value. If you're looking for an enjoyable and unique evening in Florence, be sure to not miss this experience! Highly recommended.
August 2015
A must experience in Italy
August 2015
Alessandro was fabulous as the instructor for our group. We met some people who we never knew before and will likely keep in touch with now because of the cooking class. Very well organized, everyone had the chance to participate, the time to eat the meal was very leisurely with no pressure to hurry up. The food we prepared actually worked! It was an experience we will recommend to anyone coming to Florence.
August 2015
Daughter and her Bo went to this one and loved it. Clean with great chefs and good ingredients. Very nice.
July 2015
Great class! The instructor was fun, affable and knowledgable. It was a beginner's course, but still a fun evening. Probably wouldn't recommend for more advanced cooks, but still a really fun evening.
June 2015
One of our favorite evenings of our whole trip. Met nice people, instruction was good but not overbearing, had tons of fun, and absolutely loved the menu. We want to do it again. My husband and 20 year old daughter loved it too.
Advertisement
Advertisement