4635 Reviews
Location:

Florence, Italy

Duration:

12 hours

(approx.)
Famous for a wealth of art, history, striking landscapes and outstanding produce, Tuscany really does have the best of all worlds! With only a day to spare, see the best Tuscany has to offer on this full-day guided coach trip from Florence.
Highlights
Tuscany one day sightseeing tour

Free time to explore Siena, San Gimignano and Pisa at your own pace
Guided tour through Siena, including entry to the gothic Cathedral
Hearty lunch with wine served at an organic wine estate in the Chianti

Wine tasting of four wines including Chianti, Vernaccia and Tuscan dessert wine.
Get up-close to The Leaning Tower of Pisa
Transportation by luxury air-conditioned coach
Spectacular countryside views and landscapes
Recent Photos of This Tour
Tuscany in One Day Sightseeing Tour
What You Can Expect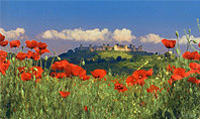 Meet your local guide before heading for the hills on a scenic drive through the Tuscan countryside. Your first stop for the day is gothic Siena, famous for its medieval streets. Choose to join a guided tour through the city(free entry inside the Cathedral is included). Or, alternatively, you're free to marvel the sights of Siena at your own pace, enjoy a drink in an open air cafe and meet the locals.
Enjoy a stroll among Chianti vineyards, olive groves and wine cellars before indulging in a traditional Tuscan lunch amongst the Sienese hills where Chianti wine is produced. Surrounded by grapes vines you'll have the opportunity to meet fellow travelers while feasting on local foods including cold meats, salads, pasta and bread. A wine-tasting class will be held during lunch including free samples of wine and olive oil (which are also available for purchase).
After lunch you will visit San Gimignano where you can roam the maze of cobbled streets and small squares, grab a gelato and walk between San Gimignano's famous 14 towers. Your final stop is Pisa, where you can take an up-close inspection of The Leaning Tower, view the Cathedral, the Baptistery and monumental Cemetery in Pisa before venturing back to Florence where your full-day tour concludes.
Want to skip the long lines at the Leaning Tower of Pisa?
Upgrade to the Tour & Leaning Tower of Pisa option and you'll receive pre-booked entrance tickets. Go to the front of the queue at the Leaning Tower of Pisa without having to wait in line and experience a once in a lifetime opportunity to climb the world's most titled tower. Leaning Tower of Pisa has 296 steps over 7 floors. The climb will take approximately 30-minutes. You will arrive in Pisa approx. 6pm and leave 6.50pm. Children aged 8 years and under are not permitted to climb the Leaning Tower of Pisa.
Itinerary
Sample Lunch Menu includes:
Garlic bruschetta
Pasta with Chianina beef ragù
Tuscan ham, salami and local artisan sheep milk cheese
Garden Salad
Cantuccini (almond biscuits) to dip into Vin Santo (dessert wine)
A tasting of local wines
October 2015
This was an awesome tour. Loved the organic farm lunch winery to americans. San Gimignano was so cool - I wish there was more time to explore here. The whole tour was well worth the time and money. Would definitely recommend it to others that want to fit in the Tuscany scenery, but don't have the time to spend a day or two there and want to knock it out in a day.
October 2015
Livinia was a wonderful guide. It was a long day, but worth every minute. Tuscany is as beautiful as we had been told. The lunch/wine tasting at the farm was a wonderful break. Curious as to what came of the young men who were in Pisa? Livonia had counted heads and the count was correct. Very strange that strangers would have gotten on our tram, but they did.
October 2015
All aspects of this tour were excellent.
October 2015
This was our favorite part of our trip to Italy. It was definitely worth the money and presented a good balance between sightseeing a lot and having our own personal time throughout the day. Elisa was fantastic. the only thing we wished we had more of was time meandering through the Tuscan countryside. 8 hours flew by! Unlike most tours that feel stagnant through parts of the day.
October 2015
This was by far the best tour of 4 that we had in Italy. Our guide was exceptional. We loved Siena and San Gimignano. Seeing the tower in Pisa was fun. The lunch and tastings at the organic winery were great. I highly recommend this tour.
October 2015
Toscana is beautiful. The guide, Tessa, was fluent in English American born and raised and Mikhaili , our bus driver ,was excellent. comical and very helpful The tour takes you to Siena, Gimangnano and then to a wine farm and Pisa. All of which are stunning. you cant really miss any of these places as they are so beautiful and make interesting historical comparisons. The wine farm meal was tasty and provided local fare, which is part of the experience. Definitely recommend this as the detail provided beats a personal tour, if you have limited time.
October 2015
The tour duration was good. We learnt so much and got to see the glory of Tuscany.
Thank you so much! :
October 2015
This was a great tour one of the best that we have ever taken and well worth the price. We had Lynn for our tour guide and she was fantastic. As soon as she stepped on the bus and started talking, we knew that this would be a great tour. She was funny, energetic, upbeat and very knowledgeable about the places that we visited. Our first stop was Siena, where we had an hour tour with Allessia, who grew up in Siena. She was outstanding, and very knowledgeable about Italian history particularly the history of Siena. You cannot do better than having a tour by someone who grew up in the city that you are touring and is so passionate about the history of the city. We then drove to an organic wine estate in the Chianti region and had a short tour of the winery, followed by a terrific all-you-can-eat lunch of salad, pasta, dessert and four different wines.
The food was great and the people that ran the winery were very gracious and accommodating. We then drove to San Gimignano had another tour, and finished the day at Pisa before driving back to Florence. It was a full 12 hour tour and we didnt get back to Florence until after 9:00. The bus driver also did an excellent job of expertly negotiating some difficult driving in these hill towns. The three towns that we visited were really must-see and we were happy to have booked this tour. Highly recommended!!
October 2015
My wife and I did this tour on the recommendation of a few friends who have done this over the past few years. I typically do not like tours like this as it limits your ability to be creative and spontaneous like a cruise, but we had limited time to spend in Tuscany and did not want to rent a car.
This tour covers Siena, SanGi San Giamano, and Pisa. The vineyards we visited were in the foothills of SanGi but I consider that the same area. While the tours and activities we did in the actual towns/cities were a lot of fun and very different from Rome, Florence, and Venice - the highlight of this trip was the food rather than the sights.
The tour, the booking process, the professionalism of the overall day blew me away. I'm not one to be easily impressed but there was not one hiccup in the entire day thanks to Lavi and her expertise and planning. If I ever end up back in Tuscany or Florence, I will be doing another tour with them and requesting Lavi prob the hiking Cinque Terre tour. There is not a better way to spend a day than with a local who knows the history, popular local spots, and secrets on a trip like this. Anyone who visits the area and is looking for a day trip that shows the best Tuscany has to offer should not only consider this - but book it and request Lavi as the guide.
Definite to-do's on the trip:
- Drink all the wine provided to you at vineyard and make some friends around you
- Try all the food at the vineyard and save room for seconds they come around offering more
- See the Siena cathedral/basilica
- Eat at Gelateria Dondoli SanGi
- Go to the top of the leaning tower estimated only to be upright another 100-200 years
- Walk to the top of SanGi green space, one of the best views we saw in Italy
October 2015
I enjoyed everything along with my group, but I didn't go to the top of Tower of Pisa. I had foot surgery.
Advertisement
Advertisement