Get up close to some of the world's greatest artistic masterpieces on this 1.5-hour Friday evening tour Uffizi Gallery in Florence. With an expert guide at your side, avoid the daytime crowds and enjoy skip-the-line entry to see famous works of art by the likes of Michelangelo, Leonardo da Vinci and Botticelli. After your tour of the world-renowned gallery, head to Piazza della Signoria to sip a classic 'aperitivo' (aperitif) with appetizers, or enjoy a delicious 4-course dinner. Numbers limited to 25 people, ensuring a small-group experience.
Highlights
Uffizi Gallery night tour in Florence including aperitivo or 4-course dinner
Enjoy skip-the-line entry to the Uffizi Gallery and avoid the daytime crowds
See some of the world's most important Florentine art including works by Michelangelo and Leonardo da Vinci
Learn about the gallery's many masterpieces, such as Botticelli's Birth of Venus, from an expert guide
Sample delicious Italian cuisine at a local restaurant in Piazza della Signoria
Small-group tour limited to 25 people to ensure a more personalized experience

What You Can Expect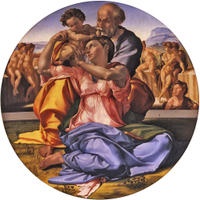 Meet your guide at the world-famous Uffizi Gallery in central Florence to begin your Friday evening tour of one of the world's most important Florentine art collections. Boasting more than 1,500 pieces of art, including works by Michelangelo, Leonardo da Vinci, Botticelli, Raffaello, Cimabue and Caravaggio, the Uffizi Gallery is housed in a horseshoe-shaped Renaissance palace and its exhibits are displayed in chronological order across 45 different rooms.

Your Friday evening tour allows you to avoid the large daytime crowds, making your visit to this Florentine jewel even more enjoyable. With your skip-the-line ticket, head directly inside the gallery, and then stroll with your guide, taking in some of the gallery's most famous artistic masterpieces. Learn about the history behind pieces such as Leonardo da Vinci's Annunciation, Michelangelo's Doni Tondo and Botticelli's Primavera and Birth of Venus.

Then, after approximately 1.5 hours inside the Uffizi Gallery, follow your guide to Piazza della Signoria and take a seat at a local restaurant. Here, sip a glass of prosecco or a soft drink and sample a selection of appetizers as you take in stunning views of the many statues that decorate the square. Alternatively, if you have upgraded to enjoy the dinner option, feast on four delicious courses of traditional Italian cuisine, including bruschetta and roasted pig served with roast potatoes and mixed salad.

After your dining experience, with your appetite sated and your thirst quenched, your tour concludes in Piazza della Signoria.
Itinerary
Sample Menus:Aperitivo Menu:
Scones (plain or tomato)
Parmigiano and/or pecorino cheese
Selection of chips, crackers and nuts
Fruit

Dinner Menu:
First course:
Bruschetta with tomato and basil
Second course:
Florentine rigatoni and tortellini stuffed with creamed peppers
Third course:
Roasted pig served with roast potatoes and mixed salad
Dessert:
Please note: vegetarian and celiac options also available. Menus subject to change without notice

October 2014
Loved this -- the absolute best way to see the Uffizi when it's not so crowded! The tour was very good and the guide was informative. We had a very good tour and then enjoyed staying after for the aperitivo we shared with another fun traveler. Great way to meet new friends and hear their stories if you care to be friendly with others in the group. This was a great way to spend our first evening in Florence!
October 2014
So enjoyable to see this without crowds! Our guide was wonderful.
September 2014
This tour was great. Because the tour was at 7.00 the Uffizi was fairly quiet and the guide was extremely knowledgeable about the paintings. She focused on the most important/popular exhibits and we had time to look and appreciate these. One downside was that the gallery closed at 8.30 so we couldn't linger to see some of the other paintings. The aperitif and snack across the square was very welcome. We had eaten at lunchtime so the food provided was enough for us. There were just 6 on our tour so it worked very well.
September 2014
Fantastic tour, amazing to see the great artists work right before your eyes, enthusiastic knowledgeable guide wonderful restaurant in the Floentine square
October 2014
The museum was awesome. It is a perfect time to go to avoid crowds. I enjoyed the descriptions of the various pieces and it helped to understand some of the differences in the art and history of Florence. We chose the dinner option, and I would skip that next time, there are better places with better food in less touristy areas. The food was fine, and plentiful, but if you know Italy and know Italian restaurants, there are better for the price.
October 2014
The tour in the Uffizi Galleries was stupendous. It was very special to be there without crowds and without people standing in the way of the art. Our guide was incredibly knowledgeable and very willing to answer any and all questions. The art we experienced was exceptional and the anecdotal information our guide gave us made each piece much more meaningful.
The dinner on the other hand was not exceptional. In fact it was mediocre at best. It took place in one of the restaurants around the perimeter of the Piazza della Signoria and not actually in the Piazza. The food was merely adequate and service while attentive was very rushed.
Overall I was satisfied. If I had it to do over again, I would have the aperitif and skip the dinner.
Advertisement
Advertisement