Be one of the first of the day to tour Florence's Accademia Gallery, and finish with an Italian breakfast in a local cafe. It's a Viator Exclusive tour that can't be booked anywhere else! In a small group, limited to just 15, you'll explore the famous gallery without the crowds, and learn about Michelangelo's works from an art-historian guide. Swoon at the sculpture of 'David,' hear the history of 'San Matteo' and gain insight into the influential art of the Renaissance.
Highlights
1.5-hour exclusive, early access tour of the Accademia Gallery in Florence, including breakfast at a nearby cafe

Enjoy crowd-free access to Michelangelo's David with this Viator Exclusive, not available anywhere else
Learn about Michelangelo's works from an art-historian guide and see San Matteo, Palestrina Pietà and the Prigioni

Enjoy free time at the Accademia Gallery to see art by Botticelli and other Renaissance greats

End your tour with a delicious, traditional breakfast at a central Florence cafe
Small-group tour limited to 15 people to provide a more intimate experience

This tour cannot be booked anywhere else — don't miss out on this unforgettable experience!
Recent Photos of This Tour
What You Can Expect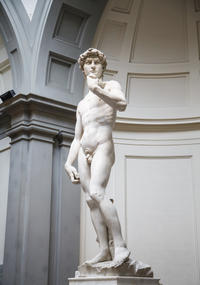 Make your own way to Florence's Accademia Gallery to meet your art-historian guide. Luckily for you, your ticket allows you step straight inside the famous museum, skipping the long admission lines that form in high season. It's a highlight of this Viator Exclusive, which is available nowhere else.
Among the first to enter, you'll see the gallery's highlights without the hordes of people that gather later in the day. Walk alongside your small group and guide to see notable Michelangelo works including Palestrina Pietà, Prigioni and San Matteo.
Learn about the artwork as you wander the halls of the gallery, and then stand in awe before the David — arguably Michelangelo's most famous piece of work. Occupying a head-turning post under the gallery's dome, David is often cited as the showpiece of Renaissance-era sculpture, and remains one of the best-known pieces of Western art in the world.
Bid your farewells to David, and leave the gallery for a cafe in the heart of Florence where a typical Italian breakfast (strong coffee and sweeter-than-sweet pastries) awaits. Or, if you prefer, stay at the Accademia Gallery for a little longer to explore on your own and discover art by the likes of Lippi and Botticelli.

April 2016
I would give this tour 5 stars not really sure what the column of dots above means-there is no explanation for which dot means what

April 2016
Great tour-we got in a bit early and got to see the Statue of David before the crowds. Our tour guide was friendly and extremely knowledgable about the different artwork she showed us. We really enjoyed our tour of the Accademia Gallery. And the breakfast afterward was delicious!!
November 2015
the exclusive time we had we before the doors open to the public was worth it

John North United Kingdom
October 2015
We arrived for the tour and the queues were already forming down the street, In our group of 8 we had priority access to the gallery for approximately 20 minutes before others were allowed in - our guide was excellent and without her we definitely wouldn't have had the insight into not only 'David' but the other Michelangelo sculptures on view. Following the tour we spent some free time looking around the gallery before making our way to a very nice cafe' around the corner for our inclusive breakfast, I would definitely recommend this tour, especially as the queues were all around the block as we came out - Very worthwhile.
October 2015
Early access is a must. We were inside before the public, and with the small group 15 we went straight to the Statue of David. What an awesome sculpture. Our guide sorry, I can't remember her name was great, and knew to get us straight to the Statue before the place filled up. The downside of having the uninterrupted time to view David, is that the rest of the works suffer in comparison. But they are still well worth the effort to hang around for as long as you can. Overall, a great tour.
September 2015
Highly recommend. We were there in early Sep 2015,met our guide and went in before regular ticket holders. The main attraction was the David sculpture of course, this was NOT a disappointment. Very enjoyable. Great guide.
September 2015
This was an interesting tour and most WILL want to skip the enormous lines. We were allowed to stay behind and continue to explore other areas of the building after the specific tour and had a tasty light breakfast in a delightful indoor café in the next block.
September 2015
So worth it! To be able to walk in to see David and not have anyone there in your pictures...amazing! We had the space to ourselves for a good time and got to soak it in! FYI - the breakfast is continental - just coffee/croissant. Our tour guide was so informative and passionate that it made the tour very interesting.
September 2015
I booked this tour for myself and a friend. We arrived early and once I pulled out my paperwork to check the instructions a young woman came over and told us we were with her company. Shortly after that we were introduced to our guide Sylvia. We had a small group only 4 people. Sylvia's knowledge was amazing, I learned so much from her. It was great to get into the museum and see David before the crowds. I would highly recommend this tour. Easy to use and great guide!! Well done.
September 2015
Early access is the only way to go after seeing the long line of people waiting to get into gallery!!
Advertisement
Advertisement