Enjoy a true taste of the Tuscany on a 3.5-hour dinner and wine tasting experience at a villa in the Florentine hills. Departing from Florence, a guide will lead the way to a 17th-century estate where you'll tour the grounds and learn the winemaker's secrets. In the private cellar, sip and swirl four limited-edition blends before topping off the night with a sumptuous 4-course Tuscan meal in the gardens. Your evening will conclude with drop-off back at your hotel in central Florence.
Highlights
3.5-hour wine tasting and dinner experience at an authentic 17th-century Tuscan villa with an expert guide
Enjoy a tour of the vineyard's grounds and cellar from the villa's winemaker
Learn how wine is made and sample four types of the villa's limited-edition Tuscan wine
Feast on four courses of hearty, Tuscan cuisine in the villa's picturesque gardens
Sit back and relax with a round-trip transfer from Florence
Recent Photos of This Tour
What You Can Expect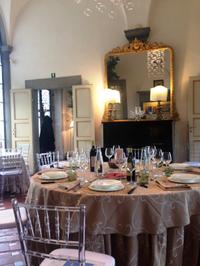 Your tour will begin in central Florence near Santa Maria Novella Station, where you'll hop aboard your minivan with your guide. Travel a short distance outside of the city center to reach the scenic vineyards and olive groves that surround the 17th-century villa.

Take a tour of the picturesque grounds with the villa's winemaker and listen to some of the secrets of the trade. Hear about the villa's production process and learn how blends are created from merlot, cabernet sauvignon, sangiovese and pinot bianco grapes.

Then, toast cin cin! Sample the villa's limited-edition red, white and dessert wine, soaking up the characteristics of each.

Afterward, take a seat in the gardens if the weather is clear, or inside the villa for a 4-course feast. Savor local specialties such as crostini, parmesan and Pienza pecorino cheese, prosciutto ham, a traditional meat dish and pasta, with vegetarian options available. Take in the villa's panoramic views while you dine on the fresh ingredients of Tuscan classics. Don't forget to save room for the traditional Italian dessert served after dinner.

Your evening out will conclude with a smooth ride back to your original departure point in Florence.
June 2016
June 2016
Our wine tasting was a wonderful experience, exactly what I thought Florence would be like. The driver, the tour guide julia and the owner who met with us and toured his home with us as well were all great. The food, wine and views were exactly what we hoped it to be. I would highly recommend this tour! A great way to see and taste Florence.
June 2016
Guila is awesome the best tour guide I ever had. This event was our most memoriable evening in Florence.
October 2015
WOW!!! We had the best time! Alex was wonderful and very knowledgable about the wine and olives! But, most of all it felt like we were at someone's home for a party! Lots of laughter, great food and of course the wine! If you are looking for a wonderful relaxing evening while you are in Florence this is the place to be. You will leave with a smile on your face! 5 Stars

October 2015
AWESOME! The estate is well kept and the tour guide was very knowledgeable as he was taking us through the site. Dinner was delicious!! Traditional 4-course Italian mean with Grappa or Vin Santo at the end with some almond biscuits while sipping on the vineyards beautiful white and red wines. It is pretty exclusive winery since they produce only 5k bottles a year and only direct sell it at the winery, so make sure you purchase a couple for your personal wine stash.
September 2015
June 2015
We were very pleased to have chosen this tour . We were in Florence is not much time. And this tour allowed us to get to know the beautiful villa with the traditions of wine-making , supported by unique even in small scale. Special thanks to our guide and sommeliers - for Laura . We had a unique combination - Tuscan scenery , wine and a good dinner at a small company. Thank you !
June 2015
May 2015
This tour was fantastic. We were transported to the villa in minivans 12 of us, total. Once there, we were met by Lori, who was very friendly and knowledgeable about the villa and Italian wines. We were led up a path to the main gate, and when we entered, we saw the garden that is shown in the Viator description. We got a little tour of the villa and nearby grape and olive growing fields, then passed though the villa again and stopped outside for some fantastic views of the surrounding Tuscan hill country. Quite stunning. Afterwards, we went into the wine cellar and tasted some white and red wines. Very good. Lori told us all about what to look for and what makes a good wine. After that, we had dinner -- some appetizers prosciutto, chicken liver pate, and a couple of delicious cheeses, Dinner was pork loin and potatoes. Also very good. My wife is a vegetarian and they accommodated her nicely. All in all it was very, very enjoyable. We saw some of the Tuscan countryside, had some good food and wine, and met some lovely and interesting people. The age range was 21 - 60, I'd say, and we all got along just great! Highly recommended!
May 2015
We enjoyed this tour a lot. Our guide was amazing and the winery was beautiful. The view around the Villa was unforgettable. We has wonderful diner which included several corses and of course wine tasting. The wine was very good. I highly recomend this tour!
Advertisement
Advertisement