95 Reviews
Location:

Florence, Italy

Duration:

4 hours

(approx.)
Enjoy a true taste of Tuscany as you wine and dine on this delectable 4-hour tour from Florence. Head out of the city to an idyllic Tuscan country estate and enjoy a refreshing Italian 'aperitivo' before sitting down to your freshly prepared 4-course gourmet meal. Gaze out at Tuscany's hills and olive groves as you savor a meal complemented by three fine Tuscan wines. Finish your evening with a drive around Florence to see this magical city in all its nighttime glory!
Highlights
Four-hour wine and dinner experience in Tuscany from Florence
Start with an Italian aperitivo (aperitif) and delicious buffet of Tuscan appetizers
Taste three fine Tuscan wines handpicked to complement your food
Admire stunning views over the Tuscan hills during your al fresco meal (weather permitting)
End your evening with an enchanting sightseeing tour of Florence by night
Recent Photos of This Tour
Wine and Dine in the Tuscan Countryside Including a Night Tour of Florence
What You Can Expect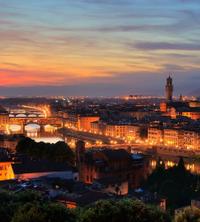 Meet your guide near the Palazzo Vecchio in Florence and board your air-conditioned minivan. Admire the idyllic Tuscan landscape as you travel to a gorgeous country estate in the hills outside the city.
Here, head outside and enjoy a refreshing aperitivo as you settle in and chat with your fellow diners. Choose a glass of sparkling prosecco (Italian sparkling white wine) or an exotic cocktail such as a negroni (Campari, gin and sweet vermouth) or trendy Aperol spritz (Aperol, prosecco and gin with soda water). As you sip, enjoy the views over Tuscany's rolling hills and nibble on a delectable buffet of Tuscan appetizers.
If weather permits, take a seat at the gorgeous garden terrace for your 4-course meal made from fresh, locally sourced ingredients. Your delectable dinner is paired with three different Tuscan wines — think Chianti, Montepulciano and Montalcino — each handpicked for the occasion. As you savor each course, note the subtle flavors of the accompanying wine, perhaps discussing with your small group how it harmonizes with a dish. See the Itinerary below for a sample menu.
After dessert, linger to soak up the surroundings, surely heightened by the flowing wine and light background music.

On your return to Florence, enjoy a sightseeing tour of this exquisite city's brilliantly illuminated monuments. Sit back and admire the dazzling Piazzale Michelangelo, Duomo, Piazza della Signoria and other landmarks — the perfect finale to your evening.
Your tour concludes with a drop-off at the Ponte Vecchio in the late evening.
Itinerary
Sample Menu:
First course:
Crespelle Florentine (Florence-style savory crêpes)
Second course:
Pici (thick, hand-rolled spaghetti pasta from Tuscany) with sausage and tomato sauce
Third course:
Platter of assorted meats with side dishes
Dessert:
October 2015
I would highly recommend this experience. It was fun, entertaining, delicious, and beautiful.
September 2015
The trip was well organized, the food and wine matching was outstanding and we enjoyed the ambiance as well. It was nice to have the chef explain the meal and the history and offer his recipes. Our guide Stefano was lots of fun and the staff were great. It was nice that they offered to drop in your hotel area on the way home. My only recommendation is to perhaps have a aperitif/after dinner drink and social mixing opportunity. The crowd has warmed up and although you chat with the people at your table during dinner there is not much time after to connect further. Stopping at sights and hearing the history was an enjoyable trip home.
September 2015
This was a highlight of our Florence visit! We had a wonderful evening on our wine and dine tour! The food was fresh and delicious- plenty of it and a selection of wines that paired nicely. Isac and Stefan did a terrific job of explaining how the food was prepared and the wines that were chosen to complement each course. The view of the cityscape was unbelievable and the lovely estate setting added to the enjoyment of the evening. We are so glad we did not miss the opportunity to enjoy Tuscany in this way! We spent a longer time at dinner we asked a lot of questions about cooking ,etc.so that may have contributed to our dinner going a little longer but there was very little time allowed for our tour of the city after dinner. Many of the diners were staying in downtown hotels so they were dropped off during our nighttime tour. Our hotel was not. We did have a little trouble getting back to our hotel so I would suggest that you know how you are returning to your hotel in advance. However, Stefan and our bus driver were very kind and helpful in getting us back to our hotel. Overall, we had a delightful evening and have a wonderful Tuscan memory. We would certainly do it again!
September 2015
Wonderful evening. Angel and Chef Isak were outstanding. Food was delicious. Wine was too. Highly recommend this tour. Don't miss it.
September 2015
We toook this tour to celebtate my wife's birthday. The tour and event was outstanding. The food and wine was great and the atmoshere wonderful. The hosts were gracious and knowledgable and friendly. I would highly recommend it.
September 2015
This evening was flat-out amazing. We ate on an open terrace in the hills with a spectacular view of countryside. The food was delicious and the guide was quite fun!
September 2015
Walkabout Florence did a terrific job at giving the tourists a chance to wine and dine in a beautiful florentine hillside place. our guide stefano and chef isaac were wonderful. the meal and wine pairing were terrfic. it pretty much ruined the run of the mill tourist trap trattorias and ristorantes in town for me. it's well worth the price. DO IT!
September 2015
This was one of the highlights of our trip. The villa was close by but felt like it was far above Florence. The views overlooking the orchards made the beautiful gathering space even more spectacular. Dinner and wines were phenomenal. The ride back to Florence was lovely- particularly the stop at Piazza Michelangelo. We are so glad that we took this tour!
September 2015
Best way to start my holiday in Florence. Massimo the tour guide was so friendly, warm and very informative about the history of Florence. The dinner prepared by the chef at the villa was absolutely delicious and the great company made it the best dinner party! The florentine steak was the highlight of the evening. A must for anyone visiting Florence!
September 2015
You have to do this! It's a great experience to see the country side after being in the city for most of the time. The food here is amazing, the hosts are very friendly, and meeting other tourists is a joy to be able to share stories with while sipping on red Tuscan wine.
Julian speaks English very well he was raised in the US and Italian, so no need to worry about a language barrier.
When we go back to Florence we will definitely go back and do this.
Advertisement
Advertisement