Explore Everglades National Park on this 1-hour airboat tour at Sawgrass Recreation Park. This exciting airboat ride is a great way to experience the unique subtropical ecosystem of the Everglades at night. Skim across the grassy water at speeds up to 40 miles per hour while keeping your eyes peeled for alligators, fish, turtles and wading birds. This tour includes daytime entrance to Sawgrass Recreation Park and admission to the Reptile, Glades and Exotic Wildlife exhibits.

Highlights
Enjoy a thrilling airboat tour through these famous wetlands

Seek out Florida's legendary reptile, the American alligator
Experience first-hand the wonders of this one-of-a-kind ecosystem
Explore the Florida Everglades by airboat at night!

What You Can Expect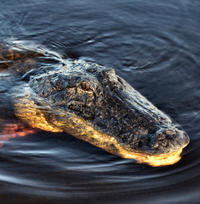 A mere 25-minute drive from downtown Fort Lauderdale is Sawgrass Recreation Park, in the heart of the Florida Everglades.

On this 1-hour Everglades nighttime airboat tour, glide along the grassy water at speeds of up to 40 miles per hour (64 kph) while learning about the area's subtropical ecosystem from your captain. Keep watch for a variety of wildlife, like alligators, turtles, fish and wading birds, and listen for the sounds of the Everglades' nocturnal creatures.

During the daytime hours, check out the exhibits inside Sawgrass Recreation Park. In the Reptile Exhibit, discover dozens of species that are both native and exotic to Florida — from turtles, iguanas and snakes to Cannibal, a 1,000-pound (454-kg) alligator. Feel free to ask the park's handlers any questions, and bring a camera to capture the 'Hold a Baby Alligator' experience.

In the Glades Exhibit, learn about the history of the area and its conservation efforts in the video presentation, 'Our Everglades Story.' Then check out the African spur thigh tortoises, who range in size from 20 to over 100 pounds (9 to over 45 kg) each, as well as rare gopher tortoises (rescued from a construction site), iguanas and colorful peacocks.

And finally, in the Exotic Wildlife exhibit, get up close and personal with wild cats — panthers, leopards, bobcats, caracals and more.

July 2012
Our tour guide was great, got to see a good amount of alligators. Hard sometimes when the alligator was on the opposite side of the boat from where you were sitting but they tried to move the boat. Make sure to put on a lot of bug spray!
Advertisement
Advertisement