Why pay for an expensive cab ride when there's a simple, cost-effective alternative available? Travel from Fort Lauderdale–Hollywood International Airport (FLL) to any accommodation in Fort Lauderdale Beach, the Miami International Airport area, Miami South Beach or western Fort Lauderdale via this economical, shared-ride vehicle. Enjoy the stress-free comfort and convenience of one-way, door-to-door travel — 24 hours per day, seven days each week.
Highlights
Shared, one-way, door-to-door transfer from the Fort Lauderdale-Hollywood International Airport

Four available destinations: Fort Lauderdale Beach hotels, Miami Airport and area hotels, Miami South Beach hotels or western Fort Lauderdale locations

A great way to start your Florida vacation!
Enjoy smooth, friendly and hassle-free transfer service
Don't forget to book your return transfer for the journey home!

What You Can Expect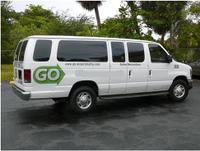 Getting from the airport to a local hotel or home can be complicated, but it doesn't have to be. There is a convenient option that takes all the hassle and guesswork out of renting a car or paying for an expensive taxi after a long flight.

Simplify the entire process upon arrival at Fort Lauderdale–Hollywood International Airport (FLL). Travel from the airport to any accommodation or residence in Fort Lauderdale Beach, the Miami International Airport area, Miami South Beach or western Fort Lauderdale in style and comfort by arranging for a shared-ride transfer vehicle. Simply provide the flight arrival details and full address of the destination. The transfer will be confirmed instantly and a travel voucher will be issued to present to the driver.

Service is available 24 hours a day, seven days a week, so it doesn't matter when your flight arrives. This ultra-convenient form of transportation will always be ready to roll.
May 2016
It was fine. I did have to wait about 15 minutes before they took me to the hotel. Flying into Fort Lauderdale is a very easy airport. Probably over paid for the transfer. It is not hard to get a cab.
December 2015
This transfer was well organised and went ahead without any problems - good service !
November 2015
This was a very easy way to get from airport to hotel, no waiting, great informative driver. Viator have never let us down on any off the occasion we have used them. Rate them highly
May 2015
Efficient and cost effective way to get to South Beach
April 2014
Trip and driver were fine / fun as usual so that was great. However, just to note, pretty much every time (I've used this service several times in the past) I present my printed pre-paid voucher to the driver, they have never seen one before - to date, it hasn't held anything up, but just wondering why they haven't seen that form before. thanks.

graeme.pattinson South Africa
April 2013
March 2013
It was what we expected and on time as always...good job! We have used Viator all over the world and have never been disappointed.
February 2013
Driver was friendly and professional. Will use your service when I return back to the Lauderdale area again in the next few months!
Karen Mason
February 2013
November 2012
Excellent...courteous driver and comfortable car.
Advertisement
Advertisement