When your cruise ends at the Port of Miami or Port Everglades (Fort Lauderdale), arrange for a stress-free ride to the Fort Lauderdale Airport with this private transfer service. Meet your chauffeur at your port of call, and relax on the journey to the airport in a luxury sedan.
Highlights
Private one-way transfer from the Port of Miami or Port Everglades (Fort Lauderdale port) to the Fort Lauderdale Airport

Professional chauffeur in a private vehicle
Enjoy smooth, friendly and hassle-free transfer service

What You Can Expect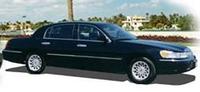 Skip the stress of booking a taxi or finding a shuttle service when your cruise comes to an end. Just enter your ship arrival time, your port of call and your Fort Lauderdale flight departure details when you book. Pay in advance and then just show your voucher to your chauffeur. Rides are available 24 hours a day, seven days a week.
Price is per person, based on four passengers per sedan.
June 2016
We booked transfers to and from the Ft. Lauderdale airport to the port in Miami. Both car rides were very comfortable, with spacious clean vehicles. The drivers were right on time and very accommodating to our schedule. Both drivers were personable and friendly. I would highly recommend Viator, whether for transfers or for excursions. We will be a repeat customer in the future!
February 2015
This was a quick, cost -effective way to get to the airport after our cruise. The driver was very friendly and helpful. Would definitely book again.

April 2016
Although the driver was very nice, the luggage for four people barely fit into the trunk. You should have dispatched a van of some sort.
March 2015
Pick up was from the center island out side the terminal. Pick up was about 15-20 min's which was ok. The driver came with our names on a sign for pick up. Worked out great and we were at the air port in about 5-7 min's due to traffic and construction. Only part I don't like is the cost which was very high for such a short drive.
January 2015
Inside of vehicle clearly demonstrated wear and tear beyond expected for a $65 trip to the airport plus tip. Bottom line, dirty interior, worn, okay look outside appearance. I might as well have asked a teenager to give us a ride in their parents car to the airport.
April 2013
Positive: Clean car. Negative:Had to make several calls to the transfer office before the car came. Driver said we had to pay even after I presented the paid coupon and he threatened to take us back to the cruise port. Finally we convinced him to call his office and it took several calls before he admitted it was prepaid. The other car used by another group of us did not have problem with the coupon.
May 2014
When I called prior to my trip, I was told to call when I retrieved my luggage and a car would be about 30 minutes. On the day we came back, I called when I retrieved my luggage but was told to call back when I was through customs. I would think that if it took 30 minutes for a car to come you would send it then. I called again when I got through customs, waited on the line for about 5 minutes, then finally spoke to someone. We then had to wait 30-40 minutes for the car. The driver was considerate and called with his ETA, etc.
January 2014
The one flaw in booking a transport through VIATOR from the ship pot to the airport is that one is required to call the 1-800 number to tell the cab that we are off the ship. No one told me this at the time of booking and without a long distance plan on my Canadian cell phone it cost me money to do that. Furthermore, based on the picture in this add and even on this feedback form I thought i was booking a limo...but a van from another company actually picked us up. I would not use this method again and just grab a taxi. I wish VIATOR had explained these details. I felt misinformed and for the price we paid I was disappointed we were transported in a van. I don't understand why our driver could not have possessed the same voucher, show it tot he port authorities and then be in the pick up zone waiting for us like personal vehicles seemed to be doing.
Advertisement
Advertisement