Experience Iguassu Falls in an open-top Jeep, on foot through the jungle and in a boat under the falls themselves. With a local guide, this 5-hour tour allows outdoor enthusiasts and adrenaline junkies to experience the falls in multiple ways. Keep an eye out for local flora and fauna during your jungle experience, and prepare to get wet when you view the falls from the boat. Round-trip transportation from Foz do Iguaçu hotels is included in this tour.
Highlights
Iguassu Falls off-road, hike and cruise adventure from Foz do Iguaçu

Fantastic way to experience the Brazilian side of Iguassu Falls

Explore the jungle of Iguaçu National Park in an open-top off-road vehicle

Hike a path towards a waterfall for a refreshing swim

Jump on a boat and see Devil's Throat and the Three Musketeers Waterfall from the water

Complimentary hotel pickup and drop-off included

Recent Photos of This Tour
Iguassu Falls Combo Tour: Off-Road Jungle Drive, Hike and Waterfall Boat Ride
What You Can Expect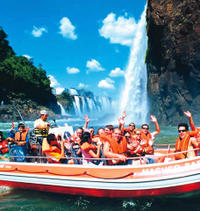 Following pickup from your hotel in Foz do Iguaçu, board your your vehicle and head for Iguaçu National Park with your guide and tour group.
Once you reach the park, jump in to an open-top safari vehicle for an off-road drive over the jungle's rugged roads. As the verdant rainforest whizzes by, listen to your guide point out varieties of natural flora like centenarian trees, bromeliads and orchids. Keep an eye out for the bird and animal life that is everywhere in the rainforest.
Disembark the vehicle for a short hike down a hidden trail that ends at a beautiful
65-foot (20-meter)
waterfall. Take a break from the jungle heat and jump in for a quick swim (hike and swim are optional).
When your jungle ride is over, board a boat headed upriver for spectacular, up-close views of Three Musketeers and Devil's Throat Falls. The boat maintains a relatively slow speed, which allows you to photograph and film the surrounding scenery. Prepare to get a bit wet, since the mist from the thunderous water creates an almost-permanent heavy raincloud at the base of the falls.
At the conclusion of your 5-hour adventure exploring the falls by land and water, return to your Foz do Iguaçu hotel for drop-off.

June 2016
This was by far one of the best ideas for our Foz do Iguacu trip. I'm not one to normally book tours as I usually like wandering on my own and generally can find my way cheaper but this was a great decision. Our tour guide Flavia and Natasha were super great, explaining everything, and letting us wander when we needed. We were able to explore the falls both by land and water. The boat tour was amazing. We literally had the falls pouring on us which was an awesome experience. Would recommend this tour to everyone visiting the area.
May 2016
This tour is a must! The guide picked us up right on time! It was well organized and the off-road jungle drive, plus the hike and the waterfall boat ride made Iguassu Falls an experience that we would never forget. Seeing the falls from a distance is nice but going under the falls is absolutely amazing! Prepare to get wet and don't forget to bring clothes and flipflops to change after the boat ride! It's well worth it!
Book373 United States of ...
March 2016
I had a blast on this tour, soooooo much fun it was! Nothing like being on the headed to the falls to get splashed! Iguassu is a special place and this tour is so worth it!
February 2016
Wow!! The Boat Ride going under the waterfall is a lifetime experience you will never forget!! Highly recommend it.

donghenz Philippines
September 2015
I really enjoyed this tour. Upon confirmation, Gerardo asked me if i am ready to get wet. I told him maybe. So i brought with me my raincoat, yet i also wore swim clothes. I am thinking twice on bringing my DSLR with me during the tour, good thing i didn't since we really were literally wet from head to toe. The water was cold yet we were blessed with a sunny morning in which they told us that it's unusual during those period to have the sun. it was a fun experience!
After the safari tour, Gerardo fetched me up at the gate and told me they will have lunch and if i wanted to join or if i would like to take some photos along the waterfalls while they are having lunch, and i opted the latter! i have ample time to go to the bridge and take some very good photos of the waterfalls.
Highly recommended!
July 2015
Unforgettable, thrilling, the best! The only detail that was not made clear at the embarcadero was that we should leave our shoes in the lockers before getting on the boat, but after a little hairdryer play that afternoon the shoes sneakers were fine.
I would recommend this combo tour to anyone who wants to get the full experience of the Cataratas.
June 2015
Unforgettable experience for me. Since a TV crew did shooting, interview and introduction of the Falls in my boat, my boat ride lasted for almost 1.5 hrs, normally 20-30 mins. It's incredible. I also highlight my tour guide, Ivete. She took care of me privately as I'm the only Eng-speaking tourist.
February 2015
We had an unforgettable moment thanks to Roberta and Gerardo our 2 guides.
Really worth it. The experience of the boat is AMAZING and also the Jungle Drive is nice. We spend the whole day and finished visiting the Bird Zoo (not included in the price). Gerardo came with us and make us like a private tour.
Pick up on time. Really worth it: DON' T MISS IT
January 2015
The boat ride gets very close to the falls for a very drenched ride. Get a raincoat.
Jungle drive was amazing along a one-way drive to the boat ride.
Everything was so great even with the trail walk to see the falls. Amazing!
The only thing is guides speak little English but doesn't affect the fun
October 2014
What a fantastic experience. This is a must do if visiting the Iguazu Falls
Advertisement
Advertisement