While visiting Iguassu Falls National Park, take the chance to explore the Itaipu Dam, the largest operational hydroelectric power plant in the world. Visit this stunning piece of modern architecture and learn about its construction, its environment impact and its importance to the people of Brazil and Paraguay. The shear size of the Itaipu Dam will be sure to leave you speechless!
Highlights
Guided sightseeing tour of the Itaipu Dam from Foz do Iguaçu

Learn about the construction of the dam and the famous power outage

Complimentary hotel pickup and drop-off included

What You Can Expect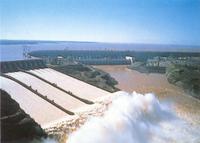 Built on the Paraná River near the border between Brazil and Paraguay, the Itaipu Dam is the largest operational hydroelectric power plant in the world. On this sightseeing tour from Foz do Iguaçu, you'll tour this engineering marvel, which generates a power of 12,600 megawatts, approximately 25% of the electricity consumed by Brazil and 95% of the energy consumed by Paraguay.

After many negotiations between Brazil and Paraguay, the construction of the Itaipu Dam began in the 1970s. When completed in 1984, the dam measured approximately 645 feet (196 meters) in height and 26,000 feet (7,920 meters) in length. The size of the dam and its impressive construction led the American Society of Civil Engineers to elect the Itaipu Dam as one of the modern Wonders of the World in 1994.

In 2009, transmission from the plant seized up, causing a power failure. The entire country of Paraguay and large regions of Brazil, including Rio de Janeiro and São Paulo, suffered a blackout. The power outage lasted approximately two hours and affected more than 50 million people, leading to one of the world's largest blackouts.

Your guided sightseeing tour gives you an up-close view of the Itaipu Dam and offers you the chance to take some great photos! Your knowledgeable guide will be happy to answer any questions you may have.
March 2015
April 2013
This tour just covered the cost of transportation. A taxis would cost less.
Advertisement
Advertisement