Visit Itaipu Dam, the largest functioning hydroelectric power plant in the world, during this 4-hour outing from Foz do Iguaçu. Learn about this excellent example of modern architecture from your knowledgeable local guide, as well as its environmental impact, its construction and its importance in the lives of the Paraguayan and Brazilian people. Round trip transportation from Foz do Iguaçu hotels is included.
Highlights
Guided sightseeing tour of the Itaipu Dam from Foz do Iguaçu

Learn about the construction of the dam and the famous power outage

Complimentary hotel pickup and drop-off included

What You Can Expect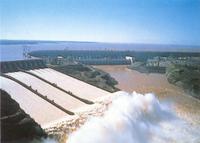 Following pickup at your Foz do Iguaçu hotel, board a comfortable vehicle for the short trip to the Itaipu Dam, one of the Modern Wonders of the World.
Enjoy a guided sightseeing tour that gives you a close view of the dam and offers great photo opportunities. Take advantage of your guide's expertise and ask any questions you have about the dam or the surrounding area. Learn about its construction in the 1970s and 1980s and its importance to the people of Paraguay and Brazil. When the dam seized up for 2 hours in 2009, it interrupted power to entire country of Paraguay and large regions of Brazil, making this incident one of the world's largest blackouts.
When your time exploring, photographing and learning about the dam is finished, enjoy drop-off back at your Foz do Iguaçu hotel.

donghenz Philippines
September 2015
It was a privilege having accommodated for this tour. Actually i was taking Macuco Safari in the morning yet my tour agency in Iguazu managed to squeeze the schedule in order for me to join this Itaipu Dam tour in the afternoon.
The place is huge, i am amazed on how this dam was built. I am happy to know that both Brazil and Paraguay were benefited from this huge construction. This is really a massive engineering.
Highly recommended!
August 2015
every thing ok, as espected
March 2015
April 2013
This tour just covered the cost of transportation. A taxis would cost less.
April 2013
This tour only covered the cost of transportation. A taxis would cost less.

November 2012
The dam itself is quite impressive. However, I find that the tour was a bit short. The tour included a film, which presented the history of the dam, and a bus trip around the dam with several stops for picture-taking. I suggest to those who will visit to also include the park in the itinerary.
January 2016
the bookings indicated a pick up/ tour starts at 2pm and we got pick up from the hotel at 6 pm .
not what it says on the descriptions of the tour .
not worth the money and time.
July 2013
The package only for transport, the driver is great, but still a bit expensive for transport.
August 2012
Not worth seeing if there was no overflow from the dam. DO NOT DO THIS TOUR! very very very disapointing as our guide was DEFINTELY NOT ENGLISH SPEAKING and we felt very unsafe! we got to the dam and nothing was organised and we had to book another tour on arrival to the dam. very very unhappy
Advertisement
Advertisement