Discover Germany's bustling cities and ancient heritage on this 8-day Weimar, Dresden, Berlin and Hamburg tour from Frankfurt. Visit UNESCO–listed attractions including Classical Weimar, the Wartburg Castle and Sanssouci Palace. Explore Dresden with your guide, home to Semper Opera House, the Green Vault and the beautiful Frauenkirche. Learn of Martin Luther and Germany's Reformation history in Wittenberg and Potsdam, and admire top Berlin sites such as Brandenburg Gate, Checkpoint Charlie and the Reichstag. Enjoy a 1-hour harbor cruise in Hamburg and take a walking tour through historic Bremen.
Highlights
8-day tour of northern and eastern Germany, round-trip from Frankfurt

Tour the historical German cities of Dresden, Berlin, Bremen and Frankfurt
Visit Wartburg Castle, where Martin Luther translated the New Testament, and see where he began the Reformation at Castle Church in Wittenburg
Admire architecture in Classical Weimar, a UNESCO World Heritage Site

Marvel at restored post-war buildings like the Semper Opera House and Kaiser Wilhelm Memorial Church
Discover the stories of the Brothers Grimm along the German Fairy Tale Route
Buffet breakfast each morning plus two dinners included
What You Can Expect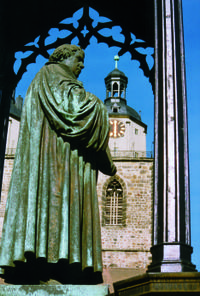 Your 8-day round-trip coach tour of historical Germany starts and ends in Frankfurt. Your comprehensive tour of more than 10 amazing cities and towns includes hotel accommodation (with buffet breakfast plus welcome and farewell dinners), transfers between locations, a harbor cruise and more!

Itinerary
Day 1: Frankfurt – Eisenach - Weimar (D)
Departing from your Frankfurt hotel in the morning, hop aboard your comfortable coach and head east to Eisenach, a charming medieval town located near the foothills of the Thuringian Forest. Upon arrival, visit the impressive Wartburg Castle, a UNESCO World Heritage-listed fortress that's considered one of Germany's most important historical buildings.
Your knowledgeable guide will take you to see the Luther Room, where Martin Luther spent eleven weeks translating the New Testament in the early 16th century. As you tour the interior, hear tales about St Elizabeth of Thuringia, who spent most of her life at the castle 300 years earlier.
Afterward, continue to Weimar and enjoy a city tour aboard the coach, including a visit to Classical Weimar – listed as a UNESCO World Heritage Site for its architecture and cultural legacy, as it once served as the cultural center of Europe. See the Baroque-style, 18th-century homes of poets Goethe and Schiller, as well as the buildings where composers Liszt and Richard Strauss lived and worked.
In the evening, join your guide and group for a welcome dinner served at your hotel.
Overnight: Hotel Leonardo (or similar) in Weimar
Day 2: Weimar – Dresden (B)
After a buffet breakfast you'll drive to Dresden, the capital of the Free State of Saxony and one of the loveliest cities of central Europe. Referred to as 'Florence on the Elbe,' due to its mild climate and its location on the banks of the Elbe river, the city center has been beautifully restored since it was leveled after bombing in 1945.
Embark on a coach tour of Dresden, where your guide will point out the stunning architecture of renowned museums and historical monuments. See the Semper Opera House (Semperoper) – built in 1841 and reconstructed in 1985 – as well as the Baroque-style Zwinger, the Green Vault and the restored Dresden Frauenkirche, a Lutheran church featuring one of the Europe's largest domes.
After checking in at your hotel, enjoy the rest of the day free to explore the city on your own.
Overnight: Park Inn (or similar) in Dresden
Day 3: Dresden – Wittenberg - Potsdam - Berlin (B)
Enjoy breakfast before boarding the bus for Wittenberg, Potsdam and finally Berlin. Your guide will take you on a coach tour of Wittenberg, including a visit to the famous Castle Church, where Martin Luther started the Reformation when he nailed his 95 theses to the door in 1517.
Then, head to Potsdam to see the elegant courtyards of Sanssouci Palace, the former summer residence of Frederick the Great, King of Prussia. As you explore the grounds around the palace, admire the extensive gardens at this World Heritage Site.

In the late afternoon, arrive at your hotel in the heart of Berlin, and enjoy the rest of your day at your leisure.

Overnight: Hotel Sylter Hof Berlin (or similar) in Berlin


Day 4: Berlin (B)
After your buffet breakfast, your guide will take your group on an extensive coach tour of Berlin to see the top attractions of Germany's capital. Listen to onboard commentary as you pass famous historical landmarks like Brandenburg Gate, Checkpoint Charlie, the Berlin Victory Column and the Reichstag building that housed the parliament.
Admire the Schloss Bellevue (Bellevue Palace) – the official residence of the German president – and see the remains of the Berlin Wall as well as the war-damaged spire of the Kaiser Wilhelm Memorial Church. Stroll along Unter den Linden, a lovely tree-lined pedestrian boulevard that crosses the Spree river at the Berliner Dom (Berlin Cathedral).
The afternoon is free for you to enjoy this exciting city on your own, with recommendations from your guide. Choose from hundreds of museums and art galleries to explore, or go shopping in the numerous boutiques and department stores. If you'd like, take an optional 1- to 1.5-hour boat trip (own expense), which offers amazing views of Berlin from the river.
Overnight: Econtel Hotel Berlin Charlottenburg (or similar) in Berlin
Day 5: Berlin – Hamburg (B)
Head north to Hamburg after breakfast at your hotel, and enjoy a coach tour of the main sites in this fascinating port city. Admire the bronze statue of the archangel Michael at the portal to St Michälis Church, and see the impressive brick buildings of the Speicherstadt (warehouse district), now transformed into offices, hotels, shops and residential buildings in the HafenCity quarter.
Pass through the St Pauli quarter, situated on the north bank of the Elbe, and discover where boats come in at Landungsbrücken (Landing Bridges). From here, embark on a 1-hour harbor cruise and view the city from the water as you learn more about Germany's largest port. See Köhlbrand Bridge, the Blohm and Voss shipyards, HafenCity and the picturesque warehouses as you ferry past.
Your evening is free for you to enjoy at your leisure. Your guide will offer recommendations, such as a walk along the Reeperbahn – a well-known street in the center of Hamburg's nightlife, including the red light district once enjoyed by sailors.
Overnight: Best Western Queens Hotel (or similar) in Hamburg
Day 6: Hamburg – Hamelin (B, D)
After breakfast, depart for the Free Hanseatic City of Bremen, a seafaring town located along the river Weser. Join your group on a guided walking tour and see the cathedral, city hall and the statue of Roland, which stands tall with sword and shield in the market square (Rathausplatz).
Admire the Town Musicians of Bremen, (Die Bremer Stadtmusikanten), a bronze statue of four animals from the fairytale by the Brothers Grimm; legend has it that you can rub the donkey's hooves and your wish will come true! Then, continue your walk through the narrow cobblestone streets of the Schnoor quarter, Bremen's oldest neighborhood where quaint houses date back to the 15th through 18th centuries.
Leaving Bremen by coach, drive along the celebrated German Fairy Tale Route (Deutsche Märchen Strasse) and see the sites of stories by Wilhelm and Jacob Grimm, as well as where the brothers lived and worked, before reaching Hamelin in the afternoon. Known for the folk tale of the Pied Piper of Hamelin, the town boasts lavishly decorated homes that reflect its former wealth as a trading center, due to its favorable location along the river.
Explore the delights of the historical city center on foot with your guide before check-in at your hotel. In the evening, join your fellow travelers for a farewell dinner.
Overnight: Mercure Hotel (or similar) in Hamelin
Day 7: Hamelin – Frankfurt (B)
After breakfast, continue to follow the Fairy Tale Route along the river Weser, heading by coach toward the small city of Hann. Münden (short for Hannoversch Münden). See the 12th-century city walls and one of the country's oldest stone bridges as you pass through this unique town, one of Germany's best-preserved cities.
On your return to Frankfurt, your guide will make stops along the road until you reach your final destination. In the afternoon, take a panoramic coach tour of Frankfurt and discover all the fantastic sights of Germany's financial capital!
Overnight: InterCityHotel (or similar) in Frankfurt
Day 8: Frankfurt (B)
Your journey ends with a breakfast buffet at your hotel.
June 2015
Beautiful trip. Very well designed destinations. A lot of it thanks to tour guide Dirk. Will highly recommend as the next trip to visit part of Germany.
October 2015
On paper this looked like a great itinerary, seeing a lot of fascinating and famous places. Unfortunately, the tour guide was hopelessly incompetent and unable to lead or manage the tour. He was disorganised, appeared to have done no preparation or planning, and was terrible at managing time. I also found his driving dangerous, his hands off the wheel, his eyes off the road, either turned round talking to somebody in the back seat, or fiddling around with his several pairs of glasses trying to decide which ones to wear there were just three of us so we were in a car with him driving. He appeared to be unfamiliar with the itinerary, didn't know where we were supposed to be going, what we were supposed to do, how long we were supposed to stay anywhere. He didn't know where to park, didn't know how to use the parking machines when we were leaving, didn't know where the hotel was, didn't know how to do his job. We were very late nearly everywhere, so didn't have time for anything or things would be shut by the time we got there. It got to the point where you could only laugh despite having paid a lot of hard-earned money for all this. It was very annoying listening to his repeated complaints about East Germans and Greeks. The irony of him complaining about their inefficiency and incompetence completely escaped this deluded and foolish man. The hotels were quite good. If you got a good tour guide this could be a great tour. Unfortunately we weren't that lucky. I did contact the tour company, but in the course of 4 weeks have received no explanation from them.
Advertisement
Advertisement