Discover top attractions in Frankfurt on this private 5-hour Frankfurt Airport layover sightseeing tour with round-trip airport transport. Cross the River Main with your private guide and gaze over the famous Museum Embankment. Stroll along the cobbled streets of Old Sachsenhausen and see the New Opera House, Hauptwache and Goethe House. Admire towering skyscrapers in the Frankfurt Stock Exchange. Explore the Westend district, home to the Eschenheimer Tower, the Old Opera House and Senckenberg Museum. Marvel at the medieval Römer and Frankfurt Cathedral, and visit the bustling Market Hall.
Highlights
5-hour private layover tour in Frankfurt with round-trip airport transport
See the city's main landmarks such as Goethe House, Eschenheimer Tower, Römer and Frankfurt Cathedral (Kaiserdom)
Cross the River Main over Friedensbruecke (Peace Bridge) and Alte Brucke (Old Bridge)
Visit several districts including the Westend and Old Sachsenhausen
Enjoy a customized itinerary and commentary by an informative guide
What You Can Expect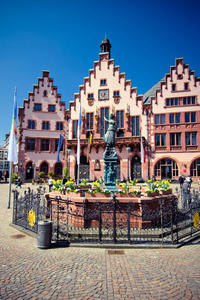 After pickup from the Frankfurt airport by your guide, your private layover tour begins at Frankfurt Central Train Station (Frankfurt Hauptbahnhof), just west of the city center. From here, your guide will take you across the Friedensbruecke (Peace Bridge) over the River Main and point out Frankfurt's 13 museums along the renowned Museum Embankment.
Continue to Old Sachsenhausen, a pedestrian district of Frankfurt famed for its lively cafés, bars and restaurants, where you can embark on a short walk if you wish. Then, head back across the River Main by way of Alte Brucke (Old Bridge), driving along the Northern Embankment. Catch sight of the New Opera House, Hauptwache (main guardhouse) and Goethe House – birthplace of the 18th-century poet.
Passing skyscrapers and the Frankfurt Stock Exchange in the banking quarter, head toward the Westend district and learn about the many landmarks from your guide. You'll see famous monuments including Eschenheimer Tower, the Old Opera House, Bockenheimer Warte (guardhouse), Senckenberg Museum (museum of natural history) and Frankfurt Messe (trade fairgrounds).
Next, you'll drive back to the city center to admire Römer, the site of city hall for 600 years and considered one of Frankfurt's most important historical buildings. After viewing the Frankfurt Cathedral (Kaiserdom), visit the Market Hall (Kleinmarkthalle) where 150 vendors sell wholesale produce and other foods, or enjoy some free time exploring on your own.
Your private tour ends with return transport to the Frankfurt airport.

Please note: This private sightseeing tour of Frankfurt can be customized to your interests; please list any special interests you have (e.g. art, architecture, history, culture, shopping) at the time of booking to alert your guide, so that he or she can better prepare for your private tour.

February 2013
This was a great way to avoid a long layover in Frankfurt. Our driver was right on time...waiting for us outside of customs. He had suggestions on what to see and a great restaurant for lunch. All seven of us enjoyed ourselves. Our driver was excellent. Thank you for offering this experience
June 2013
The guide was just fine and tried to do the best he could. The problem was that their isn't much to see unless you want to go into museums. We felt the tour should have been much shorter. Three hours at most, which would still leave time for lunch. We just skipped the last two hours.

July 2014
It was unclear on where to meet the driver so there was some time wasted. The first driver/guide had back issues so we basically rode around in the car until a second guide/driver was ready. No commentary by the first driver at any point; we had to ask questions to get him to talk. We finally exchanged driver/guide who basically put us in a restaurant for lunch, then led us on a walk through the "center of town" which apparently is a pedestrian mall. If I wanted to shop I could have stayed at the airport. Instead I was hoping for some kind of "private sightseeing tour" of Frankfurt attractions with commentary. Instead, I spent money for time at a mall and at a restaurant just to kill time between flights.
Advertisement
Advertisement