Experience the fairy-tale beauty of Rothenburg on a full-day tour from Frankfurt. Travel into the heart of Bavaria to this treasured medieval city, renowned for its beautifully preserved homes and Renaissance attractions like the formidable town hall. Enjoy included access to St Jacob's Church or Rothenburg's Medieval Crime Museum, then stroll the town's cobblestone lanes and soak up the essence of small-town Germany.
Highlights
Full-day trip to Rothenburg ob der Tauber from Frankfurt

Enjoy a walking tour of Rothenburg's Old Town, led by an expert guide

Entrance fees to either St Jacob's Church or the Rothenburg Medieval Crime Museum included

Bring your camera for photos of Rothenburg's pretty half-timbered houses that epitomise medival Germany

Transport by luxury air-conditioned coach

Visit the Rothenburg Christmas Market when traveling in the month before Christmas

What You Can Expect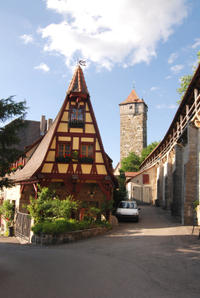 Journey back in time with a 9-hour trip to Rothenburg ob der Tauber. You day begins with morning pickup in central Frankfurt. Meet your local guide, grab a seat in the comfortable coach and relax for the approximate 2-hour scenic ride along Germany's famous Castle Road.
You'll arrive in Rothenburg by mid-morning. Touted as Germany's best-preserved medieval town, Rothenburg is a window into the past. Follow your guide on a city tour along cobbled streets to view stunning landmarks like the town's signature half-timbered houses, the old city walls and town gates, the Renaissance town hall and St Jacob's Church.
Your trip includes entrance to the 500-year-old church, where you'll learn fascinating facts about the building and the church's famous Holy Bloody Altar. If that doesn't strike your fancy, choose instead to redeem your free entrance pass at Rothenberg's Medieval Crime Museum.
After your tour and some independent exploring, re-board your coach for the return ride to Frankfurt, arriving in the evening.
Note: Have the good fortune of traveling to Rothenburg between November 25 and December 23? Be sure to visit the town's splendid Christmas markets, featuring over 100 decorated stalls selling handcrafted goods and edibles. Shop, sample seasonal treats and experience German Christmas tradition.
March 2016
We had a great time and enjoyed the tour in Nuremberg and Rothenburg. Our tour guide was Peter and he is a great tour guide and very informative.
Two small towns are very beautiful and very well preserve. Highly recommended.
Rene Z USA
December 2015
Excellent day tour from Frankfurt. Driver and tour guide Peter was excellent and very knowledgeable of this gorgeous mediaval city in Bavaria.
November 2015
The trip was great. Was not so sure at the beginning at the Green Line Shop, but Oliver, our driver was an amazing guide. Rothenburg should not be missed and the price of the tour was more than fair. Amazing time, and was not overcrowded as some tours can be when traveling. Highly rate this tour 9.5/10.

November 2015
It is a wonderful little city. Germany has done well on keeping this place as it was. The sights, food, Christmas displays, and museums are just a few of the things I enjoyed about Rothenburg.
September 2015
July 2015
Must see! We wish we spent more than the day in Rothenburg, it was amazing!
June 2015
Well worth doing Fabulous guide named George. Lots of. history and really quaint old buildings
April 2015
Highly recommended! Georgen is a wonderful and warm guide! He is pleasing and informative and it was a very enjoyable and relaxing trip!
April 2015
Boris was our guide on a personified tour to Rothenburg that was undoubtedly one of the highlights of our trip to Germany. His knowledge of the area and the easy manner in which he imparted it was exemplary for all local guides. We couldn't fault the seamless organisation of the whole day and would highly recommend this tour to any independent travellers. Rothenburg itself is a delight, of course.
March 2015
We enjoyed our tour of Rothenburg and the Christmas Market. Our tour guide was very interesting, knowledgeable and his command of English was excellent.
Advertisement
Advertisement