Visit fairy-tale Neuschwanstein Castle, the inspiration for Walt Disney's 'Sleeping Beauty,' on this day trip from Frankfurt. Travel through the gorgeous Bavarian countryside to one Germany's most famous attractions and a global icon, Neuschwanstein Castle, for a guided tour. Your skip-the-line ticket lets you bypass the entrance queues, which are notoriously long year-round. Learn about the castle's history, admire its opulent interior and enjoy spectacular photo opportunities of its postcard-worthy grandeur. If you have limited time in Germany, Neuschwanstein Castle is a must, and this tour makes it easy.
Highlights
Day trip from Frankfurt to Neuschwanstein Castle

Travel along the beautiful Romantic Road, surrounded by foothills of the Bavarian Alps
Skip the entrance lines at Neuschwanstein Castle for a guided tour

Admire the stunning architecture of one of Germany's most famous attractions
Learn about the castle's history, architecture and fairy-tale inspiration
Explore independently after your tour

What You Can Expect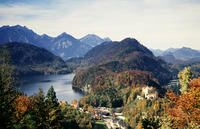 Board an air-conditioned coach in central Frankfurt in the morning and relax on the scenic drive south through Bavaria's Alpine foothills. At the southernmost tip of the breathtaking Romantic Road, reach the enchanting little town of Füssen, approximately 161 miles (260 km) south of Frankfurt. Sitting high on a rocky outcrop overlooking the valley is Neuschwanstein Castle, the breathtaking Neo-Gothic Revival palace of King Ludwig II of Bavaria that served as the inspiration for Walt Disney's Sleeping Beauty.
When you arrive at Neuschwanstein Castle, skip the entrance lines for a guided tour. Welcoming nearly 6,000 visitors per day and popular year-round, Neuschwanstein garners long entrance lines, but you'll bypass the crowds and head straight inside with your guide.
One of three royal palaces built for the king, Neuschwanstein is by far the most distinctive, with its dizzyingly high perch, stunning grandeur and ornate interior. Tour the castle's interior, where the richness of King Ludwig is showcased on full scale, with his opulent living quarters and an array of historical paintings, mosaics and ornaments that display the impressive craftsmanship of the late 1800s. Your guide will provide fascinating commentary as you walk, describing the shy king who used Neuschwanstein Castle as his personal refuge during his turbulent reign.
After your tour, you'll have some free time to stroll around the castle grounds, shop for souvenirs and enjoy spectacular photo opportunities against the backdrop of the Bavarian Alps. Re-board the coach in the afternoon for the drive back to Frankfurt, and enjoy a provided lunchbox along the way.
December 2014
Had a wonderful time on the trip, it left on time and returned on time, we were well looked after throughout the day and the driver was excellent, he (Jack) was full of stories and information about the region we were traveling through and was very informative and funny. He was explained correctly time lines for the day and made sure the bus was warm enough and we had enough food and drink for the trip, He was also very helpful at recommending other sights to see after the trip. The castle was fantastic to see and the town of Rothenburg was amazing. We thoroughly enjoyed the excursion and would recommend it to anyone.
July 2013
I really enjoyed my day trip to Neuschwanstein. It is an extremely long day with a lot of time on the road. If you are not put off by spending 4-5 hours on the road each way, I highly recommend this trip. The castle is one of the most stunning things in Europe that I have seen and the region of Bavaria it is located in is gorgeous. Additionally our guide stopped for pictures in Rothenburg on the way back which is an experience not to be missed. The guide Wolfgang was professional, knowledgable, and even went out of his way to try to converse with me in German to help improve my language skills even though he spoke flawless English.
June 2015
Got to see a lot of Germany on this tour. Our driver was very knowledgable and had amazing stamina. Enjoyed extra stop at Rothenburg. Would have appreciated better dinner stop. Glad we took this tour.
March 2015
I had a lot of fun. It is a long trip for a short tour of the castle but if, like me, you have always wanted to see it I don't think you will be disappointed. We just had a driver guide so he didn't talk much on the road but he was still nice. Great to be able to do it at short notice in low season.
December 2014
The tour was great and the guide was very friendly and knowledgeable.
June 2014
The view is magnificent from a distance. Just like the fairy tale castle comes alive. The wealthier was excellent and we can scrolled down the hill track after visiting the castle.
The drive from Frankfurt to Neuschwanstein took over 4 hours one way. We were privileged to be chauffeured in a limousine with great leg room. The car condition was excellent that we felt that it was cruising quietly although it speeded at 180km/hr on the Germany autobahn.
February 2012
The castle was great. It's a 3-4 hour trip each way by car....so if you don't want to spend 8 hours driving, take the train to Munich and go from there instead.
October 2011
Our "tour" guide didn't not know a lot. The actual tour of the castle was a let down. Stay overnight it is too far to make a day trip. Eat there the one included is not worth it.
Advertisement
Advertisement