Visit the cities of Rothenburg and Munich on this 2-day sightseeing adventure from Frankfurt. First, explore the Jewel of the Middle Ages, the picturesque town of Rothenburg ob der Tauber, perhaps the most well-preserved medieval old town in all of Germany. After an overnight stay, travel along Romantic Road to Augsburg, one of the oldest and most historically significant cities in Germany, before arriving in Munich. Coach transportation from Frankfurt to Rothenburg to Munich, plus taxi transfers, guided tour and breakfast are included.
Highlights
Overnight stay: Frankfurt to Munich including Romantic Road and Rothenburg


Enjoy a tour of Germany's Bavarian region recognized as the 'Jewel of the Middle Ages'

Visit the charming towns of Dinkelsbuhl, Nordlingen, and Donauworth


Transport by air-conditioned coach

Hotel accommodation included
Recent Photos of This Tour
Overnight Frankfurt to Munich - Romantic Road, Rothenburg
What You Can Expect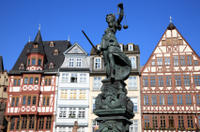 This 2-day tour begins in Frankfurt with a 2-hour drive southeast — eventually along the famous Romantic Road, a world-wide symbol of German romance — to the picturesque town of Rothenburg ob der Tauber. Rothenburg is widely believed to be the most well-preserved medieval old town in all of Germany.
Upon arrival, a taxi will transfer guests to Hotel Spitzweg (or a similar accommodation) for a check in. Then, in the afternoon or evening, join the city walk and follow the guide through the town's winding, cobbled lanes. See the half-timbered houses, the Renaissance Town Hall and the almost fairy tale appearance of the majestic town gates that welcome Rothenburg's many visitors from near and far. Alternatively, take a walk back in time with the Night Watchman tour of Rothenburg.
After breakfast the next day, feel free to explore some of Rothebnurg's most popular sites. Then around noon, embark on a 2-hour trip farther south to Munich, the capital city of Bavaria and one of Germany's most popular destinations. On the way, travel again along Romantic Road to Augsburg, one of the oldest and most historically significant cities in Germany. This former metropolis was famous for old trade dynasties during the Middle Ages.
Finally, the sightseeing tour ends around 6 p.m. in Munich.
Itinerary
Joyce F Canada
December 2014
My family of 5 Adults enjoyed this tour very much. It was relaxing and informative. The hotel in Rothenburg was quaint and perfectly located to tour the walled city. We were there during their Medevial Days celebration so were able to enjoy the many period acts. So historic and took us back to a very different time. I highly recommend this tour.
August 2014
Loved every minute! The Goldene Rose Boutique Hotel in Rothenburg was sensational. Beautifully refinished rooms and a delicious breakfast.
July 2014
Rothenberg was a great place. Hotel was quite small though, no airconditioning for summer. But the hotel was quaint and had a good breakfast experience.
July 2014
Everything went as expected. The four of us (wife and two grandchildren, ages 10 and 14) had a good time.
April 2011
I was impressed by the organization, the info package, the punctuality and the wonderful hotel in Rotterburg.
What I didn't like is that this suppose to be trip with panoramic view but the drivers use the best seats on the coach for their leaflets and personal stuff (4 front seats) and make people that have paid to seat behind. This is very upsetting.
Rutu M USA
August 2008
The description does not mention it, but this trip goes all the way to Fussen, where you can see Neuschwanstein Castle...and it is a beautiful sight. The bus does not stop at all places on the Romantic Road, but it will stop at the good ones. Overall, a wonderful trip!
December 2013
Excellent trip. Always on schedule and the hotel was excellent.
September 2010
Rothenburg is a bit commercialised - try the smaller towns to stay in. The first driver was excellent - the second was really cranky and refused to tell us where to access taxis in Munich due to lack of interest.
Dushani D USA
January 2010
Really enjoyed our stay in Rothenburg. The hotel was charming and the breakfast was wonderful. Didn't really much care for the guided tour in Rothenberg as we preferred to do it on our own. Starting and ending points were convenient train stations.
Daniel N USA
July 2009
Day one was not spent much on the Romantic Road, but the stay in Rothenburg was worth it alone. It is a very nice walled village. Day 2 was nice on the Romantic Road, but our driver was a bit impatient on narrow roads. The coordination of bus, taxi, and hotel was a breeze. The tour ended about 4:30 pm, though, so that threw us off some.
Advertisement
Advertisement