Spend an unforgettable week visiting some of Germany's most mythical and enchanting places! Depart from Frankfurt on this scenic journey that travels along the Romantic Road and into Bavaria. Soak up the many sites and flavors of Germany as you visit quaint villages, colorful cities, UNESCO-listed wonders, and legendary places like Neuschwanstein Castle. When not on the move, enjoy independently exploring each region's unique culture and gastronomy.
Highlights
7-day round-trip tour of romantic Germany from Frankfurt with private hotel accommodation

Explore the romantic German cities of Rothenburg, Heidelberg and Munich
Enjoy the scenic landscapes along the Romantic Road and the magnificent countryside of the Black Forest
Visit the famous Neuschwanstein Castle and Linderhof Palace
See UNESCO World Heritage Sites, including the Wurzburg Residence, Heidelberg Castle and the Upper Middle Rhine Valley

Breakfast each morning and two dinners included
Recent Photos of This Tour
Romantic Germany: 7-Day Tour from Frankfurt to Munich, Neuschwanstein Castle and Heidelberg
What You Can Expect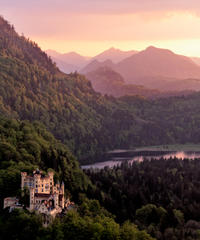 Discover the gems of Germany on this 7-day tour of the Romantic Road and the myth-laden Black Forest. Your journey departs Frankfurt in the morning. With your private guide, leave behind the big-city and head south to toward the medieval town of Rothenburg ob der Tauber, where you'll spend your first of six nights.
Throughout the next week, you'll hit all the regional highlights, enjoying spectacular natural vistas including Lake Constance and the Rhine River,
lessons in German clock-making
and remarkable landmarks like Neuschwanstein Castle and Linderhof Palace. Among the many charming towns on your itinerary, Munich, Füssen, Singen and Heidelberg will be your evening stopovers. In your free time, soak up the essence of Bavaria through self-guided tours and sampling an array of traditional cuisine.
Your tour includes round-trip transport, six nights of accommodation in 3- and 4-star hotels, daily breakfasts, two dinners, guided walking tours, a Rhine River cruise, and admission to many attractions.

Please see the Itinerary field below for more detailed information.

Itinerary
Day 1 - Frankfurt, Wurzburg and Rothenburg ob der Tauber (D)
Departing Frankfurt, head off through the beautiful Spessart Mountains to the city of Wurzburg. Visit the UNESCO World Heritage-listed Wurzburg Residence before you continue your journey along the Romantic Road to Rothenburg ob der Tauber.

Enjoy an introductory city tour of Rothenburg, including a visit to the Church of St Jacob, which houses the Holy Blood Altar by famous woodcarver Tilmann Riemenschneider. After an evening welcome dinner at your hotel, meet the Night Watchman of Rothenburg for a walking tour of Rothenburg's medieval old town, where you'll learn about the city's history that dates back more than 1,000 years.

Overnight accommodation: 4-Star Hotel Eisenhut (or similar).

Day 2 - Rothenburg ob der Tauber, Augsburg and Munich (B)
Continue your drive along the Romantic Road. Pass the charming towns of Dinkelsbühl and Nördlingen, and make a short stop in the medieval city of Augsburg.

Then make your way to Munich, the capital of Bavaria, where you'll enjoy an introductory city walk before you check in at your hotel. Afterwards, join the walk to the Glockenspiel at the famous Marienplatz, and spend the rest of the day at your leisure.

Overnight accommodation: 4-Star Hotel Erzgiesserei (or similar).

Day 3 - Munich, Garmisch-Partenkirchen, Ettal, Oberammergau and Fuessen (B)
After breakfast at your hotel, travel into the Bavarian Alps and visit the village of Garmisch-Partenkirchen, at the foot of the Zugspitze, Germany's highest mountain. Continue to the beautiful village of Ettal with its spectacular Benedectine abbey, and drive on to nearby Oberammergau -- famous for its Passion Play, which is performed every 10 years and involves more than 2,000 local performers.

Before arriving at your hotel in Fuessen, your coach will stop in Wies so you can visit the impressive Rococo-era Pilgrimage Church of Wies, designed in the 1740s.

Overnight accommodation: 4-Star Luitpoldpark-Hotel (or similar).

Day 4 - Fuessen, Neuschwanstein Castle, Linderhof Palace and Rottenbuch (B)
Start day 4 with a drive to the enchanting and stunning Neuschwanstein Castle in Hohenschwangau. After a guided visit of the royal apartments and staterooms, board the coach for the drive to Linderhof Palace, another famous residence built by the eccentric King Ludwig II. Explore the palace and enjoy its scenic alpine surroundings.

On the way back to Fuessen, stop at the Abbey of Rottenbuch, which features beautiful Rococo architecture.

Overnight accommodation: 4-Star Luitpoldpark-Hotel (or similar).

Day 5: Lindau and Lake Constance (B)
Travel south to another famous and romantic landmark in Germany, Lake Constance, the largest lake in Germany. Enjoy a walking tour of the village of Lindau, located on the east side of the lake.

Next, journey toward the Swiss border and visit the beautiful German city of Constance, a well-known university town and the birthplace of Count Ferdinand von Zeppelin, the famous airship pioneer.

Then check in to your hotel in the nearby city Singen.

Overnight accommodation: 3-Star Holiday Inn Express (or similar).

Day 6 - Lake Constance, Black Forest, Freiburg and Heidelberg (B/D)
Enjoy the scenic landscapes on your way northward to the Black Forest. Visit a local clockmaker, who will explain to you the making of traditional cuckoo clocks. Don't miss the opportunity to sample the region's famous cake, the Black Forest Gateau.

Then travel through the magnificent countryside to Freiburg, where you'll go on a city tour before continuing to the old university town of Heidelberg. See the inner courtyard and the historical wine cellar of the UNESCO World Heritage-listed Heidelberg Castle, and enjoy a splendid view over Heidelberg's old town.

In the evening, head to your delicious farewell dinner at the famous restaurant Zum Ritter St Georg, built in the 16th century.

Overnight accommodation: 4-Star Hotel Zum Ritter St Georg (or similar).

Day 7 - Heidelberg, Ruedesheim and Frankfurt (B)
Depart Heidelberg in the morning and start your last day with a drive to Ruedesheim in the Upper Middle Rhine Valley, famous for its untouched nature and widespread vineyards. Upon arrival in Ruedesheim, board a boat and take off on a Rhine River cruise, passing picturesque ruins, castles and the legendary Loreley Rock.

Board the coach a last time in St Goarshausen and return to Frankfurt, where your romantic Germany experience ends with a brief panoramic tour of Germany's financial capital.
August 2015
4 1/2 stars. Very good tour, well organised, managed and lead by the tour guide Dirk. My only criticisms were i some of the hotels did not have air-conditioning, which was uncomfortable in South Germany in August it might be better at cooler times of the year, ii the air-conditioning on the bus could be temperamental, iii on the final day I was expecting a panoramic city tour of Frankfurt, but we just spent a longer time in Rudesheim instead, before dropping people off in Frankfurt. I wasn't sure whether to rate the tour 4 or 5 stars - 4 1/2 - but generally recommended.
August 2014
It was a wonderful tour. The tour guide, Dirk and the bus driver, Gunter, were excellent! The hotels were all very nice and the sights were beautiful. I would definitely recommend this tour!
December 2013
Beutiful trip I will reccomend to every body. I am not happy about the hotel acomadation.
July 2013
Our tour was outstanding. The activities and sights that were included in the tour were exactly what we were hoping for on this trip. Our tour guide, Dirk, was incredibly knowledgeable on both the history of the region, as well as current information on the country. It's not easy to accommodate the various needs and meet the expectations of a group of people on vacation, but the consensus of nearly every one of our fellow travelers was that our tour guide was exceptional and went above and beyond to assure that we had an enjoyable experience. We would definitely go on another tour through Viator and Touring Tours and we would recommend this particular trip without reservation.
June 2013
Everything I had been hoping for and more. great hotels and an excellent tour guide and driver.
October 2012
Our tour guide had excellent knowledge of the history of Germany and took us to extra places that were fantastic and very welcomed.
Our driver was excellent and worked very well together, they were always collaborating on how to make the tour better. We could not have asked for a better tour and look forward to using your company again,
July 2013
I enjoyed very much The Romantic Germany Tour. It was much more than I have expected. The driver Andreas and the guide Dirk were both excelent. The hotels were all good. The only thing I did not like was that we had problems with the bus air conditioning and it was somewhat unconfortable due to the very hot days we had during the tour.
July 2014
I was left wondering a bit when I booked the tour I was told all meals were inclusive ,but my guide dirk who was very good got in touch with touring the company who viator booked it with and I myself also sent viator e mails from Germany but received no reply from either touring or from viator as a dead silence was maintained --the driver and itinerary and the guide were excellent -I liked the hotels except in fossen they wanted me to pay for wifi -and we stayed two nights .in munich wifi was not free as well and hotel was in suburbs than centre -the last straw was the hotel in Heidelberg was changed we were sent on last moment to Darmstadt because an event of formula racing was happening in Heidelberg -it meant we spent the last day mostly in the coach travelling -if everything had happened as I was told by viator I will rate it as 4.5 but these were irritable and rather poor planning on part of both firms so I would look forward to an explanation -the event in Heidelberg must have been planned months before so was that not known to tour organisers .
Advertisement
Advertisement