This 30-minute helicopter flight with an expert alpine pilot takes you over the twin glaciers of Franz Josef and Fox Glacier, with a snow landing at the head of either one. At the landing site above the icefalls, step out to marvel at the phenomenal glacial beauty of the crevasse-filled landscape below. Your helicopter tour soars above the magnificent carved valleys of the Southern Alps, and includes round-trip hotel transport to the tour base.
Highlights
Enjoy a 30-minute helicopter tour over glaciers and land

Helicopter experience includes a snow landing

Entertaining and informative commentary from your pilot guide

Photo oppotunities

Hotel pickup and drop off

What You Can Expect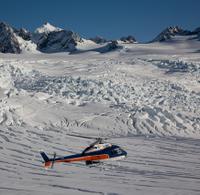 Soar over two of New Zealand's most renowned glaciers, each cloaked in an ice-blue sheen, on this 30-minute helicopter flight. After hotel pickup in Fox Glacier Village, you're transferred to the helicopter base for your aerial tour that includes a magnificent snow landing atop either Fox Glacier or Franz Josef Glacier.
Step aboard your twin-engine copter and look out from the six-passenger open cabin to an incomparable aerial vista over the Southern Alps. Hover above fascinating ice forms as your pilot provides interesting narration on the ever-changing glacial landscape.
After a remote landing, step out onto a snowfield above the icefalls. You'll be captivated by your natural surroundings, including views of Mt Cook/Aoraki, which towers at an elevation of 12,217 feet (3,724 meters).
Back on firm ground, you're transferred from the tour base to your hotel.
March 2016
Heli trip of a lifetime .Pilot was great and his comments only added to the experiance .
March 2016
The staff was very helpful and efficient. Pilot did an excellent job. Loved being on the glacier, getting photos.
February 2016
Amazing! We took our family of 5 on this flight and it will be a favorite memory for us. The helicopter office is right on the main street and within walking distance of one of the larger camper van parks. We took heavy coats, gloves and scarves, but those were not needed. We only needed gloves so we could throw snowballs at eachother.
January 2013
If they had said it was this good we would not have believed them.
The weather forecast was not good but it turned out a lovely morning (at least when we flew). Enough safety management to give confidence but not boring. We had walked to Fox glacier the day before but it did not prepare us for this amazing flight and landing on the Glacier. Can't think of words good enough to describe the experience of helicopter flight, close views of the mountains and glaciers and a great pilot making it exciting but not frightening. Go and experience it if you think this is an exaggeration.
Melissa W Australia
April 2012
Whole family loved it. Weather perfect on the day. Views amazing. Pilot and team made the whole process easy. Walking on the glacier one of the highlights of our trip.
JB Australia
July 2010
The helicopter flight was absolutely fabulous, glaciers were awesome, the guides friendly lovely people. Only draw back was the flight was about an hour late and we were on a tight schedule. You have a gorgeous country, saving dollars to come back again.
January 2014
Infact they did not do everything they promised. They did not give us a hotel pickup, and 10mts time to spent on the glaciers was cut to 5 mnts. The pilot too wasn't very friendly or informative. It was a bit disappointing.
Advertisement
Advertisement