Named K'Gari (paradise) by the local Aborigines, Fraser Island features more than 100 freshwater lakes, extensive rainforest and giant sand dunes. Explore the island with an expert guide who leads rainforest walks at Pile Valley, Central Station, Wanggoolba Creek and the Hammerstone Sandblow, and provides swimming opportunities at Eli Creek, Lake McKenzie, the Champagne Pools and Lake Wabby. Stay overnight at a lodge on Seventy-Five Mile Beach, see the Pinnacles and Maheno shipwreck, and have the option to book a scenic sightseeing flight on this fun and informative 2-day tour.
Highlights
Two-day tour of Fraser Island, from Hervey Bay
Visit Central Station and walk along picturesque trails through the rainforest by Wanggoolba Creek and Pile Valley
Swim in the crystal clear waters of Lake McKenzie, one of more than 100 freshwater lakes on Fraser Island

Float along the gentle current of Eli Creek and wade in the Champagne Pools

Drive down Seventy-Five Mile Beach to photograph the Maheno shipwreck and the colorful sand cliffs at the Pinnacles
Cross the Hammerstone Sandblow to reach Lake Wabby and wade into its emerald waters
Climb to the top of Indian Head for magnificent views of the shoreline
What You Can Expect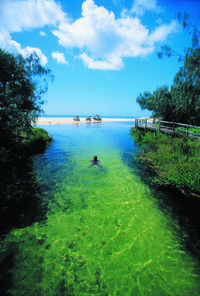 Your 2-day tour of Fraser Island departs from Hervey Bay or Rainbow Beach, and includes an overnight stay at Eurong Beach Resort, located next to the ocean on Seventy-Five Mile beach. The apartment-style accommodation offers a choice of a shared quad room, or a private twin room. The resort has two swimming pools, two bars and a cafe. One breakfast, two lunches and a dinner are included.

Fraser Island is a place unlike any other. Created over the millennia from sand drifting off of mainland Australia, it is the largest sand island in the world and the only place where rainforest grows in sand. Your guide takes you to the island's top sites, including Lake McKenzie, Eli Creek, Champagne Pools, Lake Wabby, Central Station, the Maheno shipwreck and the Hammerstone Sandblow. Travel by 4WD coach and learn from your guide about this amazing ecosystem during your 2-day visit.
Itinerary
Day 1: (L, D)
After pickup at your hotel in Hervey Bay or meeting at Rivers Head, you'll board the ferry to Fraser Island. On the island, you'll travel with your expert guide by comfortable four-wheel drive (4WD) air-conditioned coach as you explore the World Heritage-listed island. Keep an eye out for wild dingos as you drive!

First you'll head to Central Station, a former logging station. Your guide will explain why Fraser Island was so valuable to the timber industry as you stroll along a boardwalk next to Wanggoolba Creek. Find idyllic spots where the crystalline creek flows over white sand through a valley shaded by ghost gums, pine trees and king ferns. Then stop at the subtropical rainforest of Pile Valley to see satinay trees. Renowned for being resistant to fire and termites, satinay was used to line the banks of the Suez Canal and rebuild the London Docks after World War II.

Next you'll head to Lake McKenzie, where you can swim in its clear waters and relax on sandy white beaches. Afterwards, you'll drive along the a sandy highway of Seventy-Five Mile Beach. From here you can opt to take an Air Fraser flight over the island (own expense).

Further along the beach, you'll stop where Eli Creek meets the ocean. If you choose, you can walk up the creek and float back along the current to the beach.

Reboard your coach for your next two destinations: the iconic Maheno Shipwreck and the colored sand cliffs of the Pinnacles. Your guide will share aboriginal legends about Pinnacles and you'll have time to snap great photos at both sites.

Overnight: Eurong Beach Resort

Day 2: (B, L)
After breakfast, you'll set out for Indian Head, a rocky headland with spectacular beach and ocean views. Climb to the viewpoint and look for dolphins, sharks, rays, turtles and possibly humpback whales (migrating from July to November).

Next you'll go north to Champagne Pools where you can explore shallow sandy pools sheltered by rocks from the crashing surf.

After lunch, you'll head to the Hammerstone Sandblow, a huge sand dune that leads to Lake Wabby. After crossing the sands, you'll be rewarded with a refreshing dip in the emerald lake, the deepest lake on the island.

At the end of the second day, you'll board the 5pm ferry back to River Heads and then returned to your hotel.
March 2016
Absolutely amazing. Butch was a superb driver and host and his knowledge was fantastic, picking out the best bits but not droning on for hours. Boomerang demo was great as well.
March 2016
Great 2 day tour through Fraser Island with a great tour guide. The guide knew everything about Frase r Island and was a good driver. This is an beautiful island and a definitely a must see when travelling through Australia. Beach resort was good with clean rooms and big buffet with a lot of choise.
October 2015
A great two days exploring Fraser Island with a well informed guide full of interesting and amusing information.
October 2015
Excellent tour. Amazing way to see the island without having to worry about how to drive on sand. Optional aeroplane flight was a must to see the true size of the island. Will definitely come back. Highly recommend this tour. Bring reef walking shoes as lots of walking in sand
June 2015
This was one of the best things we did in Australia. We did everything we were told we would. There was no rush despite seeing so much and no pressure to do anything. The swimming opportunities should not be missed and the water was not as cold as expected. The transport was good, the guides excellent and the food provided very good and plentiful. Fraser Island is a real adventure and should not be missed. Excellent value for money. Trisch UK
June 2015
Driver is of great humor, nice guy, tour trip great, see most parts of island, catch the little planes is great, cost 75instead of 200 normal price. The food and living condition is four star, can't expect higher on the island. Great vegetarian food for us
April 2015
March 2015
October 2014
ladymillicent Ireland
March 2014
This was an excellent tour. The island is amazingly diverse and the tour took in all of it. The highlight had to be swimming in the beautiful lake after a hard trek up a hot sandy trail and over the sand dunes . The accommodation and food were good and plentiful. The tour guide/driver was very enthusiastic and informative and a really good driver over the rough terrain. I would highly recommend this tour.
Advertisement
Advertisement