Rock climb, ride a water slide snorkel off this unique catamaran on the Fantasia Snorkel Sea Safari. During this 2-hour excursion on a 72-foot double-decker boat, choose from several different activities. Purchase food and drinks from the on-board cash bar and restaurant after climbing the rock wall, shooting the water slide or snorkeling with schools of tropical fish. Round-trip transportation from central Freeport hotels is included.
Highlights
Fantasia Snorkel Sea Safari in the Bahamas!

Snorkel, slide or rock climb on this catamaran cruise in the Caribbean

Complimentary hotel pickup and drop-off included

Recent Photos of This Tour
Fantasia Snorkel Sea Safari
What You Can Expect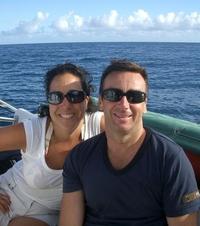 Following pickup from your central Freeport hotel, arrive at the marina to meet the Fantasia Snorkel Sea Safari. This unique 72-foot double-decker catamaran is yours on which to explore the Caribbean for the next 2 hours.
Sail on the catamaran to a reef that's home to schools of multicolored tropical fish. Slip on the provided snorkel, mask and flippers and follow your guides into water. Float on the surface, using the provided flotation decide if needed, while your guide points out the different types of coral and marine life around you.
Climb back aboard the boat to enjoy the Fantasia Snorkel Sea Safari's other activities. Zoom down the open 30-foot straight slide and splash into the calm Caribbean waters. Put on a harness and climb the boat's 30-foot rock climbing wall.
As the catamaran cruises along the shore of the Lucayan Canal, purchase lunch, snacks and drinks from the onboard bar and grill. When your Fantasia Snorkel Sea Safari is over, you'll return to the marina and be dropped off at your hotel in Freeport.
June 2016
We had a great time on this snorkel tour! We saw beautiful coral, plenty of colorful fish. My 5 year old was able to snorkel while my husband and I took turns waiting on the boat with my 3 year old, which worked out great! The staff were fun and friendly.
April 2016
Took this your with friends and kids ages 8-11 while in port with our cruise. Bus picked us up at port and it was about 20 minute ride to snorkel cruise. The transportation is extra and you pay at the dock for snorkel boat. We saw a lot of fish in the water and we had a blast. Our kids loved it
August 2015
very friendly staff!! however transportation to their boat was not included, so we had to pay an additonal 50 for party of 5 to get to Port Lucaya from Freeport, but otherwise very pleased with our experience
June 2015
This was by far the BEST part of our Bahamas visit! The crew was PHENOMENAL, they had a sense of humor, great personalities and gave an aura of fun every time you talked to them. The tour was easy going, they took you out to a reef and let you explore on your own yet still guided. Our main tour guide was so much help, she kept pointing out the types of fish. We saw a barracuda, sting ray and even a nurse shark!
Our trip to Freeport was pretty bad, we were there for one week and this was the only day that we enjoyed being there. DEFINITELY recommend this tour!

January 2015
I was so scared at first, but the tour guides are so informative that it made it so easy to learn, and made it so much fun. They even stopped the boat to catch a star fish and teach us about them, a must do tour!!!
March 2014
The staff was very friendly and helpful especially Laura, she was great.
December 2013
This was the most enjoyable and best experience on this trip of ours.
The captain and staff were all superb! Efficient, knowledgable, friendly and helpful.
The snorkeling itself was amazing. All one can see!!!
The water is warm, even in winter.
This I would recommend anyone of any age, swimmer or not swimmer. If you cannot swim, use a floating device.
August 2013
This was our second time going out on the Fantasia. We enjoyed it so much. The crew is the best, they are friendly, happy and very willing to help make your snorkling adventure the best. Captain Nick has 3 or 4 life guards, or as he calls them his dolphins in the water with you at all times just swimming around and helping those that want help or can not swim well. You can snorkel without life vests, with or without flippers, just do what ever you want. The trip out to the reef is not long and is smooth. Best thing Freeport has to offer. Same captain and 1 dolphins as last trip.
April 2013
Great trip. Friendly staff. Great snorkeling.
July 2011
My family enjoyed this tour. The help could not do enough for you making sure everyone was having fun and safe.
Advertisement
Advertisement