Special Offer
Book with us and save 17% compared to another travel site!
While in port in Freeport, enjoy a day in Deadman's Reef on Grand Bahama. Spend your morning or afternoon as you wish – this area offers white-sand beaches, calm, clear waters and world-class snorkeling, without the crowds. The reef lies just off the shore, and with the provided snorkeling equipment, you can see tropical fish, colorful corals, sea turtles and shellfish.
Highlights
Grand Bahama shore excursion to Deadman's Reef

Spend a relaxing morning or afternoon on the secluded white sand beach

Spot turtles, fish or dolphins as you snorkel on Deadman's Reef

Food and drinks available at the beach bar (own expense)
Covered by Viator's worry-free policy: guaranteed on-time return to your ship
Recent Photos of This Tour
Freeport Shore Excursion: Deadman's Reef Snorkeling and Beach Escape
What You Can Expect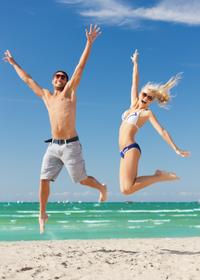 After your guide meets you at the Freeport cruise port, board your coach and embark on the 12-mile (20km) trip to Deadman's Reef. After the scenic drive, you arrive at the pristine shores of Deadman's Reef, on the off-the-beaten-path southwestern coast of Grand Bahama. Enjoy this picturesque Bahamian beach, without the crowds and loud vendors you will find at the island's well-known beaches.

Enjoy three hours in this beach paradise however you choose. Relax and soak up the sun on the sand, swim in the warm, clear waters or venture out to the reef for snorkeling. Your guide will provide you with a mask, snorkel and fins so you can see life under the sea! Swim among tropical fish and vivid corals and keep your eyes peeled for other marine life, like sea turtles and even dolphins!

Back on shore, there is a beach bar and restaurant where you can purchase drinks and food like conch burgers, hot dogs, lobster salads and more. When your time at Deadman's Reef is up, you will board the coach and be transported back to your cruise ship.

Worry-free Shore Excursion:
We will ensure your timely return to the Freeport port after this tour. In the rare occurrence that your ship has departed, we will arrange for transportation to the next port-of-call. Also, if your ship is delayed and you are not able to attend this tour, you will receive a full refund. For complete details, see our terms and conditions.


May 2016
We booked this tour outside of the cruise ship and we were very pleased. We were the only ones on our ship that booked the early morning tour on Viator. When we debarked, there was someone at the dock waiting for us. Our guide drove us to Deadman's Reef which was about a 30 minute car ride. When we arrived, we were the only tourist there. We had to pay an 11 per person admission fee for use of the beach. All snorkeling equipment was included in the price of the tour except for the required flotation devise. We rented the flotation devise from the beach area which also required a deposit but was refunded upon the return of the flotation. The beach was great and it was easy access to the reefs. I must say, it was wonderful having the beach to ourselves without a lot of others people around. The water was beautiful and clear. We saw a lot of pretty coral and fish and the sandy beach was great. As we were leaving, three bus loads of people were pulling up to snorkel. So glad we had the early morning tour booked as we loved having the beach to ourselves. There were lockers, dressing rooms, restrooms and food available. Our tour guide was very knowledgeable, professional and friendly. I would definitely recommend this tour.
February 2015
January 2015
We had a great time exploring Freeport at Deadman's Reef! Our tour guides were excellent, explaining many of the wonderful details and facts from the island and were extremely friendly. The beach itself was nice and quiet, the water clear and beautiful. We didn't get to explore much due to being there in December, it was a bit cold but we did get in for a little. We saw a stingray hanging out on the beach front and there was thousands of jelly fish, [they didn't sting] which was quite awesome, I have never gotten to swim with jelly fish! The kids loved picking them up! There were also some tropical fish closer into shore, but it was too cold for us to venture out to the main reef, I am sure it was filled with beautiful fish. There was a place for you to grab food and drinks if you were hungry. There was also other things you could rent, such as kayaks, paddle boards, floatation devices, and etc. It was a great trip and I would recommend it to anybody!
December 2014
My excursion was awesome! My cruise changed the ports from Freeport on Wednesday to Friday. I was able to call the company and they changed my excursion date from Wednesday to Friday with no problems and we appreciated it. Our guide Bryce was very knowledgeable and friendly. It was worth the cost. We were able to snorkel from 130p to 430p at our leisure all equipment was included. The only additional cost was the floatation device , locker and food at Paradise Cove which is all optional. I will definitely use Fran Tours again and recommend them to my friends and family when they visit Freeport. Thanks for making my trip a memorable experience!
October 2014
We were picked up right on time. We were the only ones to get on the bus but the guide was still amazing. We learned a lot about the island. We got to the beach and it was beautiful. We saw a lot of fish and we found a lot of coral. We had drinks and cochlear fritters. I highly recommend this tour.
August 2014
Our family had a great time on this excursion at less cost than Carnivals excursion that was at the beach next to us. Our family of 4 had the beach to ourselves for the first hour and for the next 2 hours only 5 other people were on our stretch of beach. Good snorkelling and a super clean snack bar/ bar/ bathroom/ shower building.
July 2014
We would have never gone on the excursion if another family hadn't been there too. We were waiting at Senor Frogs like we were supposed too and no one showed up. The other family had a phone and called the number on the receipt we had printed as a receipt. We were then told to walk to another area outside the gate and wait a few minutes. A stretch limo picked us up. The driver was very nice and apologetic. He had not received the information about picking us up until we called them. So technically we wouldn't have gone if it hadn't been for the other family having a phone. We started about 30 minutes behind schedule, but after the initial confusion, it was great. We had a limo ride, we had a great time snorkeling, all the people at the beach were nice and friendly. We loved the snorkeling. When we finished snorkeling, a bus picked us up. A very nice girl was driving and she took us on a scenic tour on the way back to the ship. She was very informative about the island and she stopped a couple times for us to look at things. Overall, we had a great time. I am so thankful we got to go after the confusion.
July 2014
This excursion was excellent. Van took us to a beach we had to ourselves. All equipment was provided and instruction was given to the first time snorklers. Water was clear as glass and the sea life was amazing. The staff prepared fresh conk fritters... delicious! Book with confidence.
March 2016
It was great! Everyone was very friendly and helpful. The people we went through watched our stuff for us while we were out in the water. The actual beach and coral were great. We saw a sea turtle and stingray. They also had a artificial reef where we could see all kinds of fish. This was the second time I have done this and would definitely do it a third time!
December 2015
It was a Great Tour - Especially because the Driver was Funny and had very interesting information about the Island. We enjoyed the Snorkeling and the fact that the Equipment was included in the Tour. A Good Value. From Daytona Beach, Fl.
Special Offer
$39.99 Save $7.00
Advertisement
Advertisement