Snorkel through turquoise waters off Grand Bahama's coast during this 3-hour snorkeling tour from Freeport. Board a comfortable catamaran for trip to Peterson Cay National Park, then jump into the calm, shallow water to explore the undersea world. With an experienced guide, see schools of colorful fish, vibrant coral reefs and small native sharks. Use of fins, mask and snorkel is included on this tour.
Highlights
Freeport snorkeling tour

Enjoy a catamaran ride across the turquoise Caribbean Sea
Snorkel around Peterson Cay National Park
Spot tropical fish and other Grand Bahama marine life
Great family activity!

What You Can Expect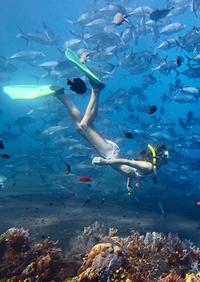 Make your way to the Viva Wyndham Fortuna Beach Hotel to meet your group and snorkeling guide. At the dive shop, get fitted for fins, a mask and a snorkel.
Climb aboard the comfortable catamaran and find a spot on the deck to relax as the boat sails out of the harbor. Get to know your guides and fellow passengers while the captain pilots the boat toward the small island that is home to Peterson Cay National Park.
Upon arrival, don your snorkeling gear and jump in. Your guide is on hand for tips and directions if you're new to snorkeling and to point you in the right direction to see the abundant underwater life. Move languidly through the calm, shallow waters, looking for hard and soft coral, schools of tropical fish and maybe even a shark or two.
When you've finished snorkeling, climb back on board the boat and dry off in the Caribbean sun with some refreshing bottled water. Feel free to bring along lunch to enjoy on the way back.
Your 3-hour excursion ends with the boat's return to the Wyndham.
December 2015
Nice trip for the price. Staff very helpful and friendly
June 2015
The tour company was excellent. They were prompt, knowledgeable about the island, very friendly, and brought us to the Peterson Cay National Park for pictures of the protected park, as well as for great snorkeling at the coral reef. This tour is highly recommended for anyone who enjoys snorkeling.
June 2015
We loved the snorkeling trip. It was very well run. The crew was so friendly and helpful. It was an awesome experience!!
August 2014
This trip was great. We loved the Cay! We shared the boat trip with divers, so it made us wish we had signed up for diving! The day we went was very clear and very, very hot! Bring extra water, extra sunscreen and a hat if you don't want your forehead to burn!
March 2016
Snorkeling was not so great not many fish but the lunch and relaxing on the beach was very nice.
June 2015
The Boat captain and Guide were very pleasant and helpful. Honestly though, not much of a reef to dive at and not much to see there.
July 2015
I have taken other snorkeling trips, so I do have something to compare it with.
The catamaran was actually a pontoon boat. That was my first disappointment.
There was nothing that made the boat ride to Peterson Cay fun.
We made a stop before going to the spot where we could snorkel for no apparent reason.
All this stop did was make our actual time spent in the water at the snorkeling spot shorter.
I was impressed with the site where we did snorkel. There were many fish and I was able to get some good pictures, however, we just stayed at the same location and no one ventured any further from the boat than about 20 feet. All the crew members stayed on the boat so we were on our own. It was the first snorkeling experience for my granddaughters ages 12 and 15. They also took pictures and thought it was exciting. I was disappointed.
Advertisement
Advertisement