See the best of Bavaria on a day trip from Füssen, led by an expert local guide! During tours of the region's two famous stunners – Neuschwanstein Castle and Linderhof Castle – learn about King Ludwig II, the shy yet extravagant 19th-century leader who made the two fairy-tale castles his home. Visit the idyllic villages of Hohenschwangau and Oberammergau, and see top Bavarian attractions such as Wieskirche, a Rococo church on the Romantic Road.
Highlights
Day trip from Füssen to Neuschwanstein Castle and Linderhof Castle

Travel through the scenic Bavarian countryside and stop to admire the views from Marienbrücke
Explore Neuschwanstein Castle with an expert guide and learn of King Ludwig II
Visit the Bavarian villages of Hohenschwangau and Oberammergau
Take a tour of Linderhof Castle, visiting sites like the Hall of Mirrors and Venus Grotto
What You Can Expect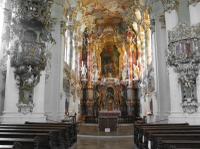 Meet your guide near Füssen Station, and then hop aboard your luxury coach for the short journey south to Marienbrücke, a 19th-century crossing that overlooks the Pöllat Gorge. Gaze down at Neuschwanstein Castle with its elaborate turrets and parapets, and then pose for photos set against the backdrop of the heart-stopping Tegelberg mountain.

Then, head inside Neuschwanstein Castle for your walking tour, and learn how it was built for King Ludwig II in the 19th century. While the Romanesque Revival castle was intended as Ludwig's retreat, the building was never completed and the king spent less than half a year living inside it. Admire the stately interiors, including murals that pay homage to compose Richard Wagner – Ludwig's operatic idol – inside the Minstrel's Hall. Explore rooms like Ludwig's bedroom and admire the dazzling ornamentation of the Byzantine Throne Room.

Leave the castle and travel to the nearby village of Hohenschwangau to enjoy some free time. Find a restaurant for lunch (own expense) or stroll around Lake Alpsee, one of the region's most beautiful lakes.

Hop back on board your coach and travel along the Romantic Road to explore Wieskirche, a beautiful Rococo church. After admiring its architecture, travel onward to the village of Oberammergau, where the famous Passion Play is held once every 10 years. Explore the village, admiring its pretty Lüftlmalerei (painted houses), and then travel to Linderhof Castle – another of Ludwig's former homes.

Nestled deep in the forest, Linderhof was the castle where the eccentric king spent most of his time. Step inside to see its lavish rooms such as the Hall of Mirrors and the Audience Chamber, and then visit the outside Venus Grotto – an artificial cave said to be modeled on Capri's Blue Grotto. Explore Linderhof Palace Gardens at leisure, and then return to your coach.

Travel back to Füssen, finishing your tour at the station in the early evening.
December 2014
We had a wonderful experience. There were only three couples plus our excellent guide Astrid; so it was like a private tour. Astrid was very knowledgeable, being from the area, and was most helpful, offering advice regarding the rest of our trip plans. I would love to go on another of her guided tours one day. Highly recommend this guided tour. We got in and out of the castles quickly and avoided the confusion of getting tickets, parking, etc. Also, the carriage ride was a pleasant experience. It was also nice having a stop at the beautiful church and having shopping time in Oberammergau. Although I am 60 years old and not in the best of shape, there was not too much walking for me. Just very brief stretches of challenging walk or stair climbing. All in all, a very good day.
October 2014
Peter was a fantastic guide. He helped us cut through all the effort and downside to seeing these big heavily toured sites, and made us feel like we were the only ones there! His low key manner, humor, and excellent knowledge made him the perfect companion for a full day tour. Highly recommend using a tour guide at this location...and especially this one!
September 2014
This was my 4th trip to Germany since 1987, but the first time I went on any kind of tour. I have to say that I wish I had done a tour before, especially one with Peter and Franz, the tour guides. They were great!
My wife and I were traveling with my daughter, son-in-law and two grandchildren. We thought our Viator Tour was right at the top of our visit.
If I could make one suggestion, it would be nice to have some identifying tag for the members of the tour. The guides had to search for members of the tour several times during the day.
Vielen dank for a great tour!
September 2014
Mariana, the tour guide, went over and above the call of duty- very giving of her time and extremely helpful.
September 2014
The tour was fantastic, we had a small group of 6 people, the guide was very friendly and knowledgable, I learnt so much on this tour and would highly recommend it to any one
August 2014
Our guide Peter was very knowledgable, very flexible and took very good care of us. When the weather was not cooperating, he added on a wonderful mountain tour to make sure that we got the most out of our trip. I wished we had packed him when we went to Salzburg!
August 2014
Lots of walking all day long. Not a trip for children or those unable to walk many up stairs and hills. Although we had rain our guide was very good and accomodating making our trip very pleasant and informative.
August 2014
Excellent trip and highly organised and knowledgable guide (Petr). Thoroughly recommend this tour for travellers who have not much time and/or no car as you can get to see a lot more of the Allgäu than you would if you were on public transport. As they organise the visit to the Neuschwanstein castle you avoid ALL the queues and traffic jams which could add several hours onto the visit when the interior castle tour itself is very short.
Advertisement
Advertisement