Choose from a 4- or 5- day trip through the Galapagos Islands, where you'll explore this natural wonder aboard a comfortable yacht. Sail from island to island and learn about the flora and fauna that drew Charles Darwin to this gem of Ecuador. Visit his scientific station and relax evenings away at the Santa Cruz Island Hotel.
Highlights
4- or 5-day day trip of the Galapagos Islands

Explore different islands (including Santa Cruz Island)

See the Galapagos' famous flora and fauna, tortoises, turtles, birds including the penguins of Bartolome Island

Enjoy the accommodations of the Santa Cruz Island hotel and yacht

Recent Photos of This Tour
Galapagos Islands Explorer Package from Santa Cruz Island
What You Can Expect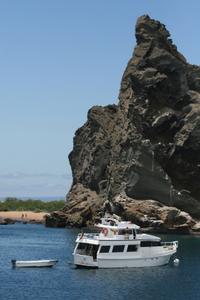 Take four or five days to sail through some of the most prized and beautiful islands on earth on this Galapagos Islands Explorer trip from Santa Cruz Island. Get up close to six different islands, each with their own unique features, and learn more about what drew Charles Darwin to the area that resulted in his most iconic book, The Origin of the Species.
Meet your friendly guide at the airport in Santa Cruz Island and travel by comfortable coach to your accommodation. Make a stop at the lava tunnels and sea turtle reserve. Then venture to historic Charles Darwin Station to learn more about this master of evolution's work.
On day two, visit Tortuga Bay beach and enjoy a 40-minute stroll through this calming stretch of sand and shore. Enjoy a bit of free time before making your way to 'La Loberia', where you'll spend the afternoon swimming with sea lions and snorkeling in crystal clear waters. Next, head to 'Canal de Amor' for breathtaking panoramic views. Finally, stop at 'Playa de los Perros' where rare marine iguanas thrive before returning to your Santa Cruz hotel.
Kick off day three with some serious island vibes. Set sail by yacht (weather and season permitting) to a handful of islands where you'll spend the day exploring before returning to the comfort of your Santa Cruz hotel. Personalize your trip to meet your interests (details below) and book well in advance to ensure your spot on this favorite yacht.
The multi-day tour includes hotel stays in Santa Cruz, transport, tours and guides and breakfast and lunch aboard your yacht (served daily). A five day upgrade to the tour insures you'll see all this archipelago has to offer.
Itinerary
Information below offers details on each island.
Plaza Islands
These volcanic rock islands are home to white sandy beaches. Travelers can spot iguanas and blue-footed boobies while exploring scenic walking trails that lead to epic views of manta rays and clear blue waves. Snorkel with sea lions or relax on the pristine beach.
Bartolome Island
Shades of red, orange, green and black color this volcanic wonderland that's perfect for geology lovers. Travelers can check out lava tubes from past eruptions and summit the now dormant volcano. Stop by Pinnacle Rock, one of the most iconic stops in the Galapagos and climb to the island's highest peak for views of playful penguins swimming through blue waters.
Seymour Island
The low, rocky cliffs or North Seymour Island are just part of what makes this destination unique. Travelers who choose to stop at this scenic island will find indigenous Palo Santo trees and vast stretches of pristine white sand. Playful pelicans and blue-footed boobies call Seymour home, and protected nesting sites for both birds and turtles insure visitors get an up close look at the beauty of nature the Galapagos Islands are known for. Check out pink flamingoes at Dragon Hill and learn from your guide how a seismic event gave birth to this island, where low cliffs hang only a few feet above the shoreline.
Santa Fe Island
Set sail into open waters at 8:00 am and spend 45 minutes aboard a sleek fishing yacht before arriving at the island of Santa Fe. Grab your binoculars for a bit of bird watching and then hop aboard a dinghy to get up close to sea lion colonies. In clear waters travelers may see Galapagos Sharks known and 'Tintoreras', as well as marine iguanas. Spotting sea turtles and stingrays is guaranteed in the Marine Aquarium area. The tour ends with a stop at 'Playa Escondida' for snorkeling off the hidden beach. Water is only about a meter deep and travelers can swim alongside sea lions before enjoying lunch and heading back to Puerto Ayora in the afternoon.
Please Note:
Snorkeling gear is not included in the trip and wet-suit rental is recommended.

Visit to the islands may vary. In the case we cannot visit the mentioned 4 islands, we will visit similar ones. Please note that we will visit one island per day.

Note: 5-day tours may include Tortuga Bay Beach and La Loberia stops on day three.
June 2016
All of the guides were fantastic, prompt and accommodating. We saw all kinds of wildlife it was fun walking on deserted islands.

May 2015
I couldn't recommend this trip more! From start to finish it was a massive surprise, hotel Flamingo was great, all daily trips we had arranged were amazing, specially trip to Santa Cruise island were we snorkeled with sea lions and turtles. If I could go back there tmw I woul!

August 2014
I really enjoyed it. Most of the time when people say things like "oh the rare so and so lives in these parts and if your lucky you may see it." I take little notice of it as I assume I will not see it... In the Galapagos someone will say that and when you arrive you see 12 of them immediately.
November 2012
Not a moment was wasted! We saw so much wildlife! Great hotel too! kNOWLEDGEABLE guiides.
June 2015
May 2015
Enjoyable trip, hotel accommodation was good, guides were very helpful and spoke good English, between snorkelling, swimming with the sea lions, short bushwalking trips, giant tortoises, marine and land iguanas and of course blue - footed boobies was a great experience.
January 2014
Amazing way to see a lot of the Galápagos Islands, but you actually can't choose the islands as it says in the itinerary, it's what's available at that day, plus everyday is with different guides
December 2013
I had a great time and Viator really takes care of you! I booked the trip about 6 weeks in advance for the week of Christmas and while I couldn't go on a yacht tour, Viator got me a land-based tour (staying in a hotel) and taking boats out to the islands. Everything was well taken care of including someone with my name on a card upon arrival to the airport. The guides were great, I met great people and the wildlife viewing was amazing. I saw the giant tortoises each day, snorkeled and swam with sea turtles two of the days, saw booby birds up close, tons of iguanas, etc. It was great! The hotel was nice and included breakfast, probably a 3.5 star quality and a block from Charles Darwin Avenue, a cute touristy town. I'd recommend Viator! The only downside was the 2 hour speedboats to the other islands. Luckily I didn't get sick but others on the boat did. It's a rough ride, so just be aware of that. All in all, a great trip! Thanks, Viator!
Advertisement
Advertisement