Bring the whole family for a fantastic, fun-filled day at Dreamworld! Let loose your inner child at the massive Gold Coast theme park featuring more than 50 rides and attractions, from adrenaline-pumping gravity coasters to exciting live shows and the all-new Motorsports Experience. Get an up-close wildlife counter on Tiger Island or the Dreamworld Corroborree, and meet Shrek, Po and other favorite DreamWorks characters in animation-inspired lands. Choose from a 1-day Dreamworld ticket or upgrade to continue the fun at WhiteWater World and SkyPoint with up to 25% savings.
Highlights
Big 9 Thrill rides including Hot Wheels SideWinder, Tower of Terror 2, Pandamonium and the bone chilling BuzzSaw

Upgrade to enjoy triple the fun with unlimited entry to Dreamworld and WhiteWater World theme parks and Skypoint
Kid friendly rides at ABC kids world and DreamWorks Experience

Experience the legends of Dreamtime and meet over 500 native wildlife at Dreamworld Corroboree

Recent Photos of This Tour
What You Can Expect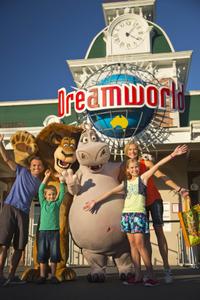 There truly is something for everyone at Dreamworld, Australia's largest theme park. The gigantic Gold Coast attraction boasts more than 50 different rides and attractions to suit all ages and styles, from families to extreme thrill seekers. Make your own way to the adventure park in Coomera, and save time at the entrance queue with your pre-paid ticket.
Kids will love meeting their favorite DreamWorks animated characters at Madagasar Madness, Shrek's Faire Faire Away and Kung-Fu Panda's Land of Awesomeness. The littlest visitors might catch a case of the giggles and wiggles at ABC Kids World and Wiggles World.
Discover your wild side on Tiger Island during an up-close encounter with magnificent Bengal and Sumatran tigers. At the Dreamworld Corroboree, delve into indigenous history and legends with interactive Dreamtime experiences. You'll also learn about the amazing animals of Australia with a sheep-shearing show and the chance to cuddle a koala and feed a snapping croc!
Get your adrenaline pumping with the Big 9 thrill rides, including the Tower of Terror II, Buzz Saw, Tail Spin and Giant Drop, then restore your heart rate with a variety of tamer family and kids' rides like Skadoosh Bumper Cars and Thunder River Rapids. (See Itinerary below for a description of the Big 9 thrill rides.)
If you still crave more adventure, upgrade your ticket to include a 7-day or 21-day ticket that includes unlimited entry to Dreamworld, WhiteWater World and SkyPoint at savings of up to 25%.
Itinerary
Dreamworld Rides:
For thrills this big, there's nowhere like Dreamworld. Ride the most spine-tingling, knee-knocking scream machines in Australia - we're not joking when we say they'll get your heart pumping.
The BuzzSaw
Your centre of gravity is flipped as you're dangled upside-down 15 storeys in the air before the ride car free-falls through a 360 degree heart roll, plummeting down a final vertical drop at speeds of up to 105km per hour.
The Claw
There's no escaping ... you'll be scared to shreds! Need to sink your talons into some real thrill ride terror? The Claw is here and it's tearing through Dreamworld. The first of its kind in the Southern Hemisphere, The Claw is the most powerful pendulum on the planet.
Hot Wheels SideWinder
Hot Wheels SideWinder is one of the tallest high-speed gravity rollercoasters in the Southern Hemisphere. Sitting in your own Hot Wheels car with music pumping through the carriage, you'll speed through a reverse sidewinder and 360-degree loop and 13-storeys of revved up, heart thumping high-speed fun.

Tower of Terror 2
Think White-Knuckle, Face-Lifting, Breath-Taking Speed ... and you're half way there! The Tower of Terror is one of the fastest rides in the world. The Tower's electro-magnetically powered 'Escape Pod' accelerates its passengers to a massive 160 kph in seven seconds before it climbs to almost 38 storeys high. Then there's the tummy losing free-fall back to earth before hurtling into to the safety of the station.

Wipeout
The Wipeout is framed by a giant crashing wave, shipwreck, palms, sand, shark and ocean which, sets the scene for the turbulent ride ahead. It is the mother of all tidal waves and you're strapped in the middle without a life line.

Giant Drop
The Giant Drop is the tallest free-falling ride in the world according to the Guiness Book of World Records.
Within seconds you're plummeting 120 meters at terminal speed. It's the closest thing to sky diving, well almost!
Mick Doohan's Motocoaster
Mick Doohan's Motocoaster is a motorbike rollercoaster, the first of its kind in Australia. The life-size 500cc motorbikes launch from the starting line in excess of 20 metres per second and reach speeds of just over 72 km per hour. The 605 metre, tight track is made up of 18 banks, bends and turns with plenty of open throttle. Experience the rush of motorbike racing on the maddest track in the county, only at Dreamworld.

Tail Spin
With 12 rider-operated mini aeroplanes that reach 72 feet into the sky, the TAIL SPIN allows guests to enjoy as much [or as little] thrill as they please with controls that allow riders to spin at their own pace.
Pandamonium
Spinning round and round, and swinging side to side you will need to harness your Kung Fu endurance for this ride even on its calm rotation. Soaring eight metres high under the watchful eyes of the mighty dragon, only martial arts masters will be able to outlast these 150 seconds of kung-furious pandemonium.

February 2016
Great value for money, i had a great time went on many rides, lots of fun!!!!!!!!!!!!!!!!!!!!!!!!!!!!!!!!!!!!!!
location very good, staff are very friendly and helpful...
If you love thrills excitement i would recommend gold coast dreamworld to you!
January 2016
Well worth it! Loved the water park!
January 2016
October 2015
It was the school holidays and hence quite a long time spent in the q.. Otherwise it was 3 exciting days well spent !!
July 2015
Fantastic day and cheaper than in Australia
December 2014
Really fun highly enjoyed it just don't eat a pluto pup then go on a ride bad decision.
September 2014
Great place! Tiger island and their show was fantastic and so interesting!
March 2014
I injoy the dreamwold there is lots of things do
January 2014
Was a great day out and all the family loved it.
Jacqueline Malaysia
November 2010
Excellent. It has reduced my queuing time for the ticket purchase at the counter and we can directly enter the theme park.
Advertisement
Advertisement