Treat the whole family to triple the fun with this World Pass including admission to Dreamworld, WhiteWater World and SkyPoint. Ride adrenaline-pumping coasters and meet amazing Australian wildlife at Dreamworld, then head next door to splash into wave pools and down more than 30 water slides at WhiteWater World. Zip up to the 77th floor observation deck at SkyPoint for unbeatable views of the Gold Coast by day or night. Choose from a 7-day or 21-day ticket.
Highlights
Choice of either a seven-day or 21-day ticket

Triple the fun with an upgrade to unlimited entry to Dreamworld and WhiteWater World theme parks and Skypoint

Experience the thrills and chills on the Big 9 Thrill Rides

Experience a water paradise with some of the hottest waterslides on the planet in WhiteWater World

Rides to suit all ages, from family fun to heart pumping thrills

What You Can Expect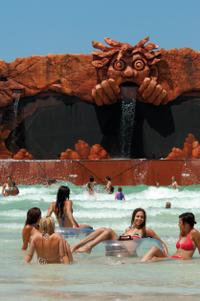 Experience the thrills of three top Gold Coast attractions with the great-value World Pass. Choose from a 7-day or 21-day ticket to suit your schedule, and enjoy unlimited entry into all three attractions any time during operating hours. Dreamworld and WhiteWater World are right next door to each other for easy back-and-forth access.
Australia's largest theme park, Dreamworld features more than 50 rides and attractions, from thrilling gravity coasters to kid-friendly Wiggle World and live entertainment. Get an up-close wildlife counter on Tiger Island or the Dreamworld Corroborree, and meet Shrek, Po and other favorite DreamWorks characters in animation-inspired lands. When it's time to cool off, walk over to WhiteWater World to splash down more than 30 water slides including the Triple Vortex and the Wedgie. Little swimmers will love the Cave of Waves and the Pipeline Plunge.
Finally, don't miss the views from Skypoint — Australia's only beachside observation deck. Feel the rush of one of the world's fastest elevators on the ride up to the 77th floor, where you'll be treated to panoramic views of the sun-swept ocean, beaches and hinterland. Catch an incredible sunset, or visit after dark for an adults-only, lounge-like atmosphere with live music.
See Itinerary below for a description of some of the most popular Dreamworld and WhiteWater World attractions.
Itinerary
Dreamworld Big9 Thrill Rides:
The BuzzSaw
Your centre of gravity is flipped as you're dangled upside-down 15 storeys in the air before the ride car free-falls through a 360 degree heart roll, plummeting down a final vertical drop at speeds of up to 105km per hour.

The Claw
There's no escaping ... you'll be scared to shreds! Need to sink your talons into some real thrill ride terror? The Claw is here and it's tearing through Dreamworld. The first of its kind in the Southern Hemisphere, The Claw is the most powerful pendulum on the planet.

Hot Wheels SideWinder
Hot Wheels SideWinder is one of the tallest high-speed gravity rollercoasters in the Southern Hemisphere. Sitting in your own Hot Wheels car with music pumping through the carriage, you'll speed through a reverse sidewinder and 360-degree loop and 13-storeys of revved up, heart thumping high-speed fun.

Tower of Terror 2
Think White-Knuckle, Face-Lifting, Breath-Taking Speed ... and you're half way there! The Tower of Terror is one of the fastest rides in the world. The Tower's electro-magnetically powered 'Escape Pod' accelerates its passengers to a massive 160 kph in seven seconds before it climbs to almost 38 storeys high. Then there's the tummy losing free-fall back to earth before hurtling into to the safety of the station.

Wipeout
The Wipeout is framed by a giant crashing wave, shipwreck, palms, sand, shark and ocean which, sets the scene for the turbulent ride ahead. It is the mother of all tidal waves and you're strapped in the middle without a life line.

Giant Drop
The Giant Drop is the tallest free-falling ride in the world according to the Guiness Book of World Records.
Within seconds you're plummeting 120 meters at terminal speed. It's the closest thing to sky diving, well almost!

Mick Doohan's Motocoaster
Mick Doohan's Motocoaster is a motorbike rollercoaster, the first of its kind in Australia. The life-size 500cc motorbikes launch from the starting line in excess of 20 metres per second and reach speeds of just over 72 km per hour. The 605 metre, tight track is made up of 18 banks, bends and turns with plenty of open throttle. Experience the rush of motorbike racing on the maddest track in the county, only at Dreamworld.

Tail Spin
With 12 rider-operated mini aeroplanes that reach 72 feet into the sky, the TAIL SPIN allows guests to enjoy as much [or as little] thrill as they please with controls that allow riders to spin at their own pace.


Pandamonium
Spinning round and round, and swinging side to side you will need to harness your Kung Fu endurance for this ride even on its calm rotation. Soaring eight metres high under the watchful eyes of the mighty dragon, only martial arts masters will be able to outlast these 150 seconds of kung-furious pandemonium.


WhiteWater World Rides:
Triple Vortex

A completely different funnel experience that gushes riders on an inflatable raft down a vertical rapid that swells through three swirling funnels.


The Wedgie
Plummet feet first down the translucent pipe and barrel through Australia's only human half coil. At the splash down pool the Aussie Cossie braking system kicks in and the fast tug on cheeks gives "rise" to the slide's bold name!

The Bro
Ride on specially designed sled mats and go head first into a maze of thrilling twists and turns reaching speeds of around 50 kilometres per hour. This innovative ride turns friend into foe as riders go head to head on a competitive, high speed race to glory.

The Green Room
Riders are thrown into the upper hemisphere, off back-to-back "vertical" banks before a needle-nose splashdown that will give the most hardened of thrill seekers the chills.

The Rip

Launch from the 16 metre tower into 12 metres of pitch black terror before blasting into a massive bowl of WhiteWater's best. After the massive whirlpool of high speed revolutions, riders are sucked into the corkscrew core, blasted through a huge curtain of water to experience a momentary weightlessness before launching into the plunge pool below.

June 2016
I Highly recommend this pass! 3 attractions for the price of 1! Would save you time and money!

February 2016
Wonderful family fun and the combo works great for us
December 2015
Great deal and great fun!
November 2015
June 2015
Well worth getting this World Pass. It gave us the opportunity for different family members to go to different parks within the same day and everyone could catch up for lunch or whatever and then continue their day.
March 2015
The staff were the most friendliest and helpful people at any theme park we have been to. We had a great experience and they were very courteous and servant hearted.

Timmy D Australia
March 2015
March 2015
Go to goldcoast never miss out this place
February 2015
No difficulties in exchanging for pass, for me at SkyPoint. Beautiful view of Gold Coast and Pacific Ocean from SkyPoint. Dreamworld is great for all ages, from crazy rides, to children rides, regular screening of DreamWorks 3D movies, koalas and kangaroos, etc. Rainy day for us so did not head to WhiteWater.
February 2015
Advertisement
Advertisement