Go in search of humpback whales on a whale-watching cruise of the shores of the Gold Coast. On board a custom-built boat with three viewing decks, you'll enjoy uninterrupted views of the Pacific and listen to commentary about the whales and their ocean environment from a marine naturalist guide. Plus, float along the Nerang River canal to admire waterside homes. Cruise is limited to 65 passengers. Select a departure time when booking.
Highlights
Watch humpback whales at play on a whale-watching cruise from the Gold Coast
Listen to interesting commentary from a marine naturalist
Enjoy coffee and biscuits on board

Glide past luxurious homes along the Gold Coast canals
Cruise limited to 65 people

100% guarantee of whale sightings, or receive a free return cruise

Recent Photos of This Tour
Half-Day Whale Watching and Canal Cruise from the Gold Coast
What You Can Expect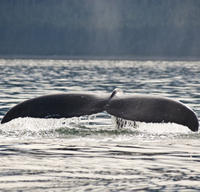 Your cruise starts as you board your purpose-built whale-watching boat in Surfers Paradise and take off along the canals of the Nerang River. Listen to a quick safety briefing from crewmembers, who will point out some of the most luxurious homes along the scenic waterway.

Pass by South Stradbroke Island and into the Australian Whale Sanctuary, a protected piece of the ocean surrounding Australia that's part of the annual migration of humpback whales, who come to these subtropical waters from May to October to give birth. Keep your eyes peeled for whales, who may show off with jumps and splashes, as well as other marine life such as orcas, loggerhead turtles, dolphins and seabirds.

Learn about the wildlife and their marine environment from your onboard naturalist guide. Your cruise ends with return to the departure point.
November 2015
My first whale watching, is awesome, we get to see a mother and calf, Hammerhead shark and dolphins...highly recommend!

August 2014
We both loved it. Excellent value for money and would not hesitate to do it again.
** You need to update your directions. The tour no longer leaves from the wharf you directed us to but it is now easier to pick up your tickets from the main booth.
July 2014
The experience we had was amazing. We saw a whale breaching and a pod of about 30 - 40 dolphins which followed the boat. The crew were just as excited to see the large number of dolphins. They were also very informative regarding the habits of the whales and dolphins.
October 2013
This was an amazing trip. We were lucky enough to see 3 pods of whales including mother and performing baby. Out of this world.. Maybe not for the feint hearted re sailing. It was quite a journey, but we expected that so weren't bothered. Wouldn't have missed it for anything. tried to see the whales off South island new Zealand on my last trip "Down Under" but boats weren't going out as it was too rough! Heaven only knows what that might have been like had we gone! this trip was well worth the money.
August 2013
Extremely friendly well informed a happy staff, great morning out, saw lots of whales and had a wonderful morning on the high seas !!!

August 2013
It started with a slow leisurely cruise down the river and then into the adventurous choppy waters of the pacific ocean. We were lucky to see 2 breaches. At one point of time the whales came very close to our boat. Simply breathtaking and an adventure not to be missed.

August 2013
A great 3 1/2 hour tour in the sea. Simply Amazing! So many whales were dancing around us.
August 2012
Extremely informative. Although the whales weren't doing particularly photogenic stuff, we did get some good sights and it was rather impressive. The guide was knowledgeable and the free tea was nice.
The departure point was easy to find and we enjoyed learning about the owners of the expensive houses on the waterfront as we passed them.
The tour offered good value for money; after all, I booked it because it was the cheapest one I could find, and upon booking, the US-based call centre operator (we did a next-day booking) was really friendly, great to deal with. The option to pay in either AUD and GBP was a nice touch too.
Literally, the only negative thing I can think of is that the skipper opined that global warming was a myth. Overall, an extremely good experience and I would recommend to friends and family and readers here.

June 2012
super relaxing looking at the deep blue seas and blue bodies of the humpbacks. on the previous day, the orator-on-board mentioned 7 sightings. we had endless sightings you would never believe whales are facing extinction, plus, 2 breach (whale jumped COMPLETELY) out of the water.
June 2012
Advertisement
Advertisement