10 Reviews
Location:

Gold Coast, Australia

Duration:

3 hours 30 minutes

(approx.)
Leave the crowds behind and go stargazing and wildlife watching in Mt Tamborine National Park's eucalypt rainforest. Australia's only night-time rainforest and glow-worm tour by 4WD takes you into the rainforest searching for native flora and fauna by torchlight. Follow your guide on a nocturnal bushwalk to a magical waterfall lit by the twinkling glimmer of glow worms, and enjoy personalized attention on this must-do small-group tour.
Highlights
Glow-worm tour through Mt Tamborine National Park by 4WD
Take a guided rainforest walk to a waterfall lit by glow worms
See nocturnal wildlife in their natural habitat
Enjoy supper of cakes and a hot drink
Local guide and live commentary
Hotel pickup and drop-off
Why Our Insiders Chose This Tour
This is Australia's only night-time 4WD rainforest and glow-worm tour. It is a unique opportunity to experience the excitement of an off-road track under the cover of darkness and hear the rainforest come alive on the secluded rainforest walk with your personal guide.
What You Can Expect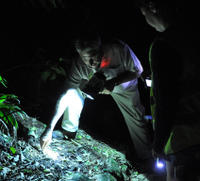 After being picked up from your Gold Coast hotel, head off-road by luxury 4WD to the summit of MtTamborine. Stop off along the way to take in panoramic views of the Gold Coast skyline from a secluded lookout.

Reaching the summit of Mt Tamborine, enjoy supper at the cafe with a choice of homemade cakes and biscuits accompanied by a frothy cappuccino, cup of tea or warming hot chocolate.

Then as the sky darkens and the stars twinkle, head out on a guided walk through the rainforest as the nocturnal wildlife wake from their slumber and come out to play.

With your own low-watt torch to light the way, follow a hidden trail to a waterfall, where the glow worms gleam in the darkness. Your guide's high-visibility LED torch is designed to lead the way without disturbing the wildlife on this nocturnal tour, a treat for all the family.
March 2015
Great tour guide. Good tour vehicle, didn't expect the free dessert and tea afterwards.
May 2014
We had a fantastic tour Guide -Mick..the tour was better than we expected, 4wd ride was good, the walk through the rain forest was interesting, seeing the waterfall, looking for the Glow worms, the evening coffee + cake very pleasent! and the rude back down stopping to star gaze! Was a terrific 5 hours..
April 2014
Our guide was very friendly. The 4WD was very comfortable and clean. The cake and hot chocolate were very nice. We saw lots of animal on the walk. Moonlight impeded on our view of the glow worm so try to pick days that don't have full moon. It's better to also go after a rain because there are more glow worms with more moisture. Pick up and drop off included with the tour were very convenient.
December 2013
Our guide was exceptionally friendly!! The trip to the mountain itself was very enjoyable. We climbed the mountain on a steep, bumpy road with his super powerful benz 4WD. The cakes and tea were delicious. The view the worms glowing in the dark was just amazing. Highly recommended.
September 2015
Thrill of 4WD is excellent, driving vertically in a semi van was entertaining. Wasn't able to see many glow worms as it is the start of the season and there was quite a few trees/leaves blocking them. It'll be great if they could cut them back for better viewing. Otherwise the knowledge of the drivers about the national park was great and a great way to finish the night with cake and a hot drink.
March 2015
Interesting outing. Definitely 4-wheeled it up the mountain. So be prepared. Dessert at the Greek restaurant was delicious and a good way to break up the ride. Walking through the rain forest at night with your little flashlight was cool. Glow worms were awesome. Only see them briefly but worth it and then it's time to turn around and walk back out. Tour guide was very knowledgeable and added a bit of humor.
March 2014
A great trip. 4 wheel drive van up to the top of the mountain and then a nice quaint cafe before heading out on the walk down to the glow worms. We saw a lot of frogs on the way, a very enjoyable tour. The guide was excellent.
January 2014
Interesting to see the glow worms and supper was nice. And the ride up the mountains was also a wonderful experience (rollercoaster ride).
March 2014
The 4WD trip thro the mountain road is fantastic. However, it is a bit disappointed that we could not see many glow worms because of the various factors.
January 2015
This was a short 3-4 hour tour which looked exciting on account of rain forest and glow worms. We were a group of 12 on a 4WD (mini bus kind of vehicle but very comfortable). Started around 8 and ended at 9.30 with a 1-km trek inside rainforest to view the glow worms. That was definitely a site worth watching but apart from that nothing much v exciting. You can give it a miss easily.
Advertisement
Advertisement