Book now for an affordable and easy transfer to Gothenburg city. Don't waste time on arrival in Gothenburg, book now to enjoy the piece of mind of a pre-paid Landvetter Airport Shared Arrival Transfer.
What You Can Expect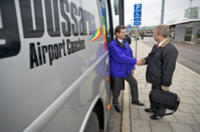 Travel from Landvetter Airport to any of the bus stops listed in Gothenburg City.
There are two routes from Landvetter Aiport:
First Route
Korsvagen
Park Aveny
Kungsportspl
Nils Ericson Term
Second Route
Lundaskog
Sandlid
Provn.institutet
Sven Eriksonspl
Sodra Torget
Grand Hotel
Your transfer will be confirmed instantaneously and you will be provided with a travel voucher to present to the driver.
It's that easy!
September 2012
June 2012
Excellent transfer from Landvetter to Gothenberg City centre Hotel
June 2012
A very clean and tidy coach with a very helpful and friendly driver
August 2011
Good service, however the bus driver did not recognise my signed e-tickets on out-going and return journeys. I was sure that I printed-off the right bit. Both drivers let me travel anyway.
September 2015
Viator should make all of the companies that use aware of there service. Offering a transfer where bus drivers don't recognise your code and refuse to take passengers is not acceptable.
September 2015
The bus driver did not accept or even seem to recognize the printed voucher. We arrived quite late at night, so this was unacceptable. The information desk attendant did not recognize the voucher either, and told us to go back to the bus. It was only luck that the next bus driver accepted the voucher, despite not recognizing our purchase from Viator either. I would give 0 stars if I could.
Advertisement
Advertisement