When it's time to say goodbye to Gothenburg City, end your trip the easy way with this shared departure transfer in a climate-controlled bus to Landvetter Airport. It's a budget-friendly alternative to the pricey private taxi rides.
What You Can Expect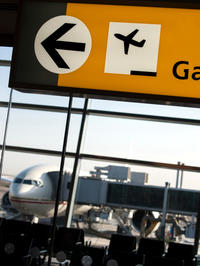 Skip the expense of a private taxi when you book this shared Gothenburg transfer to Landvetter Airport. Simply pay in advance and show your voucher to your driver. Make your way to one of the stops listed under Itinerary to board a comfortable bus, and relax on the journey to the airport with several other passengers. This shared Gothenburg transfer service is available based on the schedules found in the Itinerary section.
Itinerary
There are two routes to Landvetter Aiport:
First Route
Nils Ericson Term
Kungsportspl
Park Aveny
Korsvagen
Second Route
Grand Hotel
Sodra Torget
Sven Eriksonspl
Provn.institutet
Sandlid
Lundaskog
Departure time
First Route:
Monday to Friday - 4:20am - 11:50pm (approximately every 20 Minutes)
Saturday and Sunday - 4:20am - 11:50pm (approximately every 30 Minutes)
Second Route:
Monday to Friday - 5:05am, 6:35am, 8:10am, 10:30am, 12:00pm, 2:25pm, 4:10pm, 6:10pm, 8:40pm, 10:10pm
Saturday - 4:55am, 6:15am, 8:55am, 10:40am, 1:10pm, 3:10pm, 5:25pm
Sunday - 4:55am, 6:15am, 8:55am, 10:55am, 2:25pm, 4:10pm, 6:10pm, 8:35pm, 10:05pm
Duration
20 minutes
(approx.)

September 2012
June 2012
Excellent transfer from Landvetter to Gothenberg City centre Hotel
August 2015
Everything was fine, but the tickets I got from Viatur were not acceptable by the bus driver. He agreed to take us on board and check the tickets later in the office.
June 2012
On my return journey the female driver refused to allow me on the coach, even after having read my confirmed booking documents, I asked if I could speak to the supervisor/manager she pointed me to an office in the station terminal, after explaining the situation and showing her my documents, the woman in the office was happpy to explain to the driver my paperwork was valid for the return journey. Unfortunately the coach driver had already pulled away. I appreciate they do adhere to a timetable, but I was only in the office for 2 or 3 minutes, I am pleased to say that the driver of the following coach was more than happy to allow me onto the coach with no such problem.
September 2015
This was a big mistake booking Viator. I booked a transfer as we had a late flight and wanted to take the hassle out of finding our hotel. Sadly this was more frustrating than finding our own way, as all of the bus drivers were unaware of Viator and refused to take us.
Naturally as a woman being stranded at a foreign airport late at night for service you have already paid for can be very scary. I would not recommend this service to anyone.
September 2015
The bus driver did not recognize the voucher. It was only after a lengthy discussion that he allowed us to stay on the bus back to the airport. I will never purchase a Viator transfer again as I don't know if what I buy will be accepted once I arrive at or depart from a particular country. I would give 0 stars if I could.
Advertisement
Advertisement