Explore the splendid sights of Cordoba on an explorative full-day excursion from Granada. Alongside a knowledgeable guide, see one of Spain's few existing synagogues and the magnificent Catholic Cathedral that dominates the city's skyline. Stroll through winding streets in order to discover a plethora of attractive monuments sure to leave you spellbound. Enjoy convenient round-trip transportation from selected hotels on this cultural tour.
Highlights
Day trip to Cordoba from Granada
Tour the Cathedral and Jewish quarter
Expert Spanish- and English-speaking guide
Pick-up and drop-off from central Granada hotels
What You Can Expect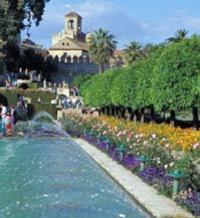 Depart from your Granada accommodation in a comfortable, air-conditioned minivan and relax during the scenic journey to the city of Cordoba. Begin your sightseeing tour at the colossal Catholic Cathedral, a soaring scared structure famed for its Gothic grandeur.
Tour the legendary landmark with your knowledgeable guide and gain insight into the structure's fascinating past; admire the architectural amalgamation of Renaissance and Baroque elements and gaze at the collection of 1,000 striped pillars on the interior.
Peruse antique treasures in the Cardinal's Chapel, including religious art and an ivory crucifix belonging to Alonso Cano.
Next, wander the serpentine streets of the old Jewish quarter in order to explore the Gothic monuments and Roman remains of the enclave. Visit important monuments dedicated to famous philosophers such as Seneca, Averroes and Maimonides, and marvel at the ancient architecture of one of the few synagogues still existing in Spain, whose origin dates back to the 13th century.
After your tour concludes, relax during the journey back to Granada in your comfortable minivan.
Musharraf H USA
November 2015
pick up from hotel and drop back,was great
tour guide was very good i recommended every one .
December 2014
Transport comfortable and start place easy to find. Guide excellent and well-organised. Very knowledgeable. Sufficient free time before return.

February 2013
this was great! Private car transfer from Granada hotel to Cordoba where we joined a tour for 3 hours (very good and informative) then free time for lunch and to soak up the atmosphere of this beautiful place before returning to Granada. Got back about 6.30 pm.
July 2012
It was a very good trip. The bus was alright, but what I really enjoyed was the Granada guide. After a deceiving experience with the Alhambra guide, who by the way spoke no acceptable English and offered scarce information, the Granada guide was talking a nice English. The Granada tour was very good, we saw the most important objectives, as I made a reserach before the trip. The explanations were complete, didactic, unforgettable. Thank you and congratulation!
Jeanmarie D USA
January 2014
The ride from Granada to Cordoba is about 2 hours long. The bus was comfortable and the driver very nice. We had expected that there would be a guide on the bus who would explain the different parts of Spain that you dirive through. The local tour guide in Cordoba was okay but not great. She had basic knowleged of the monuments that we visited but was not very engaged with the group. She seemed a bit rushed and did not provide much information outside of the very basics.
June 2014
The pick up was an hour late to collect us, so I thought they had forgot. The tour guide was a nice lady but she had two groups at the same time. One speaking only Spanish , the other only English, so she would spend a long time explaining to the Spanish group while we waited for her then to repeat everything in English. That meant the tour was doubly long and we had little free time to wander around the lovely town before we had to meet the driver to go back to Granada. The mosque itself was well worth the journey, it is beautiful, again we didn't see all of it because of the mixed group. For the price we paid we should have had two seperate tour guides. That really spoiled our trip.
April 2014
I've already reviewed this trip as extremely disappointing and not good value for money.
Advertisement
Advertisement