Sail past long lines and crowded entrance halls on a private 2.5-hour tour of Granada's astounding Alhambra Palace. Accompanied by a knowledgeable guide, explore the majestic UNESCO World Heritage Site while enjoying priority access and insightful commentary. See historical highlights like the Alcazaba Fortress and the Nasrid Palaces, then stroll amid the botanical beauty of the Generalife Gardens. Select the option of hotel pickup and drop-off to enjoy convenient round-trip transportation.
Highlights
Private 2.5-hour tour of the Alhambra and Generalife Gardens
Enjoy fast-track entrance to this UNESCO World Heritage Site with your skip-the-line Alhambra ticket
Tour top Alhambra attractions like the Nasrid Palaces, Alcazaba Fortress and Palace of Charles V
Learn about the Moorish kings and sultans who once lived in the palace complex and admire its decadent architecture
Recent Photos of This Tour
What You Can Expect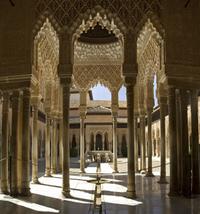 Depart from your Granada hotel in a comfortable, air-conditioned minivan or meet at a central departure point depending on which option you selected. Ascend to the high hilltop perch of Alhambra Palace, disembark the minivan and sail past long lines at the crowded entrance hall. Set out with your experienced guide to discover the architectural allure of the UNESCO-listed fortress.
Plunge into the opulent palaces, vast courtyards and lavish gardens as you delve into the captivating history of the 9th century fortress; hear tales and trivia regarding decadent sultans, extravagant emirs and Moorish Kings who formerly inhabited the palace.
Visit the complex's most ancient enclave, the Alcazaba Fortress, in order to ascend the Torre de la Vela and admire spectacular views of the sprawling Spanish city. Stroll through opulent halls and expansive courtyards like the Patio de los Arrayanes and the Ambassador's Hall; admire the architectural majesty of the Nasrid Palaces; and hear entertaining tales of eccentric emperor Charles V when you visit his eponymous palace.
Wander the gorgeous Generalife Gardens and absorb the botanical beauty of the sculptured landscape; see the verdant splendor of the Patio de la Acequia and Patio de la Sultana, two beautiful courtyards; and gain insight into the exotic flowers and decadent shrubs that decorate the area. Return to the original departure point or enjoy convenient transportation back to your hotel when the tour concludes.
Advance bookings are strongly recommended, as access to the Alhambra is strictly limited to a certain number of visitors each day.
May 2016
Excellent tour guide. All went well! Somewhat pricey per person. Alhambra is definitely a must see.
May 2016
Unser deutschsprachiger Führer Juan Vera war ausgezeichnet! Sehr informativ, unglaubliches Wissen und perfekt deutsche Sprache. Vielen Dank!
May 2016
Our guide Ramon gave us a wonderful tour of Alhambra and Generalife. He is a very pleasant person and gave us lots of interesting tidbits of information.
November 2015
Very good tour with knowledgeable leader
November 2015
I'm so glad we selected this private tour even though the cost was high the value was well worth it. Our guide Eduardo was very familiar with the Gardens and the Palace, so we learned about everything. This historic site was incredible to see first hand, our tour lasted 3 hours with several breaks to rest and shop while inside the grounds. We thought that going at the beginning of the off season it would be less crowded but all the tours were booked for the day and the crowds were everywhere. We drove up from Malaga in the morning for our 2:00pm tour, we should have stayed the night in Granada so we could see more of the city.
September 2015
Gustavo was an excellent guide. His enthusiasm for and love of the Alhambra gave us a wonderful insight into the history, construction and design of the Alhambra. His command of English is extremely good.

September 2015
Maria was truly a wonderful guide, she was full of knowledge, we learnt allot from her. she made me live the past with her stories about Alhambra.
It was an amazing, especially it rained that day, so the whole atmosphere was wonderful, rain, Fog, the smell of the trees it was spectacular and a life time trip.
I hope i can make it to Alhambra again. and for sure i would love of Maria to be our guide again because she was wonderful and we would not have enjoyed the Alhambra as much without her information.
Thanx Maria
August 2015
Our tour guide was wonderful and we would not have enjoyed the Ihambra as much without her information. The only frustrating thing is the reservation said go the the Grandvision, but not that it was on a side street from the Ihambra ticket place. We stopped into 4 places and nobody could tell us where to go to get these tickets. We finally got a manager of some kind and he directed us to the side street where the office was located.
July 2015
We use Viator mainly for private tours as we have two young kids. And this time again weve been delightet by the custom timing and guides ability to adjust speed and direction of information to our interests and needs. TIP: book the first tour in the morning otherwise temperature in Granada/Alhambra can get easily to 40 degrees Celsius 104 Farenheit.
June 2015
We took a private tour with Ester. She was extremely knowledgeable and friendly she really helped bring history to life. She was also very patient and considerate of my parents who were with us and needed to go slowly with frequent rest breaks. I would highly recommend this tour.
Advertisement
Advertisement