Sail past long lines and crowded entrance halls on a private 2.5-hour tour of Granada's astounding Alhambra Palace. Accompanied by a knowledgeable guide, explore the majestic UNESCO World Heritage Site while enjoying priority access and insightful commentary. See historical highlights like the Alcazaba Fortress and the Nasrid Palaces, then stroll amid the botanical beauty of the Generalife Gardens. Select the option of hotel pickup and drop-off to enjoy convenient round-trip transportation.
Highlights
Private 2.5-hour tour of the Alhambra and Generalife Gardens
Enjoy fast-track entrance to this UNESCO World Heritage Site with your skip-the-line Alhambra ticket
Tour top Alhambra attractions like the Nasrid Palaces, Alcazaba Fortress and Palace of Charles V
Learn about the Moorish kings and sultans who once lived in the palace complex and admire its decadent architecture
Recent Photos of This Tour
What You Can Expect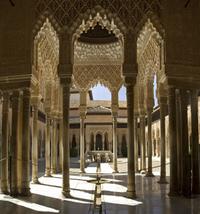 Depart from your Granada hotel in a comfortable, air-conditioned minivan or meet at a central departure point depending on which option you selected. Ascend to the high hilltop perch of Alhambra Palace, disembark the minivan and sail past long lines at the crowded entrance hall. Set out with your experienced guide to discover the architectural allure of the UNESCO-listed fortress.
Plunge into the opulent palaces, vast courtyards and lavish gardens as you delve into the captivating history of the 9th century fortress; hear tales and trivia regarding decadent sultans, extravagant emirs and Moorish Kings who formerly inhabited the palace.
Visit the complex's most ancient enclave, the Alcazaba Fortress, in order to ascend the Torre de la Vela and admire spectacular views of the sprawling Spanish city. Stroll through opulent halls and expansive courtyards like the Patio de los Arrayanes and the Ambassador's Hall; admire the architectural majesty of the Nasrid Palaces; and hear entertaining tales of eccentric emperor Charles V when you visit his eponymous palace.
Wander the gorgeous Generalife Gardens and absorb the botanical beauty of the sculptured landscape; see the verdant splendor of the Patio de la Acequia and Patio de la Sultana, two beautiful courtyards; and gain insight into the exotic flowers and decadent shrubs that decorate the area. Return to the original departure point or enjoy convenient transportation back to your hotel when the tour concludes.
Advance bookings are strongly recommended, as access to the Alhambra is strictly limited to a certain number of visitors each day.
June 2016
Excelent. The guide, Emilio, was at the hotel to pick us up on time. He is a very nice person with plenty of knowledge. He explained everythin and answered all the questions we made. Very good service.
June 2016
Our tour guide Emilio, was very kind and answered all of our questions. He knew a lot about the place and adapted his schedule to ours. It was totally worth it, and I would happily repeat the experience.
June 2016
Our guide was Carlos and he was outstanding. We are interested in a deeper history than what is normally given by a guide and he was perfect for us. Carlos has a degree in middle eastern and Islamic studies and also reads Arabic. He made the tour much more enjoyable and informative for us. A+
June 2016
This tour was great! Our guide was extremely knowledgeable and very friendly. We took our tour in the morning and this was a great time of day to be there as it wasn't super crowded yet. We really enjoyed seeing this beautiful area and learning about the history and culture. Having a tour guide gave the experience a personal touch and helped us to learn more as we went through the complex.
June 2016
Excellent guide in a wonderful place
June 2016
Our Guide was smart, knowledgeable and full of humour. He was respectful of our interests. We enjoyed the experience immensely
June 2016
The Alhambra is magnificent and our tour was more enjoyable because of our excellent guide, Bianca. She had obviously studied the history of not only the Alhambra but the Moors in Andalucia and the reconquista and was able to provide historical facts, context, and little stories about the various players that really brought history alive. Bianca pointed out and explained the architecture, the intricacies of the decorations, and the symbolism. She was very enthusiastic and engaging and we thoroughly enjoyed our tour.
June 2016
Somehow, we got the time for our tour confused and arrived over an hour late. Entrance times to the Alhambra are rigidly enforced, but somehow our guide Gus got us in, and gave us a great high-speed tour. Gus was very informative, spoke perfect English, dealt with our lateness calmly, and gave us a great tour.

WALIUL I United Kingdom
June 2016
Extremely interesting and fascinating tour. We could bypass all queues and even gain entry to restricted areas. It is worth investing in a guided tour in a small group. Very little if any English is spoken by the staff who will rattle off a litany in Spanish to your simplest of requests leaving you completely bewildered. On the other hand if your Spanish is good you have no worries. I was surprised at the lack of English in a world heritage site. Try and book early tours to avoid huge crowds and selfie stick wielding fellow tourists out to blind you!
June 2016
Our tour was fantastic! We booked it simply because regular tickets for the Alhambra were sold out, but it was a great decision. Our guide was knowledgable and friendly. She ended the tour and gave us time to revisit much of the complex on our own. Highly recommend.
Advertisement
Advertisement