Cordoba is a captivating Andalusian city with many attractive monuments to admire. On this private tour from Granada you'll discover Cordoba's mosque, cathedral, synagogue and Jewish quarter, and walk through the city's beautiful network of streets, squares and whitewashed courtyards. Accompanied by your own private guide, you'll enjoy personalized attention on your special private tour of this Andalusian gem.
Highlights
Private day trip to Cordoba from Granada
Tour the cathedral and Jewish quarter
Enjoy privileged, personalized attention from your expert guide on this special private tour
Private car or minibus transport
Pick-up and drop-off from central Granada hotels
What You Can Expect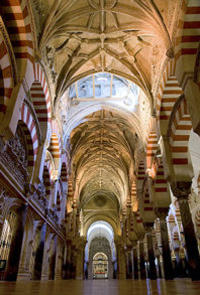 Your tour of Cordoba begins with a visit to the Catholic cathedral, converted from a mosque when the Christians conquered Cordoba in 1236. With nearly 1,000 pillars, the cathedral's original Gothic architecture is combined with Baroque and Renaissance elements. You'll see the remarkable Cardinal's Chapel and its treasures, including an ivory crucifix and important sculptures and paintings.

Next, you'll visit the old Jewish quarter, stepping back in time to the era of the Romans and Goths. You will see one of the few synagogues existing today in Spain, built in 1315, as well as many important monuments to Cordoba's most important sons, including the Roman philosopher Seneca, Arabian philosopher Averroes and the Jewish philosopher Maimonides.
July 2013
Cordoba is do-able from Granada, and definitely worth visiting, especially the mosque-cathedral. Viator driver and local guide in Cordoba both excellent: knowledgeable and courteous. Recommended.
August 2011
nothing could be better than this the guide was so good her name was maria and the driver michal who made us feel comfortable
June 2010
Cordoba was a must see. The history is fabulous. Our tour guide and driver were excellent. We could not be more pleased.
July 2015
Driver was amazing, Tour guide extremely knowledgeable and attentive
June 2010
Was a little disappointed with the tour in that it did not last as long as the itinerary had stated. The driver took a little longer to arrive in Cordoba (3 hours in total) than expected, but took the more historical route on the way there. We stopped off at an interesting little shop on the way which sold various products made from the local olive groves. Although we enjoyed the tours of the main sites, the guide was very friendly & enthusiastic. I would have appreciated being able to see other parts of the very pretty city of Cordoba with the time we had to spare. We arrived back at our hotel at around 6pm. I also felt the overall price for the tour was a little excessive.
Advertisement
Advertisement