Experience the passion and intensity of Spain's most famous dance, with a private 45-minute or 1.5-hour Flamenco lesson. Head to a dance school in the atmospheric Sacromonte Caves, where you'll discover the roots of the Andalucian dance, master some simple moves and palmas (hand claps), and learn how to express yourself to the fast-paced music. After putting your dancing shoes to the test, celebrate your newfound skills with a complimentary drink at the bar.
Highlights
Learn to dance the flamenco in Granada's Sacromonte Caves
Choose from a 45-minute or 1.5-hour private flamenco class

Enjoy one-on-one coaching from your expert dance instructor
Discover the vivacious moves and rhythms of the passionate flamenco dance
Relax in the bar after your class with a drink
What You Can Expect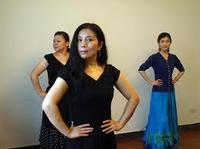 Start your evening heading to Sacromonte. Famous for its caves carved out of the rock on the slopes of Cerro de San Miguel, Sacromonte was originally built and lived in by Spanish gypsies and the caves became popular places for the community to meet up, dance and relax.

Head inside one the caves that been renovated into a dance school, put on your dancing shoes, and take to the floor for your 45-minute or 1.5-hour class. Partners aren't necessary as flamenco lets you express your individual personality to the music, and your instructor will spend most of your session dancing one-on-one with you if you come alone.

In time to fast-paced music from acoustic guitars and passionate palmas (hand clapping), follow your instructor to learn how to perform the fieriest of flamenco moves. Learn to hold your body posture in a proud stance, and discover the hand, arm and foot sequences that flow together to build the dance's compás (rhythm).

As you build up the steps and movements of an authentic Andalucian flamenco dance, you'll learn how to communicate with facial expressions while dancing. For many, the joy of watching an authentic flamenco dance is seeing the burning emotions, energy and expressions of the dancer – played out through the medium of dance!

Whatever level you are, you'll learn at a pace that suits you best with patient coaching from your tutor. All 45-minute classes end with drinks (beer, sangria, soda or wine) in the cave's atmospheric bar. If you've opted to hone your skills with a 1.5-hour class, you'll enjoy a break halfway through for drinks.
March 2016
Complete novices. Felt we were encouraged with appropriate laughter when I rather than my wife kept going wrong. I wasn't allowed to give up and I managed the steps in the end. We weren't taught the hands but our teacher was very happy to show us a few movements. I can see it is years not 45 minutes to learn Flamenco. So much more interesting to see the dancing after this experience.
May 2015
This activity is extremely overpriced, and we did not receive what we had paid for. Prior to booking, it said that the company provided transportation to and from the hotel - which in actuality, it did not. This ended up costing us an additional 60 euro for a taxi there and back. Also, I tried the day before to contact the company as it said to confirm 24 hours before the activity however, when I tried calling, there was never anyone there. When we finally did get to the establishment, we were late because our taxi was caught in traffic, and they still were not ready for us. When the Flamenco teacher and guitarist were ready, we went to a different location because there was a party booked where we were supposed to be. The teacher and guitarist were very nice and friendly, and taught us a bit about the history of flamenco. Our 90 minute private lesson though actually only lasted 30 minutes. So we paid over 400 US dollars when you factor in the taxi fair for a 30 minute flamenco lesson where we learned about a 2 minute step sequence...not even with the arm or hand movements. It was a fun little activity, but the price is absolutely ludicrous. I travel a lot, and will not be using this service again, and will not be recommending it to anyone either.
Advertisement
Advertisement