Location:

Granada, Spain

Duration:

Varies
Rent a scooter in Granada and explore the charming Andalucian city at your own pace! With a helmet, lock and map included plus a choice of durations ranging from 24 hours to seven days, the rental experience offers everything you need to explore Granada with ease. Ride alone or with a second passenger around neighborhoods such as the UNESCO-listed Albaicin, and discover a wealth of historical landmarks including Granada Cathedral, the Sacromonte Caves and more.
Highlights
Rent a scooter to explore Granada at your own pace
Ride on your own or with a second passenger, and enjoy use of a helmet and map
Use the scooter to sightsee and look out for attractions such as Granada Cathedral and the Sacromonte Caves
Explore Granada's streets independently and visit the UNESCO-listed neighborhood of Albaicin
Select a 24-hour rental or upgrade to include rental for a number of days
What You Can Expect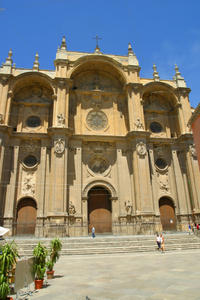 Make your own way to the rental shop in central Granada to pick up your scooter and helmet. All scooters allow a second passenger, and a second helmet (mandatory) is available at your own expense. Pick up a complimentary map and lock, leave the rental shop and head out to explore the beautiful Andalucian city independently.

Unlike a tour, you decide where to go and when you want to stop! Select a 24-hour rental for a full day of sightseeing, or upgrade to a 2- 3-, 4- or 7-day rental to suit your vacation plans. Perhaps base your route around some of the attractions described below, or speak with the friendly staff in the rental shop to plan out longer itineraries.

A diverse and historically rich city, Granada has a wealth of sights to see. Having started its existence as an Iberian hamlet, the city was then ruled successively by the Moors (early European Muslims) and Christians — both of whom stamped their mark on Granada with monuments that still inspire wonder today.

Travel around the city aboard your scooter, and discover historical masterpieces such as the Moorish silk market of Alcaicería, Granada Cathedral — a feat of Spanish Renaissance architecture — and the Sacromonte Caves, where flamboyant gypsy flamenco dances are performed nightly. Neighborhoods such as the UNESCO World Heritage site of Albaicin are visit-worthy, too.

When your rental duration finishes, simply return your bike (with a full tank of gas) and helmet to the rental shop in central Granada.
Advertisement
Advertisement