Enjoy sightseeing and sublimity on a full-day tour of Granada's alluring Alhambra palaces and the Arab baths. Sail straight past the long lines of the entrance hall with an Alhambra priority access pass, and then explore the vast courtyards and opulent chambers of the complex with a knowledgeable guide. Stroll amid the exotic flowers of the gorgeous Gerneralife Gardens then enjoy an afternoon of blissful indulgence in the Hammam Al Andalus, soothing your mind and body in the warming pools of the spa. Upgrade to include a relaxing massage during your time at the baths.
Highlights
Full-day Granada tour to the Alhambra tour and Granada Hammam

Skip the lines and explore the UNESCO-listed Alhambra palace complex on a walking tour with an expert guide
See top Alhambra attractions including Generalife Gardens, Alcazaba Fortress and the Nasrid Palaces
Visit an traditional Arabian hamman in the afternoon and relax in seven different bathing pools
Upgrade to include a soothing massage with aromatherapy oils
Hotel pickup and drop-off from your centrally located Granada hotel included
Recent Photos of This Tour
Skip the Line: Alhambra Tour and Granada Hammam
What You Can Expect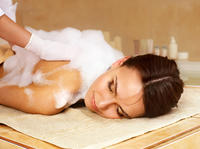 Depart from your Granada hotel in a comfortable, air-conditioned coach and relax during the scenic journey to Alhambra's elevated perch. Ascend the steep La Sabica hill and feel your excitement heighten as you approach the majestic monument; marvel at the distinct architectural tableau and lavish gardens before embarking upon your exploration of the 13th-century fortress.
Sail past the long lines of the crowded entrance hall and follow your guide through opulently decorated rooms. Admire the intricate design of the Nasrid Palaces, palatial structures named after members of the Nasrid dynasty; ascend to the ancient tower at the Alcazaba Fortress and absorb spectacular views of the city of Granada; and enjoy tales of an eccentric emperor as you tour the majestic Palace of Charles V.
Next, venture to the visionary and verdant Generalife Gardens to observe exotic plants and fascinating flowers. Envisage extravagant monarchs relaxing among the botanical beauty of the area and wander leisurely with your informative guide.
After your tour of the palace complex, return to your hotel and enjoy a leisurely few hours and lunch (own expense). At the pre-arranged time, make your own way to Hammam Al Andalus, Granada's luxurious Arab baths. Submerge yourself in the warm waters of seven pools, all of which are elaborately decorated with colorful tiles. Plunge into icy pools and upgrade to enjoy an indulgent massage sure to soothe aching muscles.
Explore the city independently or return to your hotel after your tranquil experience in the serene spa.
June 2016
February 2016
Excellent addition of Hammam was out of this world!

October 2015
Everyone was so welcoming and helpful. Victor's tour was both educational and fun. His passion for the Alhambra comes through so strongly and his delivery of the tour sounds a fresh as the first time, even though he must have done it so many times. He answered all our questions with a wealth of information and knowledge. We look forward to coming back again. The Arab bathes were also a wonderful experience and again, all the staff were so warm and friendly. I would definitely use Viator again and recommend you to others. Thank you for helping to make our trip such a great one.
August 2015
everything easy and exactly as we expected - in my opinion the only way to see the Alambra
December 2014
So amazing. Do this, do this, do this.
December 2014
I recommend doing a guided tour, rather than using the audio guide. It is much better having a guide to tell you about the history of granada and so you can ask questions. I really recommend the tour. Antonio was our tour guide and he was very, very good.
The Hammam baths were beautiful, and very relaxing after all the walking you do around Alhambra! Just sensational.
June 2014
Wonderful tour. Amazing tour guide and friendly and assistive staff. Highly recommend. The alhambra is out of this world and this is the group to discover it with. As for the Granada Hammam (Arab Baths) they were an experience to die for. Otherworldly and relaxing.
April 2014
This was just a wonderful experience in so many ways. If you are in Granda, this is a must tour.
August 2013
The entire experience was great!! We were picked up at our hotel and taken to the Alhambra, where we were separated into groups based on the language of our tour. Our guide spoke perfect English, knew his stuff and was funny as well. The Alhambra is a very large complex of buildings and going with a guide is a good idea and a timeasver. I think that if I went on my own I either would have missed sites and information, or it would have taken forever reading through a guidebook as I walked. As it was, the tour lasted over three hours....so there is much to see. My travel companion (my fifteen year old son) also loved this tour. No one visiting southern Spain should miss going to the Alhambra......it is an architectural and historical gem that leaves a memorable impression.
The add on of the hammam was worth the money, even if you only have an hour or so before they ask you to leave. After the three or four miles you walk on the Alhambra tour, your body welcomes the pampering and relaxation of of the hammam. Pools of water, a steam room, soft music, candlelight, the sound of water cascading into the pools all put you in a good mood. Plus, you'll need a shower anyway after touring the Alhambra in ninety degree weather!
In all I'd recommend the tour to anyone who will be in Granada!
July 2013
This tour was fabulous!!!
I enjoyed every moment of it.
Advertisement
Advertisement