Experience over two billion years of geologic history on this incredible 3.5-hour journey over and around the Grand Canyon. On a 25- or 45-minute helicopter flight, discover the towering temples, deep gorges and massive buttes rising from the canyon's floor. Then get lost in nature's breathtaking beauty in the expansive central corridor. Upgrade to include a scenic Jeep tour to Grandview Point, the southernmost lookout spot at the south rim of the Grand Canyon, plus visit the National Geographic Visitor Center's IMAX Theater to watch "Grand Canyon: The Movie."
Highlights
Helicopter and optional jeep tour of the Grand Canyon
Admire incredible views of the North Rim on your 25- or 45-minute helicopter flight
Jeep Tour includes ticket to the IMAX film about the Grand Canyon at your leisure
Take in the beauty of the park at O'Neil Butte and Grandview Point

Experience the colorful majestic views of the canyon at Yavapai Point
What You Can Expect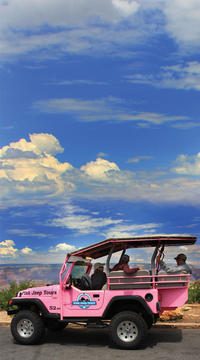 The 25- or 45-minute flight portion of the tour begins at the Grand Canyon National Park Airport with a pilot meet and greet. Buckle up in the state-of-the-art ECO-Star helicopter and lift off, first flying over the 1.6-million acre Kaibab National Forest, which borders both the north and south rims of the Grand Canyon. As the helicopter glides over the canyon, take in the stunning aerial view. The wide-open location of the flight provides an amazing view of this incredible natural wonder. Don't forget a camera.
Back at the airport, hop in an open-air Jeep for a ground adventure. The tour guide will drive to some incredibly scenic spots for the view of a lifetime – Moran Point, Pipe Creek Vista and Duck Rock, with a final stop at stunning Grandview Point, the southernmost lookout location at the south rim of the Grand Canyon. If on a sunset tour, watch the walls of the canyon change color as the sun settles in the sky. Finally, return to the National Geographic Visitor Center's IMAX Theater to watch "Grand Canyon: The Movie."
June 2016
The whole experience was fantastic. You'd have to crazy not to see The Grand Canyon by helicopter.
We have used Viator on past occasions and their service is always excellent.
April 2016
this is the only way to see the canyon, up close and personal. worth every penny
April 2016
Outstanding team and amazing trip. top of the line equipment. Do it.
April 2016
This tour was simply amazing. I went with my mom a few weeks and we're still talking about it.
The helicopter ride was an unforgettable experience. We liked how the pilot didn't talk much and just let us take in the beauty of the canyon. He played some music that accompanied the ride perfectly. We started to tear up at the end because it was just so surreal. Seeing the canyon from this view is a must.
Afterwards, we saw the IMAX film, which was actually very cool! It provided great info on the history of the Grand Canyon.
Then, we did the sunset jeep ride with Chris. He was a phenomenal guide and took us to the best, least crowded spots around the canyon. We liked how he didn't talk our ears off, but provided us with good conversation and interesting information. He also gave us time to take pictures and he took us on some walks to breathtaking views. The timing of the tour was perfect it wasn't painfully long, but just long enough to take it all in. I highly recommend the Jeep company. There's one in Sedona, too.
Overall, the experience was unforgettable. I do wish Viator would have been better about communicating when and where to go for our tours, but luckily we had so much fun it didn't really matter in the end. The helicopter company was helpful in providing that information.
Overall, highly recommended!
October 2015
September 2015
The helicopter tour was fabulous and our Jeep Tour guide, Jim, was great! Both were very informative and welcoming!
September 2015
IT was GREAT. Had the best Pilot
May 2015
Pure magic! Well-organized all the way. Super guide for the jeep tour who was 'out-running' the rain and sleet, giving us fantastic views and very informative comments. Thank you very much to everybody for making my birthday treat so special!
March 2015
This tour had everything you need. We took the morning helicopter out over the canyon so you can see how large it really is. Then the Jeep tour lets you get out and explore. You still have 1/2 day left to go back and take advantage of exploring on your own.
March 2015
Guide was great. He shared lots of unique information we would not have had on our own.
Advertisement
Advertisement