See some of the Grand Canyon's most popular landmarks on this incredible 40-minute, fixed-wing airplane adventure. Enjoy aerial views of the Grand Canyon's East Rim, featuring Horseshoe Bend; the Painted Desert of badlands, located in the Four Corners area from Grand Canyon National Park into Petrified Forest National Park and Imperial Point, the Grand Canyon's highest spire. Also, fly over the North Rim and Kaibab National Forest, which borders both the north and south rims of the Grand Canyon.
Highlights
Fixed-wing airplane flight over Grand Canyon National Park

Ride aboard a luxury plane with oversized windows affording exceptional views

See major Grand Canyon landmarks including the Zuni Corridor, Desert View Watchtower and Point Imperial

Listen to narration about the geology and history of the Grand Canyon and surrounding area

Recent Photos of This Tour
Grand Canyon Landmarks Tour by Airplane
What You Can Expect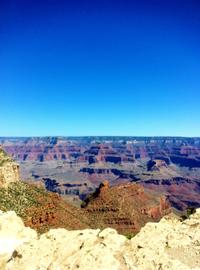 This 40-minute flight begins at Grand Canyon National Park Airport with a pilot meet and greet. Buckle up in the fixed-wing Vistaliner plane, featuring panoramic windows for the ultimate sightseeing adventure. Take off for the eastern part of the Grand Canyon and see Horseshoe Bend, located just seven miles from the beginning of Grand Canyon National Park. Check out the incredible view down into the Little Colorado River.
Then cross over the canyon at Zuni Point Pass, where the Painted Desert of badlands and Navajo Indian Reservation are on display just to the east along the Colorado River. The tour then changes course to fly over the north rim, showing off the Kaibab Plateau at 9,200 feet above sea level and the Kaibab National Forest, which borders both the north and south rims of the Grand Canyon.
Along the way, learn about the history of the Grand Canyon and the geologic forces that helped to create it. Also, find out about the various people that inhabited and explored the canyon, as far back as 4,000 years ago. Bring a camera and delight in the many wonderful views this breathtaking tour provides.
June 2016
May 2016
Excellent service by everyone involved, especially counter staff when checking in. Things ran well and on time, flight was smooth, views were terrific, and narration was professional and helpful. I highly recommend this flight and this company.
Thank you!
May 2016
Booked online from the UK. Requested late morning flight but advised, after booking, that only 15.00 flight was available. Actually flew at about 14.00. Young lady pilot was excellent and I got to fly alongside her in a single engined, 9 seater. Great views and would recommend.
April 2016
November 2015
my husband loved this it was amazing
November 2015
We called in 24 hours in advance of our flight and were told that we were good for an 11:00 departure and to be there at 10:30. We arrived at about 10:00 and were told that we were good to go for a 2:00 departure and to come back at 1:30. There was obviously a slip up in the scheduling. Long story short, your personnel went above and beyond to make things right with us and we ended up on a 11:00 departure helicopter ride....in the front seat. It was absolutely fantastic. We have bragged on your company to all of our friends we also bragged about the flight.
August 2015
Absolutely excellent - really worthwhile - from booking to check in to flight to views !
March 2015
I couldn't have asked for a better tour of the Grand Canyon. I'm so glad I made the purchase.
qu1nns United States of ...
May 2016
It was beautiful but thought we would get in closer to the actual canyon.
May 2016
We had a wonderful time. The crew was very friendly and the view was breathtakingl. Customer service was also very attentive to our scheduling conflict and was able to change our reservation time. I strongly recommend this tour as well as Viator. You don't realize what you would not have seen from the ground, until you see it from the air. Diane S
Advertisement
Advertisement