See some of the most striking scenery the Grand Canyon has to offer on this morning or afternoon fixed-wing airplane flight. Soar over the eastern part of the canyon, admiring Zuni Point, the Desert View Watchtower, Point Imperial, the Painted Desert and the Kaibab National Forest. Take advantage of once-in-a-lifetime photo opportunities as in-flight narration provides facts, figures and historical anecdotes about the sights you see. This scenery-packed tour provides an excellent overview of the Grand Canyon in a short amount of time.
Highlights
Fixed-wing airplane flight over Grand Canyon National Park

Ride aboard a luxury plane with oversized windows affording exceptional views

See major Grand Canyon landmarks including the Zuni Corridor, Desert View Watchtower and Point Imperial

Listen to narration about the geology and history of the Grand Canyon and surrounding area

What You Can Expect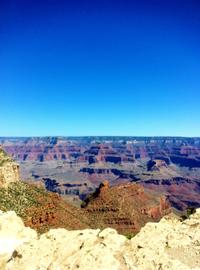 Set off from Grand Canyon National Park Airport on your morning or afternoon airplane tour of Grand Canyon landmarks. As you ride aboard a comfortable Vistaliner plane with panoramic windows, listen to narration about the geologic forces that helped create the dramatic canyon and surrounding terrain and the various peoples who have lived there.

Keep your camera ready as you fly over Zuni Point — one of the few lookouts on the South Rim without a road or trail — and marvel at the crimson canyon and plateau covered with cacti. Continue through the Zuni Corridor and see the confluence of the Colorado and Little Colorado rivers.

Get a closer look at the Desert View Watchtower, a popular vista point on the South Rim, and glimpse the gorgeous colors of the Painted Desert in the distance. See the remote North Rim, including its highest viewpoint, Point Imperial. Admire the Kaibab Plateau and dense greenery of the Kaibab National Forest before returning to Grand Canyon National Park Airport at the conclusion of your 40-minute aerial tour.
November 2015
my husband loved this it was amazing
November 2015
We called in 24 hours in advance of our flight and were told that we were good for an 11:00 departure and to be there at 10:30. We arrived at about 10:00 and were told that we were good to go for a 2:00 departure and to come back at 1:30. There was obviously a slip up in the scheduling. Long story short, your personnel went above and beyond to make things right with us and we ended up on a 11:00 departure helicopter ride....in the front seat. It was absolutely fantastic. We have bragged on your company to all of our friends we also bragged about the flight.
August 2015
Absolutely excellent - really worthwhile - from booking to check in to flight to views !
March 2015
I couldn't have asked for a better tour of the Grand Canyon. I'm so glad I made the purchase.
October 2015
My tour never happened. So much for your 24/7 help line. I received a pro forma reply that my message would be reviewed within 12-24 hours. I have still not received a reply. I originally reserved an air tour of the Grand Canyon to originate at Las Vegas. When I called to reconfirm my reservation, the origination point had been changed to Tusayan Az. I could not make hat drive with the time I had. Please review your help line process
Advertisement
Advertisement