Trek through Grand Etang National Park during this 4.5-hour hiking tour. Embark on a moderately-paced hike through the verdant forest with a small group while your local guide teaches you about Grenada's spice trees, vegetables and root crops that dot the route. Watch out for wildlife like armadillos and monkeys, take a dip in a freshwater lagoon and view pristine waterfalls. Round-trip transportation to from your hotel is included.
Highlights
Explore Grand Etang National Park in Grenada on a moderate hike

Learn about Grenada's native flora and fauna from your knowledgeable guide

See mona monkeys, tree boas, armadillos, clumping bamboo and more as you walk through the lush rainforest

Enjoy a refreshing swim in a natural pool

Complimentary hotel pickup and drop-off

What You Can Expect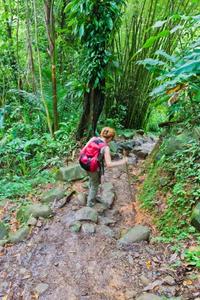 Meet your local guide upon pickup at your Grenada hotel. Board your comfortable vehicle and view the island scenery through the window as you travel to Grand Etang National Park. This small-group experience ensures you receive personalized attention from your guide.

Disembark at a small spice farm with your group and start out on St Margaret's Trail. Hike through the rainforest and listen as your guide points out various types of spice plants, like ginger, cinnamon and nutmeg; these spices' prevalence give Grenada its nickname: Spice Island. Keep watch for local wildlife like monkeys, various types of frogs, tropical mockingbirds and tree boas.

Listen for the soft sound of rushing water that means you're approaching two waterfalls. The runoff from these two falls cascades into pristine pools, perfect for swimming. Take a break from your hike to jump in and enjoy the refreshing water.

Dry off and hike on towards the Grand Etang National Park Nature Center. Your 4.5-hour excursion ends here with complimentary beverages.

Board your coach for the return trip back to your Grenada hotel.

March 2013
Although we didn't see any rainforest animals on our tour, the flora was amazing and the waterfalls were as beautiful to behold as the pools were to swim in. Our guide, Tony, was knowledgeable about both the flora and fauna, as well as Grenadan history. He stopped frequently during our hike to point our specific flowers and trees, and on the drive to Grand Etang Park he stopped several times along the road to point out things we would have missed on our own, such as a rainbow eucalyptus tree, and to allow us to take photos of sites such as the harbor in St. George. The hike was not overly difficult, especially using a walking stick, but part of the path was steep and you had to be careful there. Tony stopped several times on the way back to allow me to catch my breath (I'm 59 and not in the best of shape!), and he lent a hand when I needed it. We ended our hike muddy and tired, but thoroughly enthralled with our rainforest trek!
June 2014
This was great! We were lucky, it was just me and a friend so we were able to go out at our pace. Our guide was very knowledgeable and keen to share his knowledge with us. There were some tricky bits to negotiate but this is very doable. In fact, if it was a longer, that would have suited us and got 5*.
March 2014
Our personal guide, Davidson, courteous, friendly and informative, drove my wife and I to the Rainforest and took us through a section which involved a fairly long and steepish descent to a large and impressive waterfall where a local young man entertained us by diving from the top into the pool below. At this stage we were virtually on our own. As we returned we came across a tour from a cruise ship, possibly 100+ people descending the same (narrow) path (which was wet and slippery), apart from slowing us up, it was not a major problem. However, the viewing area by the waterfall was not that large, so we were glad we got away before this large number of people arrived, it would have been very crowded! The forest itself was attractive and Davidson pointed out one or two features of interest and was always willing to answer questions. A drink was provided on return to our transport. An enjoyable half day tour, a little challenging due to the wet ground but you can't expect anything else in a Rainforest! It would be worth trying to find out if large (cruise) parties are taking this trip when you intend to go to avoid a very crowded excursion!
Advertisement
Advertisement