Hike through a tropical rainforest in Grenada on this 4.5-hour small-group hiking tour! Visit Grand Etang National Park and enjoy a moderate hike through the lush, scenic rainforest. Your knowledgeable guide will point out various spice trees, root crops and vegetables that line the walking path. See beautiful waterfalls; spot various wildlife including monkeys and armadillos; and take a refreshing swim in a natural pool.
Highlights
Explore Grand Etang National Park in Grenada on a moderate hike

Learn about Grenada's native flora and fauna from your knowledgeable guide

See mona monkeys, tree boas, armadillos, clumping bamboo and more as you walk through the lush rainforest

Enjoy a refreshing swim in a natural pool

Complimentary hotel pickup and drop-off

What You Can Expect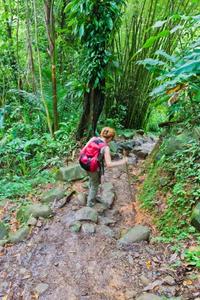 Discover Grenada, the 'Island of Spice,' on this small-group hiking tour through Grand Etang National Park. Learn about the native flora and fauna of Grenada from your expert guide as you explore the lush rainforest on a moderate hike.

After pickup from your Grenada hotel, admire the gorgeous island scenery as you make your way to Grand Etang National Park by comfortable coach. Once you reach a small spice farm, hop off the bus and head out on St Margaret's Trail. Make your way through the lush tropical rainforest, while your guide highlights various spice plants, including nutmeg, cinnamon and ginger.. Keep an eye out for native wildlife including mona monkeys, tree boas, tropical mockingbird, frogs and more.

As you ascend higher through the rainforest, hear the soft sounds of rushing water before arriving at two gorgeous waterfalls. The water flows into clear pools, creating a perfect place for a swim. Take a dip in the refreshing water and relax on the nearby rocks before making your way back to the Grand Etang National Park Nature Center, where you'll enjoy a complimentary drink before being transported back to your hotel.
March 2013
Although we didn't see any rainforest animals on our tour, the flora was amazing and the waterfalls were as beautiful to behold as the pools were to swim in. Our guide, Tony, was knowledgeable about both the flora and fauna, as well as Grenadan history. He stopped frequently during our hike to point our specific flowers and trees, and on the drive to Grand Etang Park he stopped several times along the road to point out things we would have missed on our own, such as a rainbow eucalyptus tree, and to allow us to take photos of sites such as the harbor in St. George. The hike was not overly difficult, especially using a walking stick, but part of the path was steep and you had to be careful there. Tony stopped several times on the way back to allow me to catch my breath (I'm 59 and not in the best of shape!), and he lent a hand when I needed it. We ended our hike muddy and tired, but thoroughly enthralled with our rainforest trek!
June 2014
This was great! We were lucky, it was just me and a friend so we were able to go out at our pace. Our guide was very knowledgeable and keen to share his knowledge with us. There were some tricky bits to negotiate but this is very doable. In fact, if it was a longer, that would have suited us and got 5*.
Advertisement
Advertisement