Discover the astounding architecture of Guadalajara and the provincial charm of Tlaquepaque on a 5-hour sightseeing tour. Admire legendary landmarks and historical monuments in Guadalajara's colonial downtown, marveling at the majesty of the cathedral and the theater. Embrace the vibrant atmosphere of the grand market before journeying to the quaint, cobbled streets of Tlaquepaque to explore bespoke boutiques bursting with artisan treasures.
Highlights
5-hour city sightseeing tour of Guadalajara and Tlaquepaque
Glimpse the colonial history and modern-day culture of downtown Guadalajara
View famous monuments at Plaza de la Liberacion (Liberation Square), such as the Degollado Theater
Discover the charming town of Tlaquepaque and its market of traditional Mexican handicrafts
Hotel pickup and drop-off by air-conditioned minivan included
What You Can Expect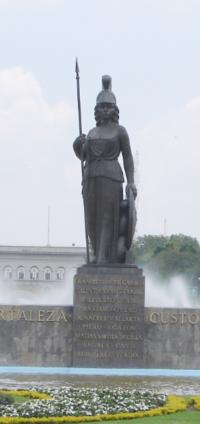 Greet your guide at your hotel and climb aboard your air-conditioned minivan to begin your journey to Guadalajara's historical downtown. Stop at the ambient Plaza de Armas and gaze at the majestic twin-towers of the cathedral. Hailed as one of the city's most spectacular sights, the incredible structure harbors a richly embellished interior with Gothic vaults and prismatic stained glass windows.

Next, journey to Liberation Square, a scenic sprawl of charming colonial buildings shrouded in history. From here, visit the creative Instituto Cultural de Cabanas to witness another example of Guadalajara's stunning architecture before exploring the museum of modernist murals within. Capture the essence of neo-classical splendor with a visit to the Degollado Theater before absorbing the authentic atmosphere of Plaza de la Rotonda. Listen to your knowledgeable guide as the story of the stunning sculptural monument within the square is revealed.

Afterward, immerse yourself in the convivial Mercado Libertad, an energetic and exuberant market considered to be one of Mexico's biggest. Wander past colourful stalls that burst with diverse produce; see exotic fruits, handwoven rugs, scented candles and beautiful flowers on the 2,600 stalls.

Return to the minivan to enjoy the scenic journey to Tlaquepaque, a charming provincial village 4 miles (7 km) southeast of Guadalajara. Relax and enjoy free time wandering the quaint, cobblestone streets and admiring the picturesque architecture. Purchase an appetizing and authentic lunch from a local restaurant before visiting the village's principal arts and crafts market, in which handmade pottery, woodcarvings and leather items reign supreme. Return to your hotel with your guide when the tour reaches its cultural conclusion.

May 2016
Incredible sightseeing tour! Thoroughly enjoyed seeing Guadalajara and the town of Tlaquepaque made it even better. My guide, Roni, was amazing and very knowledgeable. I got to learn more about the history and beautiful buildings in Guadalajara and roamed the streets and stores in Tlaquepaque. This is a great tour if you are looking for a good introduction of the city and have a day to explore it. Highly recommend it!
April 2016
Very good tour. Tour guide was very informative and on time
February 2016
We had a lovely tour of this beautiful city, Guadalajara and Tlequepaque. Ronni was our driver and my husband and I were very pleased with his driving, his explanations, and his knowledge. My husband and I enjoyed the day and Ronni let us stop when we wanted to go inside a particular building. We walked through the plaza center of Guadalajara and also the artisan streets of Tlequepaque. Our tour was greta value fro money and a wonderful day.
November 2015
We thoroughly enjoyed this tour. We were expecting to be with others, but because we were the only english speaking people taking the tour at that time we ended up with a private tour, just us and Miguel. He did a great job giving us an overview of the historic centre and then a visit to Tlaquepaque where he gave us tips on some good restaurants to test out during our stay.
October 2015
Roni was our tour guide an he was great, very knowledgeable. Very professional, accurate on the subject matter. Would love to have him next time we go.
July 2015
March 2015
Ophelia, my tour guide, was very knowledgable, professional and kind. She picked me up from a bed a breakfast that I stayed at with no additional cost. She had good understanding of the cities, their history and current affairs. She showed me around some of the local shops and helped me buy awesome things from street vendors. Her english was perfect too. No complains really.
March 2015
Eduardo was.. great .......very knowledgeable helpful...we enjoyed every minute of the tour and would highly recommend him, and the tour............thank you.........jane and scott
February 2015
Our Tour Guide Ricardo was very good and knowledgeable. I wish we had more time.
July 2014
Ricardo was knowledgable and willing to go along with the plans we had made in our trip to Guad. I would recommend him to anyone traveling there.
Advertisement
Advertisement