Get up-close views of nature while you float lazily down the Corobici River in the Costa Rican rainforest! Aboard a raft with an expert guide, you'll take in the sights of the flora and fauna that flourish in the bio-diverse region – including ospreys, mot mots, herons and egrets as well as a variety of iguanas and monkeys. Your day trip includes a visit to the Las Plumas Jaguar Rescue Center to see a variety of big cats and other wildlife.
Highlights
Day trip to the Corobici River and Las Plumas Jaguar Rescue Center from Guanacaste

Enjoy a 2-hour float on a raft while an expert river guide leads the way
View nature's wonders as you take in the lush surroundings, and learn about the flora and fauna of the Costa Rican rainforest

Visit the rescue center to see jaguars and other wildcats, plus tucans and monkeys
Round-trip transport, lunch and entrance fees included
Recent Photos of This Tour
What You Can Expect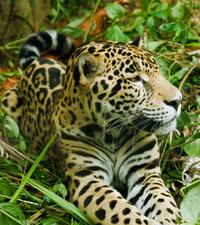 Meet your guide at your hotel and then head to the Corobici River, where you will board a rubber raft for a floating group tour through the Costa Rican rainforest. This gentle course takes approximately two hours, allowing you to safely relax and admire the natural attractions while your experienced river guide navigates the waterway.
As you wend through the lush tropical forest, learn about the ecosystem that supports an abundance of wildlife. Your guide will inform you about fascinating animals, such as the many varieties of iguanas and monkeys that inhabit the region, as well as the flora that coexist with them. You'll also likely spot birds such as ospreys, herons, egrets and mot mots.
After disembarking, enjoy lunch with your group and then head to Las Plumas Jaguar Rescue Center for a visit. At this private reserve, you'll see different species of wildcats in their natural environment, as well as monkeys and birds such as parrots, pizotes and tucans.
Your guide will explain how the Hagnauer Foundation protects wild animals like Central American jaguars, which are rehabilitated at the center, before dropping you off at your hotel.
October 2014
It was a leisurely trip down the river, very peaceful while we watched out for the animals. We were thrilled to hear the howler monkeys....what a racket they made!!!! We were surprised when the boat driver cut up fresh, juicy pineapple for us to enjoy. What a thoughtful treat!! We enjoyed ourselves immensely with a great tour guide, Arturo, who went out of his way to please us. Our family would definitely recommend this tour to other! Especially to help donate to the Las Pumas Center- what a fantastic rehabilitation center.
June 2013
Our tour guide William was the absolute best!! Seen so many animals like crocodiles , the picture is not what the tour actually is, it's just a river float not rafting.
March 2014
We travelled with our 2 teenage daughters in March 2014. While it was a bit of a drive from our hotel in Tamarindo and there were delays due to other buses meeting us and highway construction, taking some time out of the 38 degree heat, in an air conditioned bus, wasn't such a bad thing. When we arrived at the river float, we felt safe, taken care of and our guide was very informative. We saw monkeys, crocs, lots of birds, iguanas and even snakes. The lunch was delicious and we got some fantastic pictures at the Jaguar sanctuary. We definitely felt it was worth our money and compared to many excursions you book in Costa Rica, the price was a very good deal. I will definitely add Viator.com to my vacation itinerary planning for all future holidays.
December 2013
Our rafting trip was everything we bargained for. We saw just about every animal that it was possible to see in their natural setting. Our guide was very knowledgeable about both the flora and fauna of the area. The tour of the Jaguar Rescue Center was also very enjoyable. The center is laid out very well and it is very rewarding to see these beautiful animals that have been rescued from bad situations in a natural setting. Following our tours we sat down to a very nice lunch.
April 2014
I took two kids and we saw lots of animals on the Corobici River Floating Tour. There is no rafting! This is a calm river. It is very hot and lasts 2 hours, so be sure to wear a hat and bring sun glasses! We saw lots of birds, butterflies, iguanas, lizards, crocodiles, otters, monkeys, etc. The Jaguar rescue center was interesting to see animals up close that had been rescued. And, to learn about how they try to prepare them to go back into the wild. Our guide, Jose, was very knowledgeable. I gave this 3 stars, because it was not as advertised. They need to change the title to reflect "floating."
April 2015
I took this tour on March 7th 2015. This was an easy, hour long float down the river. I saw lots of wildlife, mostly birds and iguanas, and I had a nice time. The lunch on the way back was a good representation of the local food in Costa Rica.
My low rating has more to do with the actual company that runs it. The other people who were picked up for this tour got on the wrong bus, so we stopped about 3/4 of the way at a rest area on the side of the road. My guide sent me off to the river with the driver who spoke very little English. He put me in the raft with a man who spoke about 3 words of English, which is fine but I feel like I didn't get that much out of the tour and it was quite awkward, especially being a 25 year old female travelling alone. At the end, my tour guide and the driver picked me up and we went to the Jaguar rescue center. It was underwhelming to say the least. There were a few sleeping cats in cages, so I couldn't get good pictures of them even, and a few birds and monkeys. We had lunch after, which was fine except I was once again alone with two males. The one guy from tours was 28, heavy/overweight, had thinning hair done in a faux-hawk style I'm describing him so that maybe a complaint can be sent along. He spent the entire time hitting on me, when I just wanted to have a nice day exploring a new country. It was ridiculously inappropriate and I felt horribly uncomfortable. So disappointing because the day before I had such a nice guide on another tour! This guy kept eyeing me up and down, and tried to get me to go to a local party, which I found to be wildly inappropriate. It's unfortunate that I look back on a big part of my Costa Rican experience with such a negative view, he really ruined part of my trip.
Advertisement
Advertisement