10 Reviews
Location:

Guanacaste, Costa Rica

Duration:

10 hours

(approx.)
Explore the tropical treetops of Costa Rica on this canopy tour in the Monteverde Cloud Forest Reserve! You'll walk high above the forest floor along a 2-mile series of suspension bridges, crossing separate ecological zones that support an abundance of wildlife including several hundred species of birds. After looking for bellbirds and quetzals, set foot inside Monteverde's famous butterfly garden to learn about the world's most beautiful winged insects as well as other fascinating creatures!
Highlights
Full-day trip to Monteverde Cloud Forest Reserve and Monteverde Butterfly Garden from Guancaste

Take a 2-hour canopy tour along eight suspension bridges in the fog-laden forest
Hear and see extraordinary wildlife including a variety of tropical birds
Visit the controlled-climate butterfly garden and medicinal plant garden
Learn about insects, arachnids and leaf cutter ants in the biodiversity center
Round-trip transport, lunch and entrance fees included
What You Can Expect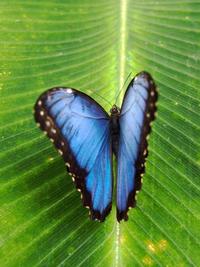 When you arrive at the Monteverde Cloud Forest Reserve after hotel pickup, embark on a treetop walkways tour led by your guide. Crossing almost 2 miles (3 km) of sturdy suspension bridges built high off the ground, you'll experience the splendor of the rainforest canopy. Walk along eight different bridges ranging in length from 150-510 feet (50-170 meters)!
The private reserve, administered by the Tropical Science Center, includes six ecological zones that protect a wide variety of insects, butterflies and mammals – such as the ocelot and tapir – plus thousands of plant species. Your guide will point out trees draped with fascinating flora such as bromeliads, ferns, vines and beautiful orchids – including 420 varieties!
At an elevation of 4,660 feet (1,440 meters) above sea level, watch the fog envelop the forest and slowly drip from the tallest tree branches to feed the ecosystem it supports. Listen and look for more than 400 species of birds, such as the three-wattled bellbird, bare-necked umbrella bird and resplendent quetzal, as you move through the majestic forest.
After approximately two hours above ground, descend to the forest floor and head with your group to the nearby Monteverde Butterfly Garden, or mariposario, for a visit. In this controlled climate that hovers around 82.4 degrees Fahrenheit (28 degrees Celsius) to support more than 20 butterfly species, you'll learn about the insects' life cycle and adaptations that helped them evolve for their rainforest habitat.
On your guided walk through the butterfly exhibit, admire some of the world's most beautiful creatures. Then, stroll through the medicinal plant garden and visit the biodiversity center to see informative displays of insects and arachnids. Here, witness a butterfly emerging from its chrysalis and observe live insects in action via bug cameras. Don't miss seeing the leaf cutter ant colony before return transport to your Guanacaste-area hotel.
April 2015
This was a great trip. Our tour guide, Jose was excellent; he was knowledgeable and seemed to really enjoy what he does. He's a great wildlife spotter! Good food at two different local restaurants. the only concern is the last hour of the drive is incredibly rocky and makes for a very rough ride.
March 2015
Our tour guide Brian was a sweaty, he helped to spot birds, and wildlife such as a sloth, and monkeys. We were fed the most amazing food, they really have culinary skills. The hanging bridges were amazing we walked above the canopy on 10 individual bridges. We then went to a butterfly farm and hummingbird habitat, that was okay. Lastly we went to a coffee plantation where we were told how coffee was picked, how different roasts were made as well as cocoa and sugarcane. Very informative.
December 2014
Viator always provides a first rate experience. They pick you up at your hotel and contract with the top local tour companies so the trip is flawless. Our trip to the cloud forest was amazing with a knowledgeable guide. In addition, we saw the hummingbird and butterfly gardens. And the bonus, on the way home in the van our guide spotted two toucans at the top of the tree -- not an easy find in Costa Rica regardless of what the tourist information says. My advice -- before you go somewhere, just book your trip with Viator online and they will get it done for you the right way. It beats the time consuming process of talking to all of the tour agencies once you get to your destination.
June 2013
Our tour guide and driver were both VERY nice and friendly. They took great care of us. We went on a day where the sky was clear so we didn't see a lot of clouds, but instead we were able to see a lot of animals and insects instead. The drive to Monteverde was very bumpy so just expect that on the way. The butterfly garden was VERY interesting to see. They also showed us some insects that live in the Cloud Forest as well and told us interesting facts about each one of them. We also got to release new butterflies as well which was really nice.
February 2013
Best Tour Ever!!! We had absolutely the best tour guide and driver in the world! Carlos and Mauricio were amazing, and we had the time of our lives. We saw so much along the way, had an a fabulous breakfast and lunch, and the rainforest was just spectacular. It's a long day, but worth making the trip. The road to Monteverde is very bumpy, but half the fun. We loved this tour!.
August 2015
The tour guide knows his botany of the area very well. He did a great job explaining the ecosystem of the cloud forest. The park is well maintained and a very pleasant place to spend a day in. The roads to the park are poor, but once you are there it is worth it. The entomologist at the butterfly park was very entertaining and talked a lot more than just butterflies. She went into depth about insects in the cloud forest and Costa Rica. In the butterfly park, they showed you how to get one on your hand for pictures. It was fun.
June 2015
January 2014
It was great! The views from the suspension bridges were fantastic. Both the tour guide and driver were knew their stuff and taught us so much. And the butterfly garden was much more interesting than I had thought it would be. On a personal note: I do wish this tour had more of a hiking component
December 2013
This trip was very good. We were able to see monkeys in their natural habitat. The guide was terrific. The drive is very long but is an opportunity to see the beautiful landscape. I also enjoyed the butterfly garden. The meal provided was one of the best meals I had while in Costa Rica. It is worth your time.
December 2013
Amazing sights and guide, didn't see many animals but beautiful sights, butterfly place was ok, but very informative. The long ride is a great story and adventure in itself, yes it's long (4 hours) and bumpy but you are in a third world country. Loved the small group we had.
Advertisement
Advertisement