For something truly different during your time in Costa Rica, discover the attractions of neighboring Nicaragua on this full-day sightseeing tour. Venture north from Guanacaste to experience Nicaragua's natural beauty, including views of Apoyo Lagoon from Catarina viewpoint and the chance to watch an active crater in Masaya Volcano National Park. Enjoy a traditional lunch in Granada and explore the cobblestone streets of this charming colonial town.
Highlights
16-hour tour of Nicaraguan attractions from Guanacaste, Costa Rica

See Apoyo Lagoon and Mombacho Volcano from Catarina viewpoint
Visit El Mercado de Artesanías (the craft market) in Catarina
Visit Masaya Volcano National Park

Take a 'volanta' (horse-drawn carriage) along cobblestone streets in Granada
Learn about Nicaragua's unique geology, culture and colonial history
Typical Costa Rican breakfast and Nicaraguan lunch included
Recent Photos of This Tour
What You Can Expect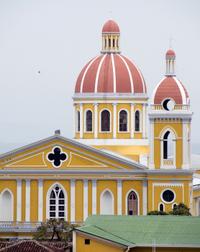 Venture into Costa Rica's neighbor to the north with a packed full-day tour of Nicaragua from Guanacaste. The day begins with early morning pickup from your hotel in an air-conditioned coach, and then a hearty Costa Rican breakfast in Liberia. Continue on to the Nicaraguan border, where your guide will assist you with all border-crossing procedures.
After another 2 hours on the road, hop off the coach at the hilltop Catarina viewpoint for spectacular perspective of the nearby Apoyo Lagoon and the larger Lake Nicaragua. You'll also see the lakeside Mombacho Volcano.
In the neighboring town of Catarina, visit the local craft market where you can browse handmade textiles and goods made from leather, wood and ceramic. It's a great place to purchase a unique souvenir to take home.
Journey on to the charming colonial town of Granada. Founded in 1524, it was named after the ancient Spanish city and has been called the 'Paris of Central America.' You can opt for a 45-minute ride through the town's palm-lined avenues on a horse-drawn carriage (own expense), or explore the colorful streets and colonial architecture on your own. Admire attractions like Granada Cathedral and the popular Parque Central as you learn about the history and culture of this historic city.
Rest your feet and refuel with lunch at Rest El Mariscazo (or similar) in Granada, where you can sample Nicaraguan cuisine. Next, continue on to Masaya Volcano National Park. Take in the impressive sight of the park's active volcano, which regularly emits sulfuric smoke, and keep your camera ready for shots of the beautiful surrounding landscape.
After your full day, sit back and relax on the approximately 3-hour return drive to Guanacaste, where you'll be dropped off at your hotel.
Jeannine C United States of ...
September 2015
I was charged twice for the horse and buggy ride. However paying the extra 5 dollars didn't matter the excursion it self was wonderful.
May 2015
The highlight in my 7 days' holiday in Costa Rico.
Brian, the tour guide, is very nice and knowledgeable. Overall it's a safe, well organized trip.
March 2015
December 2014
A long but good day, very reliable pick up with good driver and excellent tour guide. Breakfast and lunch were both better than expected and the sights were well worth the money. Very enjoyable.
December 2014
Brian our guide was outstanding. Especially enjoyed Granada. Horse carriage ride, lunch, and souvenir shopping on the square were highpoints. Catarina scenic views were nice, and souvenir shopping at the local market was best on our trip. Masaya Volcano was picturesque. Breakfast in Liberia was delicious. Only negative is border crossing to/ from Nicaragua. Long wait and redundant checks by health and customs personnel Use the bathroom in CR as it is free. Will cost you $1-$5 to go in Nicaragua while you clear customs. Souvenir sellers in Nicaragua Customs Stop are aggressive.
November 2014
October 2014
This tour was truly more than what my best friend and I expected. Very organized and full a little surprises. Loved our tour guide Marco. He was very knowledgable and friendly. great trip!!!
September 2014
Long but amazing an very instructive trip to Nicaragua. Nicaragua is a beautiful an safe country. Beautiful nature - Lake Nicaragua and Masaya Volcano. Nice old town Granada with lot of old buildings. We could have more time to discover Granada. Lunch was tasty. I would highly recommend this tour.
May 2014
The tour company was not as stated with Viator and the tour was slightly different than as described on the Viator site. However, the tour was excellent and the company that handled the tour did an outstanding job.
April 2014
Really great experience going to Nicaragua. I took two kids and felt very safe. Harold, our guide was knowledgeable about the country. Viewpoint from Catarina was beautiful. Taking a boat ride in Lake Nicaragua was fun and we got to feed monkeys. We enjoyed going to the volcano in Masaya National Park. We did not ride in a carriage in Granada or go to to San Juan del Sur. I agree with one of the other reviewers that the description did not fit what we did. However, we did go to Granada and go inside a church that was getting ready for the Easter holiday and it was beautiful. We walked around the square. Really enjoyed this tour.
Advertisement
Advertisement