Adventure seekers and spa mavens alike will enjoy this full-day tour to Vida Aventura Nature Park, nestled in the scenic mountains of Guanacaste. Fly through the treetops on a series of ziplines, and then return to solid ground for a horseback ride complete with stunning vistas of two active volcanoes. Unwind after your adventure with a mineral-rich mud bath, followed by a refreshing rinse in a natural hot spring. Your tour includes a traditional Costa Rican lunch.
Highlights
10-hour tour in Vida Aventura Nature Park

Zoom across seven zipline cables in a forested canyon
Mount a sturdy horse for a trail ride in the Guanacaste mountains
Admire gorgeous views of two volcanoes – Rincon de la Vieja and Miravalles
Lather yourself with mineral-rich mud and soak in a soothing hot spring
Enjoy lunch – a typical Costa Rican meal with fresh fruit (included)
Combine excitement and tranquility in one day!
What You Can Expect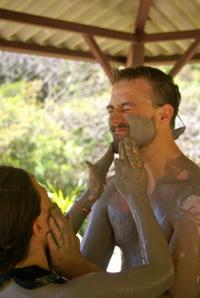 Guanacaste's Vida Aventura Nature Park is an ideal base for a full day of Costa Rican adventure and relaxation. Your morning begins with a scenic drive to the park, nestled among the region's verdant landscape. If you selected the tour option with hotel pickup, a driver will meet you at your Guanacaste hotel. If you choose to provide your own transport, you will meet your tour guide at the park.
The excitement kicks off with a zipline adventure through the mountain rain forest. After a safety briefing from your expert guide, you'll don a harness and helmet and launch onto one of seven zipline cables that crisscross a forested canyon. Take in amazing aerial views as you fly through the lush canopy.
Back on solid ground, head to the park stables and meet the horse that will take you on the next phase of your journey. From atop your trusty mount, enjoy a beautiful trail ride through the tropical forest and rolling hillside. Take in stellar views of the region's two active volcanoes, Rincon de la Vieja and Miravalles. Your guide will point out interesting native plant species and help you spot local wildlife along the way. After your ride, refuel with a lunch of traditional Costa Rican cuisine at the park's on-site restaurant.
Next, it's time to relax with a skin-nourishing mud bath. After changing into a swimsuit, you'll cover yourself with a soft lather of mineral-rich volcanic mud, and then bask in the sun until your natural face and body mask dries. Wash it all away in a nearby hot spring, and enjoy soaking in the restorative geothermal waters. At the end of your tour, you'll be driven back to your Guanacaste hotel if you selected the hotel transport option.
June 2016
We had a great time. They have some awesome zip lines. I would highly recommend this tour. Our guide was really nice and gave some nice commentating throughout the ride as well. We were pleasantly surprised at how great the food was as well. Bring your bug spray for the nice hike through the hills as well. Pura Vida!
June 2016
Well organized and all people connected with it were friendly and helpful.
May 2016
This tour was everything it is advertised as. It is so much fun! First they took us horseback riding and the trail must've been about 3 miles. We went through valleys, mountains, even a little river on the horses. Then we went zip lining, 7 lines, and one you even had the option to do upside down if you wanted. The last 2 lines you had to hike a bit to reach them but once you got to the top they had water for you because it was SOO hot that day. After zip lining was over, we went to eat lunch, a typical Costa Rican meal, then finally, we went to the hot springs and mud baths. So much fun, worth the money. Would definitely recommend it to anyone.
April 2016
This tour was absolutely amazing! It was well worth the money, which was not expensive at all. Our first time Ziplining and WE LOVED IT! The scenery was gorgeous. Horseback riding and the mineral springs was awesome as well. The lunch provided was delicious! Make sure to take extra clothing.
January 2016
Fantastic experience! Must do!
September 2015
This tour was amazing! We had a blast. The tour guide Ray was awesome and very knowledgeable. The owners were very hospitable and the lunch was fantastic! Had a blast zip lining and even went upside down on one line. horseback rode through a river. Would definitely book again!
September 2015
Vida Aventura is extremely difficult to find! It took us over 3.5 hours to get here from La Fortuna, but when we got here it was such a beautiful place that we instantly forgot about how frustrating it was to get here. I highly recommend you getting picked up from your hotel!
The grounds are very picturesque - there seems to be an endless amount of land on this property. We first had a horseback ride through much different terrain compared to the ones near Arenal Volcano. There was so much space available that we galloped through the countryside before entering an area where there were more trees and a stream where the horses drank water from. I lost my hat through all the galloping, so just be careful and make sure yours is tightly on.
We then did the zip lining. It was my first time, and I was very appreciative of the fact that the guides were very patient and polite to us. The tour includes a lunch, which was their typical meal of rice, beans, plantains, chicken, a salad, and a drink. After lunch, we went on our own to the Hot Springs and to do the mud bath. I think for the tour they would stay with you until the end, but we didn't really get a real tour for the hot springs and mud bath since we were basically the only ones here that day. They let us roam off and enjoy the area ourselves. All in all, I really enjoyed this package!
July 2015
It was so much fun! Honestly I have absolutely no complaint about this excursion. You'll have all the adventure with zip lining and the horse back riding, and then relax in the Hot Springs w/ complimentary facial! . The guides were funny and very nice.
July 2015
This tour was so much fun! We started with zip lining in which the staff was super helpful. We then went horseback riding--fun! Afterwards we had lunch which was delicious. Lastly, we did the mud bath.(not actual bath) and thermal pool. Remember to pack sneakers, bathing suit, towel, flip flops!
May 2015
This was a great time for the family. The kids had so much fun!
Advertisement
Advertisement