Let the magical beauty of the Pearl River enchant you on a night cruise in Guangzhou. You'll be captivated by the romantic atmosphere as you admire the sparkling lights of the city skyline. A private guide will accompany you and share interesting tidbits about the sights along the way. From White Goose Pool to either Guangzhou Bridge or White Crane Cave, you'll pass under ten bridges and view famous landmarks illuminated at night. Your tour includes a walk along the waterfront and round-trip hotel transport by private vehicle.
Highlights
1.5-hour night cruise on the Pearl River in Guangzhou with a private guide
Admire breathtaking views of the illuminated city skyline
View famous landmarks like Zhuhai Square, Aiqun Mansion and Shamian Island from the water
Pass under Guangzhou Bridge, Haizhu Bridge and Jiefang Bridge and more!
Waterfront stroll plus round-trip hotel transport by private vehicle included
What You Can Expect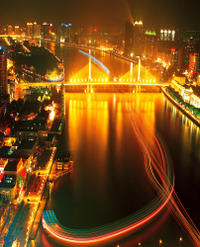 After hotel pickup by private vehicle, your guide will accompany you on your two-hour cruise along the Pearl River – the largest river in Guangzhou as well as China's third largest waterway. The cruise will take the front river route, passing downtown and the loveliest scenery along the waterfront.
Start your cruise from White Goose Pool, also known as 'Night Moon over the Goose Pool' – one of Guangzhou's top attractions. Your guide will tell you the legend about the deep, jade water, which has charmed visitors since ancient times with reflections of light on a moonlit night.
As you float past Guangzhou's famous landmarks, listen to historical anecdotes about each site. You'll see Xinghai Concert Hall, Guangdong Art Museum and Guangdong Overseas Chinese Museum – all located on Ersha Island. Imagine the splendor of the 210-foot (64-meter) high Aiqun Mansion (Aiqun Hotel), once considered China's highest building.
Passing under Haizhu Bridge and heading north, take in the lights at Haizhu Square, once referred to as the 'Red Heart of the Pearl River.' Your guide will point out Ta Ying Lou on the west bank, and discuss its mix of Chinese and western architectural styles. You'll see the North Gate Square of Sun Yat-Sen and the noteworthy architecture on Shamian Island, admiring the beauty in their reflections on the Pearl River.
Once you've cruised under all ten bridges – including Guangzhou Bridge, Haizhu Bridge and Jiefang Bridge – your guide will accompany you on a waterfront stroll before returning you by private vehicle to your hotel.
July 2014
My wife and I thought the Pearl River Night Cruise a quite remarkable experience. Never before have we seen lighting used in the way it is on the Pearl. Brilliant fireworks have their place in ephemeral displays of light, colour and spectacle, but the elegance and the sheer number of riverside features, buildings, bridges, boats, ferries, all illuminated by the brilliant placement of lighting, made for a memorable experience for us both.
It is a trip we highly recommend that any visitor to Guangzhou take in. Thanks to you and our guide on the night.
May 2015
All credit to the tour guide Ms.Maggie Ho for a wonderful tour.
Speaks good English.
April 2015
Great view on top of Boat Guide was very talkative
October 2014
To be honest this tour was very disappointing. It was very expensive for my daughter and I to go on.
We could not understand our guide easily. We were taken to the boat and he left us and advised
there would be an english translation of the Pearl River. This was not the case and we didn't have
a clue what the landmarks were. It was by far the worst tour I have ever done and I booked 2 in
Guanzhou in China and 2 transfers in Rome with Viator for this holiday.
Advertisement
Advertisement