15 Reviews
Location:

Guangzhou, China

Duration:

8 hours

(approx.)
Get to know the historical city of Guangzhou on this exciting sightseeing tour by comfortable vehicle and on foot. This private full-day tour with a friendly local guide is a great introduction to the former city of Canton. You'll visit numerous cultural attractions and historical landmarks such as the Chen Clan Temple and its Guangdong Folk Art Museum, the Mausoleum of the Nanyue King and Six Banyan Temple. Your tour includes a visit to Shamian Island and a Chinese-style lunch.
Highlights
Comprehensive Guangzhou sightseeing tour with a private local guide
Visit Chen Clan Temple to see the Guangdong Folk Art Museum
Venture to the royal tomb at the Mausoleum of the Nanyue King and find evidence of the ancient city
View enormous Buddhist statues and the Flower Pagoda at Six Banyan Temple
Admire western architectural influences on Shamian Island
Enjoy a traditional Cantonese lunch at a local restaurant
Round-trip hotel transport by comfortable private vehicle included
Recent Photos of This Tour
Private Historical Tour: Guangzhou City Sightseeing Including Lunch
What You Can Expect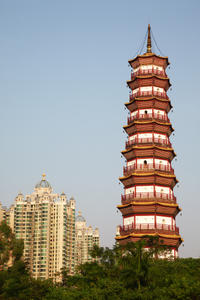 Your friendly local guide will meet you in the lobby of your Guangzhou hotel and drive you by private vehicle to several top attractions in the city. Along the way, hear informative commentary as you stop to explore the famous cultural and historical landmarks.
First, head to Chen Clan Temple, built in the 1890s for ancestral worship by the Chen family. Also called Chen Family Academy, the building was once used by students in preparation for their imperial exams. Inside, admire the wood, brick and ivory carvings, and the elaborate design of the interior beams, ridges, walls and columns.
Currently housing the Guangdong Folk Art Museum, the landmark features exhibits from all regions of Guangdong Province. Your guide will point out the outstanding Cantonese craftsmanship in traditional embroidery and Chinese ink designs as well as rare print arts and ceramics.
Next, stop at the Mausoleum of the Nanyue King to view the Nanyue Royal Tomb, which dates back 2,000 years to the Han Dynasty. Situated on Xianggang Hill, the slope descends 20 meters to the underground tomb, divided into seven separate chambers and filled with more than 1,000 burial artifacts – including bone, ash, clothing and arrow tips.
Step back in time and discover the secrets of the tomb with your guide. Within the (100 square-meter) complex, view the wall painting and a number of cultural relics, including King Zhao Mo's burial garment. Made of more than 2,000 pieces of jade connected by silk thread, it's the only one of its kind in the world!
Around midday, your guide will take you to a local establishment to enjoy a lunch of traditional Chinese specialties. Afterward, walk to Six Banyan Temple, a renowned Buddhist cultural site built in 537. The temple's main hall enshrines three giant Buddhist statues, each reaching 6 meters high -- the largest copper Buddhist statues existing in Guangdong Province.
Admire the colorful exterior carvings of the 184-foot Flower Pagoda, which has 17 interior levels although it appears to have only nine from the outside. Your guide will tell you about the decorative copper pillar at the top of the tower, cast during the Yuan Dynasty (1271-1368),
From here, your guide will drive you to Shamian Island, an oval islet situated on the north bank of the Pearl River's White Goose Pool. The historical buildings of this quiet island showcase British and French influences on its neoclassical architecture. Designated a key protected relic of the state, Shamian Island is referred to as the Ninth Sight of Guangzhou.
When you complete your private tour, your guide will transport you back to your Guangzhou hotel.
April 2015
Highly recommend - great mix of sites and wonderful meal (museum, temple, dim sum, shopping, Shamian Island) - and loved our guide!
April 2015
This tour is great as you are taken to the historical sights of the city. Our tour guide was very knowledgeable and being a private tour meant that the driver of the van was ready and waiting for us each time. This made you feel special and being taken care of in such a busy and large city where English is not the first language.
April 2015
This tour was great! Our tour guide and driver picked us up on time at our hotel. The tour company called us the night before confirming our pickup time. The tour guide Jan-Ming? was very friendly and enthusiastic in teaching us about her city and culture. Our driver was quiet, but polite and absolutely fearless in traffic. We visited the burial site of the Nanyue King, the Temple of Six Banyan Trees, the Chen Clan Academy, strolled the streets of Shamian Island and along the Pearl River, had a nice lunch at a downtown hotel restaurant, and walked along a busy shopping street maybe Beijing Road?. There were a few shopping opportunities along the way. Overall, this was a great tour and an interesting learning experience. I highly recommend this tour.
December 2014
All of our group of five thoroughly enjoyed our full-day tour of Guangzhou. We were picked up on time and our driver (Chow?) was very good. He just materialised out of nowhere after each visit! All the places we visited were interesting and our guide Robert was very knowledgable and spoke perfect English. The Cantonese lunch was delicious! A very well-organised tour ~ thank you!
December 2014
The tour was fun. Our guide did a good job and the lunch was delicious.
September 2014
This tour was for me and my 11 year old son. We were picked up from the airport, which did cost us extra, however it meant I had no hassle at all. The tour guide had very good English and was very knowledgeable, she was able to answer any questions we had about anything we saw. Would have liked her company at lunch to possible talk about some of the food, however the lunch was still delicious. Would recommend this tour to anyone.
July 2014
The tour was outstanding. Our driver called us at our hotel the night before the tour to arrange the start time. Our guide and driver picked us up promptly at the agreed-on time. Our guide spoke English very well, had grown up in the area, and gave us an excellent description of each of our stops. We stopped at a Buddhist Temple first. It happened to be the first day of the Lunar Month and there was a lot of activity there. We made two other stops before lunch. Both were very interesting and our guide told us about the history and customs at each stop. The lunch was excellent - very nice restaurant, very good food, and great service. We made three stops after lunch, including "Chinatown in China", as our guide joked. It was a great shopping district where the streets were closed off to traffic. The driver was excellent and the mini van was air-conditioned and very comfortable. It was a very educational, lively, and thoroughly enjoyable tour. I stongly recommend it. Guangzhou is large (17 million people) and would be extremely difficult to get around in without a good knowledge of the City. The tour made for a great day.
January 2014
We only had 1 full day in the city so I convinced my husband that we should book this trip. It was definatly worth it. We were picked up from the hotel by our guide. Jack spoke fantastic English and was extremely knowledgable in the city and it's history. We saw lots of interesting things. The old kings buriel place was very interesting.
We had a lovely lunch and dropped off at the end of the day. It was a little expensive but we had a driver and a guide exclusively to ourselves for 6 hours. It was worth it. We thoroughly enjoyed it.
January 2014
I highly recomend this tour, great guide who spoke english fluently and was very very knowlegeable and very willing to answer any questions we had. Great sights well worth the experience. Only disappointment was the lunch was in a restuarant that was a little run down but food was fine.
December 2013
We only had a couple of days to spend in Guangzhou so we decided to book this whole day tour to take in the most of the city. We were very glad that we did. Frank, our tour guide, was very informative. The sites that we visited were all very interesting. But the comments and site-seeing between these was very interesting as well.
Advertisement
Advertisement